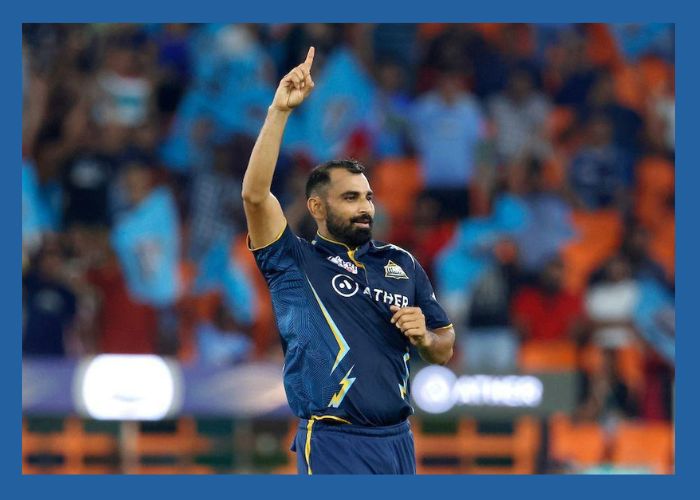 Have you read the best cricket blogs on Md. Shami? Well, if not, you're in the right place. The World Cup 2023 has been a tournament of records, and Mohammad Shami has been at the forefront of it all. His performances have been instrumental in India's journey to the finals. He has taken 54 wickets in just 17 matches, breaking the record for the most wickets by an Indian in World Cup tournaments. He has also taken four five-wicket hauls in World Cups, the most by any Indian bowler. In this blog post, we will look at some of the amazing feats that Shami has achieved in this tournament, and how he has helped India to dominate their opponents.
Mohammad Shami is an Indian fast bowler who has been a key player for India in all formats of cricket. He was born in a poor farming family in Uttar Pradesh, where his father was also a fast bowler in his youth. Shami started his cricket training under a local coach, who recognized his talent and helped him to get selected for the Bengal under-22 team. He made his first-class debut for Bengal in 2010, and impressed with his pace and swing. He made his international debut for India in 2013, and soon became a regular member of the team. He has been a record-breaker in the World Cup tournaments, taking the most wickets by an Indian in World Cup history. He has also been praised for his ability to bowl in the death overs, and for his mastery of reverse swing. Shami has overcome many challenges and injuries in his career, and has emerged as one of the best fast bowlers in the world.
Shami did not play India's first four matches due to team combinations. However, an injury to Hardik Pandya forced the team management to include Shami in the playing XI. Since then, Shami has been nothing short of spectacular, picking up 23 wickets in six matches, at an average of 9.38, and a strike rate of 14.4. He also had the best economy rate among the bowlers who bowled more than 10 overs, with 3.90. He broke the record for the most wickets by an Indian in a single World Cup edition, surpassing Zaheer Khan, who took 21 wickets in nine matches in 2011. He also became the fourth-highest wicket-taker in World Cup history, behind Glenn McGrath (71), Muttiah Muralitharan (68), and Wasim Akram (55).
Shami's World Cup journey started with a bang, as he took five wickets for 54 runs against New Zealand in the league phase. This was his first five-wicket haul in World Cups. He also became the third-highest wicket-taker for India in World Cup history, surpassing Anil Kumble, who took 31 wickets in his World Cup career.
In the semi-final against New Zealand, Shami put on a masterclass of fast bowling. He took seven wickets, equalling the record for the most wickets taken in a one-day international match. This spell was instrumental in helping India enter the finals of the World Cup 2023. Shami's performance was also the best bowling figures by an Indian in World Cups, and the second-best in World Cup matches, behind Glenn McGrath's 7 for 15 against Namibia in 2003. Shami's haul was also the fourth time in World Cup 2023 that he had taken five or more, the most in any edition of the tournament.
Shami has been the rarest of talents in Indian cricket, and his phenomenal performance in the World Cup 2023 has strengthened his position as one of the best bowlers of the tournament, and of all time. He has been the nightmare of every batsman, and the dream of every captain. He has been the record-breaking hero of India's World Cup campaign.
To read more such interesting sports articles and the best cricket blogs, follow us!