Atreyo Mukhopadhyay
The highlight of Bangladesh's 'Mirpur Miracle' was the 51-run last-wicket stand which carried them to an unlikely win. From the Indian point of view, the natural tendency would be to blame the bowlers. Nine wickets down, 50 more runs in the bank — nine out of 10 times bowling sides win such matches. India bowlers were on top, before they suddenly started appearing clueless.
Once the dust settles, a few more factors should also come to the fore. This is a second-string Indian attack not high on experience. A few of them will be out once those recovering from injuries come back to the side. If one goes deep, it looks like India lost the match in the first half. The pitch at Sher-E-Bangla Stadium was not your average sub-continent belter rolled out for limited-over games. The ball stopped and came at times, kept low a couple of times early on. Still, 186 was 30-40 short.
Unlike bowling, India's batting line-up comprises mostly of first-choice options, especially the top five. After periods of struggle, India appeared to have laid a platform. A total of 71/3 after 15 overs was okay in terms of runs. They doubled it in the next 15 to reach 142/4 after 30. Another 10 overs of grind and graft, the stage would have been set for a final charge. Then, it became 158/8 after 35 overs. KL Rahul was waging a lone battle and with him in the 39th over out went India's hopes of pushing the total above 200.
With 17 ODIs to go (after Sunday's match if India does not play Asia Cup) before next year's World Cup, all eyes were on India's middle order. The 2019 World Cup saw the top three contribute heavily and the rest not much. Unless they start doing miserably or get injured, Rohit Sharma, Shikhar Dhawan and Virat Kohli are likely to be the preferred ones for those slots. After years of chopping and changing, India may also have zoomed in on Shreyas Iyer as the No 4.
Iyer made a decent start in Mirpur. A bit slow off the blocks, he was peppered with short balls by Ebadot Hossain who was consistently clocking 140 kmph. Iyer had been troubled by this kind of deliveries in the past and it was clear that Bangladesh had a plan against him. The batsman from Mumbai who has had a great year in the format was up to the task. He chose the wise path of not playing those balls. Just when it started appearing that he has settled down, Iyer tried to pull one which was not that short and paid the price.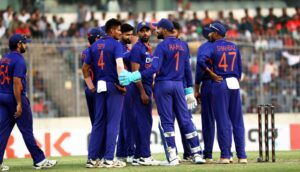 At 92/4 in the 20th over, India were still on course for something in the range of 220. The more prominent batsman in the partnership with Iyer, Rahul was doing the bulk of scoring. Washington Sundar was mostly blocking but importantly, he had hung in. His departure in the 33rd over started a collapse from which India did not recover. Yes, the bowlers have to take their share of the flak. The batters can't escape either. Only one of them made a respectable contribution.