Every organisation has a dream. And our dream at RevSportz is to serve and make a difference to Indian sport. To do this you need support. You need like minded individuals who have the same vision and share the same dream. Not necessarily they live in India. They don't. But they all dream of seeing the tri colour go up. To hear the national anthem play at sports events. They travel the world to see Indian athletes play. They want to do better for Indian sports. See Indian athletes go from strength to strength. These men and women are our extended family. They have been with us and share our passion. As we celebrate our first anniversary here's a shout out to each one of them and what they feel about us. The 'WHY' Revsportz story. Why it is a 'we', and us. Thanks everyone.
Boria Majumdar, Founder and Editor in Chief.
Our supporters
Indian sports is truly changing and it's a welcome change. Performances at the global stage speak for themselves. Athletes barring cricket were hardly celebrated beyond the sporting circles some years earlier. The quadrennial sporting spectacles provided a little spotlight on some of the athletes but it was indifference the moment they ended. This has changed! And RevSportz is amongst the few driving the change by covering India sports and athletes across the disciplines. By being digital first and focused on core journalistic principles it provides an unique blend, something which was missing in the sports ecosystem. Led by the charismatic and India's numero uno sports historian and journalist Boria Majumdar, RevSportz has the credentials like no other. Indian sports and athletes will finally get the deserved coverage and voice that was missing.  And RevSportz is just getting started. All the best to the entire team at RevSportz. You are the change that Indian Sports needed.
Rohan Kamra, Intel Corporation, ICFAI Business School, Singapore.
Revsportz has come in like a breath of fresh air to provide access to multi sports coverage through a single multi-sport news platform. It is a disruptive model which aims to expand into high quality coverage across Indian and global sports using experienced and qualified hosts albeit using a low-cost-but-all frills model. In a single sentence I would say the coverage is PASSIONATE – OBJECTIVE – INCISIVE!!
Manish Dhawan, Senior VP, Coffee, Olam International Limited.
As an ardent sports fan, I always wanted to follow multi sports through a single source. Indian channels unfortunately focus mostly on cricket only. My quest ended when RevSportz was launched last year. Over the past year, I have always been updated on Indians representing the country in events all over the world. The overall analysis and trivia before any major game or event is absolutely fantastic. Thank you, Boria, for starting Revsportz, and many congratulations on its 1st anniversary. Wishing you the best for the future.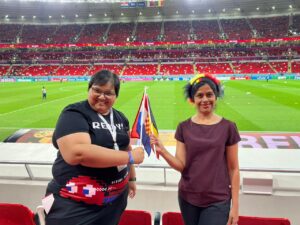 Charudutta Joshi, Executive Director and Board member at Greenback Capital
Boria and team's vision to bring Sporting insights along with showcasing fetes of India's leading Sportspersons, including non-cricket, is very exciting and promising. The on ground coverage from T20 WC in Australia and subsequently the FIFA World cup in Qatar to grassroots para-football in Bengal helps in promoting sports and sports personalities unlike any other platform. Revsportz coverage of the CWG was also like a breath of fresh air. Personally, it's a privilege for me to be associated with RevSportz in this quest for the betterment of Indian sport.
Nikhil Kulkarni, Head of Client Integration, Allianz Partners (Singapore, Malaysia and Indonesia).
Revsportz has brought in very different dimensions to sports coverage, which are very different in comparison to mainstream media's coverage of Indian sport. The focus has been shifted to sports other than men's cricket. I think that media coverage of every sport including women's sport will bring tremendous benefit to the country's sports persons in an inclusive manner. Plus it is a fascinating experience to listen to an eloquent commentator like Boria. For me, it is great to be a part of such an initiative.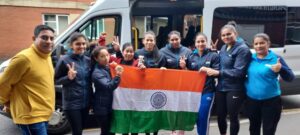 Partha Sarathi Ghosh, Director Finance, Chief Finance Officer, Varun Beverages, RIDC-SAS.
I believe in RevSportz because it is a promising start-up that has its heart in Indian sport. Not one game but Indian sport as a whole—football, hockey, athletics, cricket, swimming, kabbadi. I also believe in Boria Majumdar's leadership and in the great team. It is ventures like this that can make the Indian public aware that sport matters. I think this company is pointing to a new and ethical future through sport.
Rochona Majumdar, Professor, South Asian Languages and Civilizations, Cinema and Media Studies, The University of Chicago.
Sports provides opportunities to confront adversity with confidence. Some of the most important skills we develop from sports experiences can be applied to our daily lives. Sports regularly pushes us out of our comfort zones and challenges us to confront fears by developing a success mindset. Sports is a great Unifier and Revsportz's mission to support and celebrate the success of athletes in multiple sports helps to unify a lot more. Presently in India only few sports are celebrated, Revsportz will change this for sure and I take pride to be the part of their revolutionary journey. Having followed Indian sport closely for years, I think we are on the cusp of a revolution and it is important for each one of us to be a catalyst to this change that we see coming.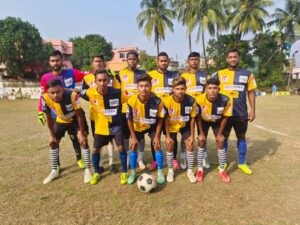 Sandipan Laskar, Oxy- Rice Business, Jones Graduate School of Business, Houston, Texas.
As a sports lover and a businessman, I like and believe in RevSportz's mission of making and popularising differentiated sports content that will appeal to the Indian sports-lover. I believe there is a market for such content and I believe that Boria and his team are very well placed to create and distribute such content, given his and their vast knowledge and his great passion for this subject. I hope RevSportz can shine the light on the real heroes of Indian and international sport and familiarise the discerning Indian public with their journeys and stories of hope. And I hope the Indian public enjoys what RevSportz produces. I look forward to helping out wherever I can. Good luck to RevSportz! Let's go change sports broadcasting for the better. It will help carve out real legacies that we can all be proud of. Cheers!
Luv Parikh, Managing Director at Partners Group.
Sport brings out the most raw emotions that not only inspires but also brings people together. Boria Majumdar has shaped RevSportz on his vision to amplify sport in ways that are truly inclusive. It's a unique multi format sports ecosystem that builds off the fan base for popular sport such as cricket, and masterfully engages them on other sports across Olympics, Paralympics and gender equitable formats. This is achieved  through inspiring content and stories that build a compelling and emotive connect for the fans. As an entrepreneur and a sports enthusiast, I have always taken inspiration from sportspersons. RevSportz to me is a platform that has the potential to bring such inspiration to a generation of upcoming leaders and in turn also provide a more equitable future for sport in India.
Amit Gupta, Founder of Kampd, Founder of Ecosystem.