– Boria Majumdar
Fast bowling is an art. To get everything right is one of the hardest things and that's why only a rare few can aspire to greatness. One of the greatest of them all was Wasim Akram. And Wasim, as Alan Mullally, one of his good friends, tell us, was always open with his ideas and suggestions. In the words of Mullally, "It was after a county game and we were both in the balcony. Wasim called me and asked to show him my wrist position while bowling. When I did, he asked me to do a slight adjustment. He asked me to lock my wrists and bowl the outswing as if I am opening a door knob. You need to lock your wrists, not too much because then it could become a slower ball, and have the wrist come down like you are opening a door knob. And for inswing it is the other way. So you need to lock your wrists and come down as if you are closing the door knob. You need to lock your wrists the other way. Very little adjustment you see but absolutely essential. That's what I tell young aspiring fast bowlers. Lock your wrists and you will see the result", says Alan.
And when I asked him to demonstrate with a duke ball, he did something very interesting. He asked if I bowled right handed. And then went on to show me the importance of the non bowling hand and how it should come down during delivery. "The non bowling hand is even more important than the bowling hand. You can't just keep it loose. That won't work at all. You need to keep it nice and hard and you will see impact", said Mullally.
How does one bowl under pressure? I asked him. All these techniques are good to know but when under pressure with 90,000 people screaming how do you keep calm and deliver? It is easier said than done.
Mullally's explanation was fascinating. "I learnt this from my mate the great Shane Warne. Each time Warne was under pressure he would take a few extra seconds. If you go back and check footage you will see Warnie wait a little longer, flip the ball a few more times as if he was adjusting things and then run in. Warnie said to me that in those few extra seconds he would forget about the 90,000 people, the batsman he was bowling to and everything else going on around him. All he would do is think what he is trying to achieve, what his mission is and go ahead and do that. Yes you need tremendous control over your mind and immense practice but this is what you need to do", argued Alan before adding, "See that Harris Rauf over against India. Especially when he was bowling to the great Virat Kohli. All he needed to do was bowl yorkers. He let pressure get to him. He should have taken his time and bowl yorkers. He rushed through things and we have all seen the result. While Virat is a genius Rauf needed to do the basics right. He did not. As a bowler you need that extra few seconds to calm yourself and then bowl".
Alan is very impressed with Arshdeep Singh and feels he has a very good future ahead of him. "He was trolled a month back for dropping a catch against Pakistan. And to be able to put things behind and bowl the way he did against Pakistan was excellent. It showed the young man has temperament. He needs to develop his body a little more but from the little I have seen of him he has a great future", said Mullally.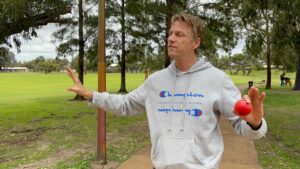 By this time a few local cricketers who were playing a club game had seen him and came forward to ask for autographs. Two of them were fast bowlers and Alan, voluntarily, started showing them how their wrist position ought to be while bowling. He even ran in and demonstrated how to ensure there is less pressure on your body, something he feels Bumrah is suffering from. "He almost walks in and then in the last few steps put in a huge amount of effort on his body. Fast bowling is hard anyway. And when you put this amount of pressure on your body things will become difficult. May be he can run in a little more", says Alan.
In all, it had been a wonderful hour of bowling masterclass from one of the best bowlers of his time. And the chill had started to get to me. Alan had seen that and offered me his 1999 world cup jumper as a gift! Things just couldn't get better before we headed out for a hot cup of tea!