Ashwin the Underappreciated
As many Test hundreds as Andrew Flintoff and a better bowling strike-rate than Imran Khan. Despite his achievements, Ashwin hasn't always been valued as much as he should.
Ravichandran Ashwin has been Man of the Series in nine of the 36 Test series that he has played in. Just let that sink in. One in four outings. It's an astonishing record. Only two of the greatest to ever play the game – Pakistan's Imran Khan (8 awards from 28 series) and West Indies' Malcolm Marshall (6 from 21) – can boast of a better record.
Consider this too. Of the 110 Tests that India have played since Ashwin made his debut against West Indies in November 2011, Ashwin has been part of only 88. In other words, he has missed a fifth of India's Tests in that period. Usually, when a player is left out, justifications are made on the basis of conditions or team balance. You would then assume that the team would do better.
But where India have won 52 and lost only 21 of the Tests that Ashwin has been part of, the win-loss record is a mediocre 8-10 without him. It's safe to say that the gambles that have seen him left out of the XI have seldom worked.
Ashwin can be a spiky character, and not to everyone's taste. He isn't short of a word, on the field, or while responding to journalists. If he feels criticism is misplaced or unfair, the chances are that he will let you know. There have been online tiffs too, most notably with Herschelle Gibbs, who once joked about his speed.
Some saw it as a big chip on the shoulder, and a sign of his insecurity. It could well have been. If it was, could you blame him? Ashwin was no teenage prodigy like Maninder Singh or Harbhajan Singh. He had to wait until he was 25 for his first Test cap. There has been a sense of making up for lost time ever since.
More than a decade after his debut, the one thing that's beyond dispute is that Ashwin doesn't get the credit that he deserves. Lazy journalists routinely attribute his incredible numbers to 'designer' spin-friendly pitches at home. No one stops to ask the logical question…if it was so easy, how come others don't have such numbers? Do we denigrate Richard Hadlee's achievements because half his wickets were taken in bowler-friendly New Zealand, or dismiss James Anderson because he has excelled on seam-friendly English pitches?
The next time someone tries to brush aside what Ashwin has done, lob these facts their way. He has five Test hundreds, as many as Andrew Flintoff, England's totemic all-rounder of the modern era, while taking nearly twice as many wickets (449 to 226). His bowling strike-rate (52.5) is better than Imran's. He has taken 106 wickets in the first innings of a Test match, when spinners aren't supposed to be dominant.
More often than not though, each time the Indian team has faced searching questions in the past decade, Ashwin has been offered up as a scapegoat. That has been especially true in white-ball cricket, where the bowlers have often paid the price for the batters being unable to embrace the contemporary method of going hard from ball one.
Ashwin didn't play an ODI for more than four and a half years, and spent more than four years on the sidelines in T20 international cricket as well. It could be argued that his numbers had declined, but often, India didn't have much faith in those that replaced him either.
It surely can't be coincidence that Ashwin's worst years as a Test batter (2018-2020, when he went three years and 35 innings without so much as a Test 50) were when he was excluded from the white-ball teams. Had he not performed with the ball in that period, the chances are that he would probably have been following this series from a TV studio.
What Ashwin brings to this team is not just undoubted skill, but considerable heart and a sense of calm. Even with seven wickets down and over 70 to get to win the second Test and the series, the Indian dressing room didn't need to panic. Ashwin the batter is no lower-order slogger. His technique has been good enough to feature at the top of the order in white-ball cricket, and he has a happy knack of putting away the bad ball.
All the setbacks haven't diminished his confidence either. He enjoyed some luck, with a dropped catch before he got going, but no amount of staring from the bowlers or balls flying past the outside edge was going to distract him from the end goal. In the end, India reached the target of 145 with a modicum of comfort.
Like VVS Laxman, India's crisis man from a generation past, Ashwin doesn't look like an athlete. But he has worked incredibly hard, both on his skills and his fitness, to try and stay relevant in a sport that has changed beyond recognition since he was a teenager coming through the ranks.
He remains the only Indian other than Kapil to achieve the all-rounders' Holy Grail of 250 runs and 20 wickets in a series. Kapil and Harbhajan are now firmly in the rearview mirror as far as Test wickets for India is concerned. He may not get close to Anil Kumble's 619, but it would be a travesty if he didn't at least get to 100 Tests and 500 wickets.
A Test series against Australia looms large in just over a month, with the winner almost certain to contest the World Test Championship final. The last time Australia were on these shores, Ashwin took 21 wickets across the four Tests, and played a crucial role in the series-leveling win in Bangalore.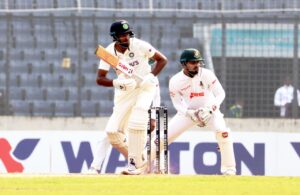 He is a very different man now, both on and off the field. Most of the sand has trickled to the bottom of the hourglass, and he plays with the intensity of one who knows each match could be his last. Such has been Ashwin's career though that he has gone into nearly every game with that attitude. But along the way, he has made subtle tweaks both in his bowling and batting, and ignored the barbs that have followed failures.
Another tilt at white-ball World Cup glory is unlikely, as India seek to build a team for the future, but winning the World Test Championship is very much a possibility. The dominant team in the format for half a decade, both India and Ashwin, who lost the inaugural final to New Zealand, know they have unfinished business.