Muchacho Messi Makes Time Stand Still
Croatia may complain about the penalty decision that turned the tide, but they ultimately had no answer to the magic of Messi.
A year before Lionel Messi was born, Diego Armando Maradona illuminated a World Cup semifinal against European opposition with two wonder goals, one with the outside of that matchless left foot, and the other with the instep. Both acute-angled finishes on the run, with the perfect balance as awe-inspiring as the deftness of touch. Genius, in other words.
On December 13 at the Lusail Stadium, against a Croatian team playing their second semifinal in four years, Messi did score, from the penalty spot. But it's not that left-footed drive high into the net that we'll be talking about years from now. That's not the replay that coaches will show young kids, while saying: "Now, that was a player!"
With just over 20 minutes remaining, Messi received the ball on the right touchline, midway inside the Croatian half. Josko Gvardiol, the most commanding centre-back on view in this tournament, was watching him closely. Messi ran past him. Gvardiol followed. After a few strides, Messi cut inside and headed to the penalty box. As he was about to enter it, he paused and turned his back to goal. Gvardiol also stepped on the brake.
In a flash though, Messi had twisted to his left and run towards the goalline. Gvardiol tried to muscle him off the ball, acutely conscious that over-vigorous contact might mean another penalty for Argentina. Then, Messi changed direction again, moving along the goalline towards the near post. Gvardiol made one last attempt to block his path.
Messi played the ball through his legs to Julian Alvarez, waiting on the edge of the six-yard box. Argentina's new No.9 had already shown earlier in the tournament why Pep Guardiola and Manchester City consider the 14.1 million pounds that they paid River Plate to be one of the bargains of the century. He was never going to miss.
Had a sprightly young 20-year-old forward executed that sequence of events against an aging but skilful defender, we would have been on our feet in appreciation. But this was a 35 year old, who Louis van Gaal had clearly annoyed by saying he didn't run much, making a fool out of the world's best young centre-half. The first reaction, as it is so often is with Messi, wasn't appreciation, but awe. How does he do it? How has he been doing it for so long? How does he manage to get even Father Time to stand still?
Messi won't be credited with an assist for Alvarez's first goal, a marvellous run and finish that involved fortunate ricochets off Josip Juranovic and Borna Sosa, but it shouldn't be overlooked that it was his pass at full stretch that sent the youngster on his way from deep inside his own half.
Croatian supporters can be forgiven for lingering at length on the award of a penalty in the 34th minute. Dominik Livakovic had nowhere to go, and he didn't exactly plough into Alvarez as Toni Schumacher so infamously did with Patrick Battiston 40 years ago. But forget about Dejan Lovren on the goalline for a second. Had Livakovic knocked Alvarez over after he'd slipped the ball over him, with no one to cover on the line, a straight red card would have been his fate. The lack of aggressive movement from him shouldn't obscure the fact that he obstructed Alvarez. Outside the box, that's a free kick. Inside it, the referee had no option but to whistle for a penalty.
Once Messi knocked that in, the tide turned for good. Till then, Croatia had again controlled the midfield, settling into their passing rhythm even as Argentina struggled to string more than three or four together. Right through the tournament, the lack of pace in Croatia's midfield had been apparent. No one had taken advantage of it.
Enzo Fernandez did with the raking pass that cut out the midfield and released Alvarez for his game-changing run on goal. Thereafter, Argentina used the tactic often. Lovren is still a fine centre-back when he has to defend crosses, block shots or guard his man. Ask him to turn and chase after a speedy forward though, and it's a different story.
The last quarter of an hour felt like an endless party. Football chants are often staccato, and borderline obnoxious. Rarely do you get a chant or song that is tuneful or sappy. The obvious and well-known exception is the Liverpool anthem, You'll Never Walk Alone. In Qatar, thousands of miles from home, an estimated 40,000 Argentine fans and thousands of others (mostly Indian) who passionately follow the Albiceleste have bounced in the stands to a tune that wasn't even in existence two years ago.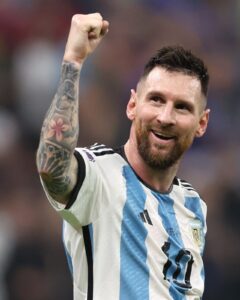 Almost two decades ago, La Moscas released Muchachos, Esta Noche Me Emborracho [Boys, Tonight I'll Get Drunk]. Nearly two decades later, as Argentina beat Brazil to win the Copa America on Brazilian soil in 2021, Fernando Romero, an ardent fan, rewrote the lyrics. The song about a broken heart was transformed into one about optimism. Muchachos, ahora nos volvimo' a ilusionar [Boys, We Have Our Hopes Up Again].
Guillermo Novellis, La Moscas' lead singer, and the band then recorded the new version, which quickly earned such a following that even Messi called it his favourite chant in an interview earlier this year. It's not hard to see why.
Roughly translated, the opening line goes: "I was born in Argentina, land of Diego and Lionel, of the kids from the Malvinas [the Falkland Islands], whom I'll never forget." One sentence that manages to squeeze in the country's two most cherished football sons, and a conflict that inspired the first of them to score his most famous goal in 1986.
Messi lost a final in 2014. He could still lose this one. But to watch him streak past Gvardiol was to witness someone moving inexorably towards his date with destiny. On this form, and with all those thousands yelling Muchachos, he'll take some stopping.