-Atreyo Mukhopadhyay
This boy used to be an opening batter during his schooldays. An employee in the accounts section of Southern Railways, his father had played third division cricket in the Chennai league as a medium-pacer. All that he wanted was to see his son play in the first division. That boy is Ravichandran Ashwin, as we know him, who has exceeded a few expectations.
India's biggest match-winner with the ball after Anil Kumble when it comes to the fourth innings of a Test match, Ashwin has also made an indelible mark with the bat. The latest example of that came in Bangladesh on Sunday. The chips were down. An ignominious defeat was staring India in the eye. And then came Ashwin with the calmest of nerves, along with Shreyas Iyer. Not long before that, the specialist spinner had done the same against Pakistan in the T20 World Cup. I am not comparing the length of these two innings, just citing an example.
It was a delicate chip over mid-off that got India the winning runs against Pakistan. Ashwin delivered something very similar in Mirpur in the second Test against Bangladesh in what turned out to be the last over of the match bowled by Mehidy Hasan Miraz. He had pulled him for six earlier in that over and later half-flicked, half-drove in front of mid-wicket to bring up the winning boundary. But in between, he played that lofted off-drive again, chipping the ball against the turn over mid-off for four. That requires a lot of skills. It does not happen just like that. Envisioning a plan, clarity of thought, confidence in himself that he can pull that off and then going for it — it takes a lot.
It is not as if Ashwin has done this for the first time. In a Test career that started about 11 years ago, he has taken nearly 450 wickets other than scoring five centuries and 13 half-centuries. His bowling skills will have to be termed legendary because being an off-spinner he has got the ball to go the other way without violating the legal and legitimate guidelines. As a bowler, he is an absolute legend. I remember a delivery in the 2014 T20 World Cup where he fooled, foxed and flummoxed Quinton de Kock with one that came back into the left-hander and hit the stumps when the batter was preparing for a cut anticipating an off-break.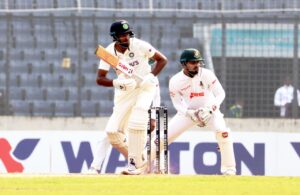 Cricket writing can often be ridiculed as something which always praises and gloats. You only go gaga about the guy who does well and do not do the hard hitting bit. You keep beating around the bush without getting to the real point. This is true to an extent. But when it comes to evaluating Ashwin, one has to admit that this person with roots in the West Mambalam area of Chennai has done a few things that have few parallels. He has complete clarity about his thoughts. That's not as easy as we might think. He knows what he has to do at a given time and gets the job done.
The batter we see in Ashwin today is not an instant product. Apart from concentrating on off-spin and other turns, he has worked on his batting. Mirpur was not the first or last instance of him pulling it off. He has excelled as a batter numerous times. That's primarily because he believes in himself. He knows what he has to do, how to do it and is willing to put in the hard yards. He formulates his own methods, calculates the risk-reward ratio and then goes about his task. It is not as simple as he makes it look like. There are a lot of complexities involved. IT engineer from Anna University, he solves these puzzles. It's about his mind.
We will talk about Virat Kohli, Cheteshwar Pujara, Rohit Sharma, Jasprit Bumrah and others when it comes to India's position of ascendancy in Test cricket. No doubt, they have contributed enormously, but the underrated, less spoken off person will have to be Ashwin. Go through his stats as a batter and bowler over the last few years and you will see what I am trying to underline. He has been the balancing, determining factor between highs and lows, contributing with ball and bat. Mirpur saw just an example of his understated brilliance.