-Boria Majumdar
How good is Ben Stokes and is there anything that he can't do? Be it the world cup or the IPL or even the Ashes, Stokes has had maximum impact on a competition each time he has played in it. An extraordinary athlete, Stokes is always in the game and what you get from him is 100 percent commitment each time he steps out for his team. Blessed with incredible talent, Stokes has honed his skills over the years and is now in that zone where he can hardly put a foot wrong. And more important is his clarity of mind. As he had once said to me, "There is always pressure of expectations and that's good. If you are an important player in your team only then will people expect you to win matches. That's what a performer wants and aspires to. At the same time I am not one who will tell myself at the start of the season that I have to score X hundred runs or pick x wickets. That's not how things work. Often you can score less but have maximum impact. That's how the format is. It is not always about scoring many runs or picking many wickets. The most important thing is for your team to win and that's my only focus ahead of the season."
England had almost won it at the Eden Gardens in 2016. Supporters had started to celebrate when Ben Stokes conceded the four sixes against Carlos Brathwaite. Stokes hunched low in the middle of the pitch shell shocked at the Eden Gardens was a photograph that went viral. England was defeated by a resurgent West Indies and Stokes was the villain. He has moved on since. He won the 2019 world cup for his team, won some incredible Test matches but T-20 glory had continued to elude him. Now its complete. His redemption was finally complete at the MCG as Ben Stokes scored the final boundary and erupted in ecstasy. Stokes in the middle of the pitch, standing like a gladiator and looking at the skies, will be a picture postcard of the 2022 T-20 world cup. 1 wicket for 32 including an over in the powerplay and a match winning half century, if there was ever a script written in heaven this was one.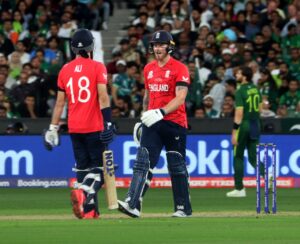 From the very start England was in control. At no point did Pakistan get away and each time they tried to, England led by Ben Stokes and Sam Curran pegged them back. In front of 80,000 fans, mostly from Pakistan, England needed to hold Pakistan under 150 to give their fantastic batting line up a resounding chance. They bat deep and anything under 150 meant they would have the self belief to get the job done. And they had Ben Stokes. Shaheen Afridi did the early damage and then Rauf picked Salt to make a game of it. Just when the Pakistan fans had started to get their hopes high, Stokes stepped up. So what if he lost Butler at the other end. So what id Brook fell as well. He was there unfazed and in control. The moment they crossed 100, the dugout was starting to get excited. Moeen Ali was happy to play second fiddle and Stokes was asserting himself on the game. It was his stage and the gladiator was taking charge.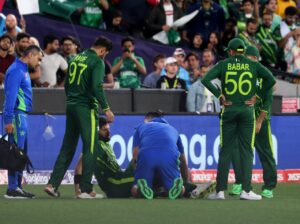 In time the Pakistan shoulders had started to drop. And in time the smiles had started to get wider on the faces of the England stars. When Stokes hit the final boundary, Rashid, Curran and the others rushed in to congratulate him. Stokes, who had vent his initial emotions with a carnal scream, had soon settled into a sense of calm. Even when he was being interviewd by the host broadcaster he was matter of fact. It was a job that he had got done and that's all that mattered. Add the mental health issues, the injuries and his one time call to take some time away from cricket and you will understand the humungous nature of his achievement.
England are now the first men's team to win the 50 and 20 over world cups and this is a radical change from going out of the world cup in the same venue by losing to Bangladesh. They invested in white ball cricket, put a structure in place, adopted a fearless model and today are reaping the rewards for it. They now have set a template that the world will do to well to emulate.
As I sign off my last piece from the world cup, thoughts go back to India. For India it is a story of what if. We need to get our house in order and redeem ourselves in the 50 over world cup on home soil a year from now. And there is no harm in emulating England. Learn what they are doing well. Create a template that works. As the English fans celebrate in Melbourne, that's all I have to say as an Indian fan. We need a Ben Stokes in 2023. Badly.