– Atreyo Mukhopadhyay
Who saw this coming? The wildest of dreamers? Not quite.
Saudi Arabia pulled off probably the craziest of upsets in the history of World Cup football by beating Argentina 2-1 on an unbelievable Tuesday evening. There have been incorrigible results in this competition in the past. Argentina themselves losing to Cameroon in 1990 is an example, Germany succumbing to South Korea in 2018 being another one in a long list.
Even then, what happened in Lusail Stadium on Tuesday was quite bizarre. Complete outsiders Saudi Arabia dominated against the title contenders led by Lionel Messi in some style and pumped in two thunderous goals to emerge 2-1 victors after trailing by a goal at half time. It was some performance, coming from a team ranked way below the team numbered 3 in FIFA world rankings. If there had to be a stunner, here was one.
It was not exactly an upset if you watched the match. Saudi Arabia did not flinch after conceding a contentious penalty early in the game. They kept going, played a highly physical game in which they invited the two-time champions to a body-to-body confrontation. They kept pressing high, showing some sort of tactical alacrity that has not been seen in the recent history of World Cups. It was a thoroughly deserved win. Not a fluke.
It is well documented by now that the side which lost 8-0 against Germany in 2002 kept pressing high. They strategically played a game wherein Messi & Co were repeatedly caught in the off-side trap. It is easy to think that it happened just like that! In reality, it took an enormous amount of tactical discipline to pull it off. You don't do it just like that. You require fabulous strategic knowledge and determination to come up with a performance like that.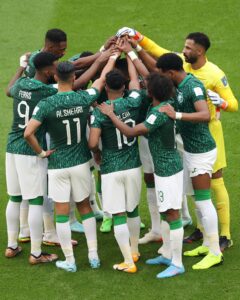 Imagine this! Your team is fairly behind in terms of possession of the ball and yet, you are not letting the opposition take benefit of that. The goalkeeper was outstanding, effecting outlandish saves and so was the entire defensive unit. There were numerous last-second deflections, blocks and interceptions including a vital header from the goalline which saved a goal. Saudi Arabia showed a kind of commitment which was later shown by Tunisia against the fancied Denmark.
It is the team that rode on a magical goal by Saeed Al-Owairan to stun Belgium in 1994. But, what they did against Argentina will supersede a lot of other upsets. It was not like underdogs defending all the time and scoring opportunistic goals. They kept pressing, created pressure, put the favourite team under the cosh for some time and scored two crushing goals. In the end, they were deserving winners. This was not exactly an upset if you factor in how the team played. Let us congratulate Saudi Arabia for this astonishing performance. And, good luck Messi & Co. It was not your day.