The last time there was a World Cup final in Melbourne this man was the one to lift the trophy. As captain of Australia Michael Clarke, nicknamed pup, retired as top dog. One of Australia's best captains he opened up in this candid conversation with Boria Majumdar.
Boria- will you say this is one of the most open tournaments?
Michael- Absolutely. Most times you have one or two teams that are run away favorites but here this time round you have four or five teams that have a real chance of winning the tournament. India, Pakistan, England, Austalia, South Africa, any of these teams can win a contest on their day. And that's what makes this a very special World Cup.
Boria- Not the best start for Australia. But we remember what had happened in 2015. Australia lost to NZ and then you beat NZ to life the cup.
Michael- yes but that's now a long time ago. We have a very good team but off late we haven't played the best cricket. If this Australia side has to win the trophy David Warner has to bat at his best. More if you don't play Steve Smith. While we have some great batters, technically they may not be the best. Maxwell, Stoinis, Wade all of them are very good at the end but for all of them to play freely you need Warner to bat at his best at the top of the order. He is the key for us.
Boria- interesting you say that. Would you say it's the same for India and that one between Rohit and Virat will hold the key because one of them will have to bat deep?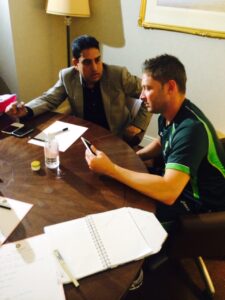 Michael- I absolutely agree with you on that. The fact is in a tournament of this nature either the openers or the number 3 player will have the best opportunity to have impact and both Rohit and Virat are big game players who can make a major difference to the game. I think the Indian batting is fantastic and anyone in the top 7 can do the job for the team.
Boria- there has been a lot of talk about approach ahead of this World Cup. See England for example. Do you think teams like India should adopt a similar approach?
Michael- it is ultimately about winning a match. And you need to know what works for you. If you have players of the ability of Kohli or Babar settling in they will get you a 100. David Warner is the same. It doesn't matter if they take a few balls at the top of the order. That's why there is no one formula. If that was so the game would get boring.
Boria- how much will India miss Bumrah you reckon?
Michael- majorly. That's the one area India is perhaps a tad underdone. Bumrah is brilliant at the top and at the death. He can nail the Yorkers at will and that's something India will surely miss. But then you have Shami who has to step up but I think he needs a bit more game time.
Boria- what about the other team in our group, South Africa. No one is speaking about them and yet they are a very good side.
Michael- yes absolutely they are. The bowling is very very good but I think the batting is a tad inexperienced and I am not sure if they can absorb the pressure of the big stage with the bat. If they do they are a quality aide for sure. That's why I said any of the five teams can win the cup and that's good for the tournament.
Boria- so tell me your top four. Don't be politically correct!
Michael- okay but in no order. I think the four teams that will make it are England, Australia, India and Pakistan. In no order but these are my four semi-finalists. Don't ask me to name two because I can't! (Laughs).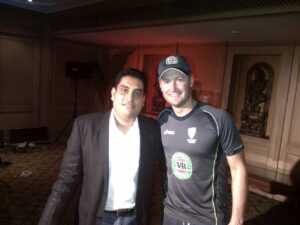 Boria- finally great to see you back on commentary and look forward to the ride in your boat in Sydney!
Michael- yes indeed. Pleasure always and look forward to catching up more during the World Cup.