Atreyo Mukhopadhyay
There is no doubt about his class. At the same time, there is no doubt that his place in India's Test XI is bound to come under scrutiny. He has Test centuries in Australia, England and South Africa. He was the standout Indian batter in the topsy-turvy series win at home against Australia in 2017. And yet, inconsistency is about to put a question mark over his Test career.
That's KL Rahul. He is staring at the bitter truth at the moment. At a time several others are knocking on India doors, he is underperforming. Because his quality as a batter is visibly superior, he has been given a long rope. But for how long? Despite playing some seriously impressive knocks over the last eight years, he averages 34.26 from 45 Tests. Should others be given a chance? The question will only get louder as India head into the series against Australia starting in February.
It was said that Rahul had a problem against incoming deliveries early on in the innings. Usually, openers confront trouble against deliveries which leave them. But in case of Rahul, the diagnosis was correct. He got out on a number of occasions when the ball came back towards him after pitching or through the air. He did his best to rectify and made valuable and attractive runs, at home and overseas. On those days, he was perhaps the most beautiful batter to watch.
The problem is, these knocks have been few and far between. Rahul made Test centuries in England and South Africa last year. Not many Indian Test openers have done that. But what matters at this level is consistency, not necessarily how pleasing on the eye the runs you make are. India have a string of openers waiting for that opening. Shubman Gill, Prithvi Shaw, Yasashvi Jaiswal, Devdutt Padikkal, the list is long and fairly full of runs from the opportunities they have got so far. There are more in the race if one goes by performances in domestic cricket.
What Rahul has done in Bangladesh dents his prospects further, perhaps significantly. He dragged a ball back onto the stumps against a medium-pacer after getting set at the wicket in the first innings of the first Test, played a pull in the air in the second innings against another medium-pacer after spending a fair amount of time in the middle. In the second Test, he got out to left-arm spin in contrasting fashion. In the first innings, Taijul Islam trapped him leg-before with one that came back slightly with the arm. In the second, Shakib Al Hasan took the outside edge with one that spun away. In four innings he has tallied 57 runs. His Test average in 2022 from eight innings is 16.87.
The matter of concern is, Rahul had played himself in the first three of the four outings in Bangladesh. It's far easier to write on an opening batter than do that job. The new ball goes here and there, in different types of conditions. Some of them hit the body and it hurts. There is no guarantee of survival because there are bound to be unplayable deliveries. But when one survives that initial period of uncertainty, he or she is expected to make that count. That is the job of opening batters. Once you have seen through that early hostility, make that count.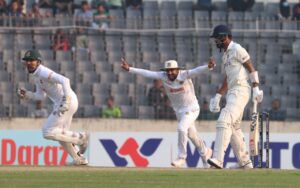 And that is rather tragic when it comes to Rahul. Countless cricket watchers have marvelled at the quality of his strokes and the manner he goes about his job. He is sublime on his day, perhaps as good as anyone, maybe better. He can make a difficult job look easy. That is his innate ability. Few possess that kind of touch and languidness. And Rahul had shown these traits when he was a mere teenager. I remember him during an under-21 match in 2010 where the match referee spoke of him in glowing terms after having watched him in a few previous games.
But what matter at the end of the day are runs. Despite scoring a classy few of them in various conditions against adversities at times, Rahul's numbers do not match up to his potential. He is better than the statistics show. So how do you deal with it? The India selectors, whenever they come to exist, will have to be realistic and decide on something which may amount to being ruthless. Do you give class a longer run by denying opportunities to a bunch of robust youngsters who have done everything to deserve a chance or go the other way? It's a tough call, which has to be taken. That's cricket. You can't please everybody.