Miroslav Klose's record of 16 World Cup goals is just one of many under threat from Kylian Mbappe. Not even 24, there are few limits to what he can go on to achieve.
Just where does Kylian Mbappe sit in the pantheon of French goal-scorers? First, the disclaimer. Neither he nor anyone else will ever come close to matching Just Fontaine's record of 13 goals from six matches at the 1958 World Cup. But that unreal strike-rate needs to be viewed in context, with 1958 being the last of the 'open' World Cups, before strategies based on sound defence came to dominate tactics boards across the planet. To put Fontaine's feats into perspective – and this isn't to diminish them at all – as many as 27 goals were scored in the semifinals, third-place game and final in 1958. The corresponding figure at the 2018 World Cup was 12.
It makes sense then to leave Fontaine out of the debate. Let's look at Mbappe instead in comparison to other French legends. He doesn't even turn 24 until Dec 20th, and he already has nine World Cup goals. Thierry Henry had six from four World Cups, while Zinedine Zidane and Michel Platini each scored five in three tournaments. Mbappe is halfway through his second World Cup.
At 24, Platini – whose nine goals led France to a first major title at Euro 1984 – had scored just 10 times for France, including a goal against Argentina, the hosts, at the 1978 World Cup. Henry had also netted 10 times before turning 24, with his tally including three on home soil at the 1998 World Cup.
Of the others currently ahead of Mbappe in France's all-time goal-scoring charts, Antoine Griezmann had five goals before his 24th birthday. Karim Benzema had 13, and David Trezeguet 16. Olivier Giroud, who now sits atop the list with 52 goals, didn't even make his debut until after his 25th birthday.
Mbappe? He now has 33 goals from 63 caps, after scoring just once in his first ten appearances for Les Bleus. But to reduce Mbappe's impact to cold numbers alone is to vastly underplay his influence on this French team. When he didn't start, against Tunisia in France's final group game, the north Africans took the game to France, with their full-backs bombing forward at every opportunity.
This is one of the defining characteristics of modern-day football. Whether it was Dani Alves and Jordi Alba at Barcelona, Marcelo at Real Madrid or Trent Alexander-Arnold at Liverpool, the best teams have often used their full-backs as auxiliary attackers. That becomes impossible when you're faced with Mbappe.
In most matches, he hugs the left touchline, and then cuts inside to create maximum chaos. By and large, Poland's Matty Cash, who plays for Aston Villa in England, did an excellent job of tracking Mbappe. But even in a match where he was a little below his sublime best, Mbappe set up Giroud for the opening goal, and then finished Poland off with two Exocet missiles.
Cash likes to venture forward and is a good crosser of the ball, but he was almost invisible as an attacking threat because of Mbappe duty. England will face a similar problem in the quarterfinal. Kyle Walker is lightning quick, and his overlapping runs from right-back have been a big part of Manchester City's success under Pep Guardiola. But against France, he'll rarely be able to venture out of his half. If he's caught out of position, Mbappe will tear apart the rather pedestrian centre-back combination of John Stones and Harry Maguire.
Much of Mbappe's value to France stems from the way in which he creates opportunities for others. With teams invariably having to put two men on Mbappe, space is created for the likes of Giroud to exploit. The upturn in Giroud's goal-scoring numbers since Mbappe made his debut in March 2017 bear this out.
In his first 59 games for France, Giroud had 21 goals. From his next 58 caps, he has 31. It's no one-sided connection either. Tall and strong, Giroud is in many ways an old-style centre forward. Mbappe also thrives on his ability to hold up the ball and play him in.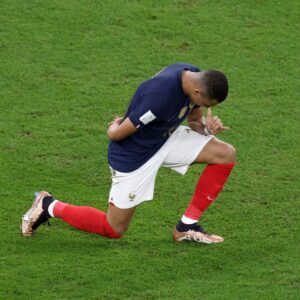 Another team would have wilted if they'd lost the services of the Ballon D'Or winner before the tournament began. But Benzema's absence has barely been felt. As legendary as his feats have been in Real Madrid colours, France hasn't always seen the best of Benzema. And it's impossible to escape the feeling that Mbappe dovetails better with Giroud.
Apart from the undoubted riches that Paris Saint-Germain put on the table to hold on to him, it's also likely that Mbappe's shock decision to stay on in Paris last summer had something to do with Benzema currently being top dog in Madrid.
The France-England contest will depend largely on what kind of service Mbappe gets from Aurilien Tchouameni and Adrian Rabiot in midfield. It will also be decided by the kind of protection that Declan Rice, Jordan Henderson and Jude Bellingham are able to give the English centre-backs. If Mbappe is allowed to run at them, there's only going to be one outcome.