-Anilava Chatterjee, Qatar:
All eyes were Neymar Jr. during Brazil's training session at the Al Habibi Sports Complex on Wednesday ahead of their opening fixture of FIFA World Cup 2022 against Serbia. It could be the last World Cup for Neymar as he was seen in a cheerful mood during the team's practice. The five-time world champions go into the Qatar World Cup as one of the pre-tournament favorites. The Paris Saint Germain (PSG) striker is expected to play a vital role for the five-time champions. He is expected to start against the Serbs as indicated Coach Tite in the pre match conference.
The Al Habibi Sports Complex which is in the middle of a local residential area. The place is surrounded by residences which are not skyscrapers as you witness elsewhere in Qatar. On the way to the Al Habibi Sports Complex, you can see the Education Stadium in Rayyan which is also one of the venues for matches in Qatar 2022. As the media bus enters the complex, we find hundreds of Brazilians lined up to get an entry in the practice arena. They were told by the Brazilian team management to come and cheer the team. One of the supporters made a special attire (similar to what the locals wear) before coming to Qatar.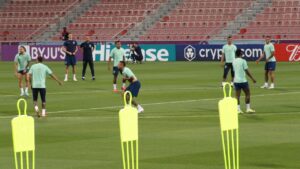 Real Madrid star Vinicius Junior is also expected to start Brazil's opening World Cup fixture against Serbia on Thursday after a screenshot of a private training session was leaked online. Tite is expected to name an offensive starting XI comprising of Neymar, Richarlison, Raphinha and Vinicius Junior.
If Vinicius does start against Serbia, it's believed Tite will deploy an attacking 4-1-4-1 formation at the Lusail Stadium. Liverpool No.1 Alisson is set to start in goal, while Chelsea veteran Thiago Silva will captain the side.
Silva is tipped to be joined in defence by Marquinhos of Paris Saint-Germain and Juventus pair Danilo and Alex Sandro. Casemiro could be deployed as the sole central midfielder, with West Ham star Lucas Paqueta and the great Neymar playing in front of him.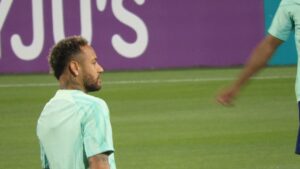 Richarlison is expected to be picked ahead of Gabriel Jesus as Brazil's centre-forward, with Raphinha and Vinicius either side of him.
Hundreds of Brazilian fans were allowed to watch the training of their favourite stars as they arrived at the training centre with drums and were seen cheering their team. Will it be samba time here in Qatar 2022, only time will tell.