-Boria Majumdar
The question every Indian fan is asking is can India win this World Cup now that they have made the semi finals having won 4 games out of 5. First things first, this Indian team isn't a bad T-20 outfit in any sense. So why not? Why can't we beat England? In Australia toss isn't a factor and India has won matches chasing and batting first. In that sense they have both bases covered.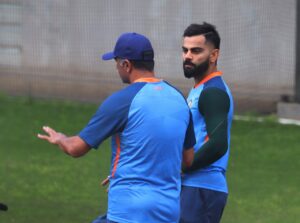 Having said that some correctives are needed. First and foremost we need runs from Rohit in the key matches. He is a match winner and all of India will be hoping the skipper fires. While KL has scored back to back fifties and has looked good it is important he gives the team a brisk start and not take too many balls in the powerplay. The concept of sighters aren't relevant anymore and it is of paramount importance India sprints off in the powerplay and not waste it. So far India has been slow off the blocks and against quality sides like England that might just hurt us. India's most versatile batter is by far Surya Kumar Yadav. It is important he plays more balls for he is the only player who is scoring at a strike rate that will take the game beyond the opposition. While Virat has been exceptional in the Pakistan game and scored consistently, it is Surya who has looked the most devastating. You need your most versatile batter at the moment to bat for the most number of balls and Surya with shots all over the park is the best man suited for the job.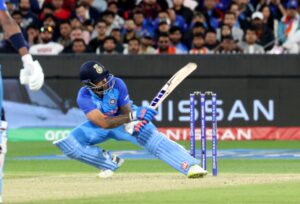 The other worry is about the wicket keeping position. Rahul Dravid is one who wants to give players a few games before taking a harsh call and that means Rishabh should have another opportunity against England. He has looked excellent in practice and fell to a stunner from Ryan Burl in the Zimbabwe game. With DK not having made an impact India will need Rishabh to bat the way he has in the past in Australia. Unless we get runs from Rishabh or DK there is a lot of extra pressure on Hardik. He has been in good form and it is time for one more big effort from Hardik against England, arguably the best T20 team in the world. Between Rishabh and Hardik one of them will have to play the MSD role in the Semi final and that's going to be a very important contribution for India.
That brings us back to the Pant question. Does Rishabh make the first eleven or should we have to sit out again? Thinking out of the box Rishabh could have been asked to open as was done for one of the games recently. He has the ability make use of the powerplay and if given the license to go for it from the start could well be the X factor that India needs. But with that option not exercised is it better that DK is preferred as a finisher for he has played better at 6 or 7 than Rishabh in most games recently the 3 World Cup matches notwithstanding. Again a bold call has to be taken and the team management will have to decide who is better suited for the England game.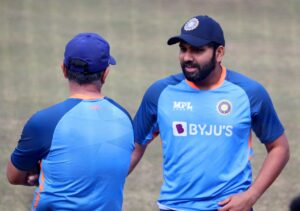 Finally, we need Arshdeep to continue the way he has bowled all through and Bhuvi to give India a breakthrough against Butler and Alex Hales. Unless India gets a couple of wickets in the powerplay, England has the potential to race away with a line up full of power hitters. Death bowling remains a concern and not much can be read into the Zimbabwe or Bangladesh games. What has been good to see is Ashwin getting some wickets and he can now carry the confidence into the semi final. Adelaide, it is important to remember is a small ground and even Mishits might go for six from men like Livingstone. That's where Axar and Ashwin will have to be at their best. England is no Bangladesh that they will flounder a start of the kind provided by Litton Das.
Some minor refinements and India will be ready. It is a good T-20 team and all that the team needs now is a final plan with a final combination going into the World Cup Semi final. The truth is India will start as the underdog against England and will have to punch above their weight somewhat. But with individual flair and brilliance doing the job so far, one expects the men in form to put their hands up in the match that matters the most. Against England there will be moments in the game they either side will have to win. And the team that wins these moments is the one that will make the final. With everything at stake Adelaide could witness something historic on Thursday with Indian fans trooping in from all across the world and making the city home. The final point is the semi final jinx. It has now happened to India far too Many times and the team has to overcome the mental barrier of winning a semi final. Against England it won't be easy. They are a team with 7 specialist bowlers and batting right up to number 9. But at this elite level it might all come down to self belief and the team that wants to win it that little bit extra.