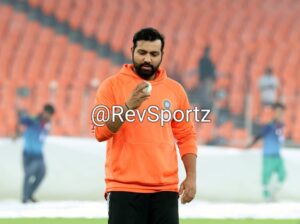 Rohit Sharma emphasised a day before the World Cup final that it is important to stay calm. According to the captain, that calmness will help make good decisions on the field of play. He also said that the silent role played by coach Rahul Dravid has been valuable. He does not think too much about the past and did not divulge anything about the possible XI. The following are the excerpts from Rohit's pre-match press conference in Ahmedabad.
Q: You said that you can't tell us much about the players, what they're thinking, but outside the stadium, there are slogans that only India will win. How is it for you emotionally and the players around you?
A: Emotionally it's a big thing, a big occasion. Whatever hard work and dreams you have, you have for this. That day is in front of us. But the biggest challenge for professional athletes is how you put all this aside and focus on work. So along with me, all the other 10 players will focus on their work for the team, rather than thinking that this is the biggest moment of my life. It's really important to remain calm in such situations because if you are calm and composed, then you can make good decisions in pressure situations. Be it in batting or bowling.
Q: You have been phenomenal as a batsman as well as a captain. Just wanted to know what has been the role of the coach Rahul Dravid in the leadership?
A: His role has been absolutely massive in terms of getting that clarity, which I keep talking about. There's one thing for me to think about and the other thing for the coach to not agree to certain things. Looking at how Rahul himself has played his cricket and how I am playing these days, obviously it's quite contrasting. For him to agree and give me that freedom and liberty to go and play the way we want to play, that says a lot about him. He also feels that he wants to be part of this big occasion. And it's for us to do it for him.
Q: The Australian captain said he has an advantage that he has 6-7 players from the team winning the 2015 World Cup. Is this really an advantage?
A: No. In my opinion, that can't be an advantage. They have the experience of playing the finals. But in such a tournament, current form, current state of mind is more important than that. Our team has also played a lot of finals. We haven't played in the World Cup finals, but we've played in a lot of finals. We know how to handle a pressure situation. I don't think there will be any extra advantage. We just have to continue the way we've been playing our cricket.
Q: There was an India-Australia final in 2003. That Australian team had an aura. The way this Indian team has played so far, do you think there's a similar kind of aura around it?
A: I don't believe in aura and all that. You have to play good cricket. I don't believe in what we did in the last 10 matches. It's important to take confidence from such matches. But if you make mistakes tomorrow, then whatever good work you did in those 10 matches will get wasted. So keep yourself balanced, calm, don't think about the future. Think about the present and play your game. The mantra we have followed is this.
We haven't brought the past game into this game. We have only thought who the next opposition is and how we have to play against them and what is our strength and what is their strength, how to explore their weakness, and how to increase our strength. We focus on this, not what happened 20 years ago.
Q: This has been an interesting journey for you. Twelve years back at home, you were not part of the team. Today, you're leading this side. Talk to us about your journey and how it feels today.
A: I don't want to go back there. It was a very emotional period. I think everyone knows about it. It was a very hard time. But now I'm happy that I'm at this stage where I'm leading the team into the final. I never thought it will happen. But things do happen if you wish. And if you dream big, all these things happen. I'm just very happy to be here. But I know the importance of tomorrow. I just want to keep it nice and relaxed and calm and not get too emotional thinking about what happened in 2011 or what can happen tomorrow.
Q: We saw R Ashwin batting and bowling yesterday. And we saw that the spinners did a great job in the last few matches. Are we planning to play with three spinners?
A: We haven't decided anything yet. But anyone from the 15 can play. We will assess the wicket and decide. We have to see how the wicket looks tomorrow, and what our strength is, what their weakness can be. We have to look at all this. We haven't taken any decision.
Q: How is it to take on a not-so-dominant Australia? They are the five-time champions. Are you cagey about it or how is it?
A: I don't agree with not being dominant. They've won eight out of eight. It's going to be a good contest. Both teams deserve to be at this stage and we understand the importance of what Australia can do. They are a very complete side. For us, it is important to focus on what we want to do as a team. I have said it many times and even now I will say the same thing that we don't want to worry about who the opposition is and what kind of form they are in. We need to focus on what is important for us.