– Atreyo Mukhopadhyay
Here is a quick look at what the 10 franchises might go for and what kind of money they can spend at the IPL auction in Kochi on Friday. Different teams have different requirements. Revsportz tries to find out and explain what exactly they need and what they might do.
Chennai Super Kings (total slots 7, foreigners 2, money Rs 20.45 cr)
Fast bowler and another opener
They have most bases covered, barring an overseas fast bowler and a back-up opener. For the second, MS Dhoni's team has Devon Conway and Ruturaj Gaekwad. There is nobody after these two. So someone like Mayank Agarwal might feature in their wish list. Who knows, could also be N Jagadeesan, who will not cost much. For the fast bowler's slot, they may go for Jaydev Unadkat (base price Rs 50 lakh) Sri Lankan Dushmantha Chameera (Rs 50 lakh), Sheldon Cottrel (Rs 50 lakh) or England's Reece Topley (Rs 75 lakh). The one mentioned last has built a bit of reputation of late and being a left-armer like Unadkat and Cottrel, provides variation.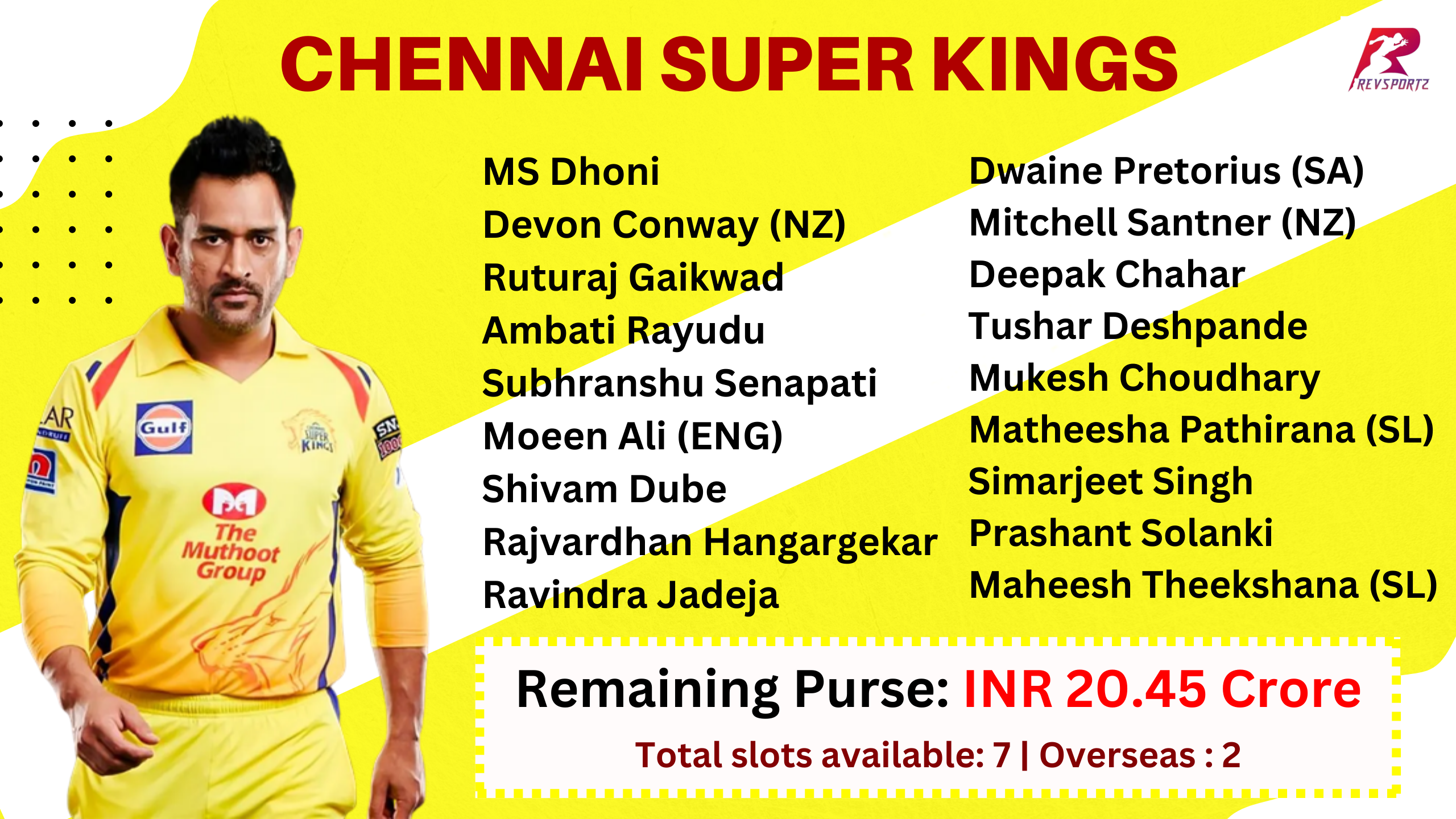 Mumbai Indians (total slots 9, foreigners 3, money Rs 20.55 cr)
Fast bowling back-ups, Pollard's replacement & spinners
A formidable bunch if Jasprit Bumrah and Jofra Archer turn up fit. So they will be looking for back-ups for these two and their options would be the same as mentioned in case of Chennai. For the retired Kieron Pollard, they will look for an all-rounder and Ben Stokes or Sam Curran might be among the players they target. One or two established spinners, Indian or overseas, will also be on their radar. There are not many in the market. Afghanistan's Mohammad Nabi (base price Rs 1 cr) can be an option. Even Tamil Nadu's Murugan Ashwin (Rs 50 lakh). But spin is an area they would like to strengthen.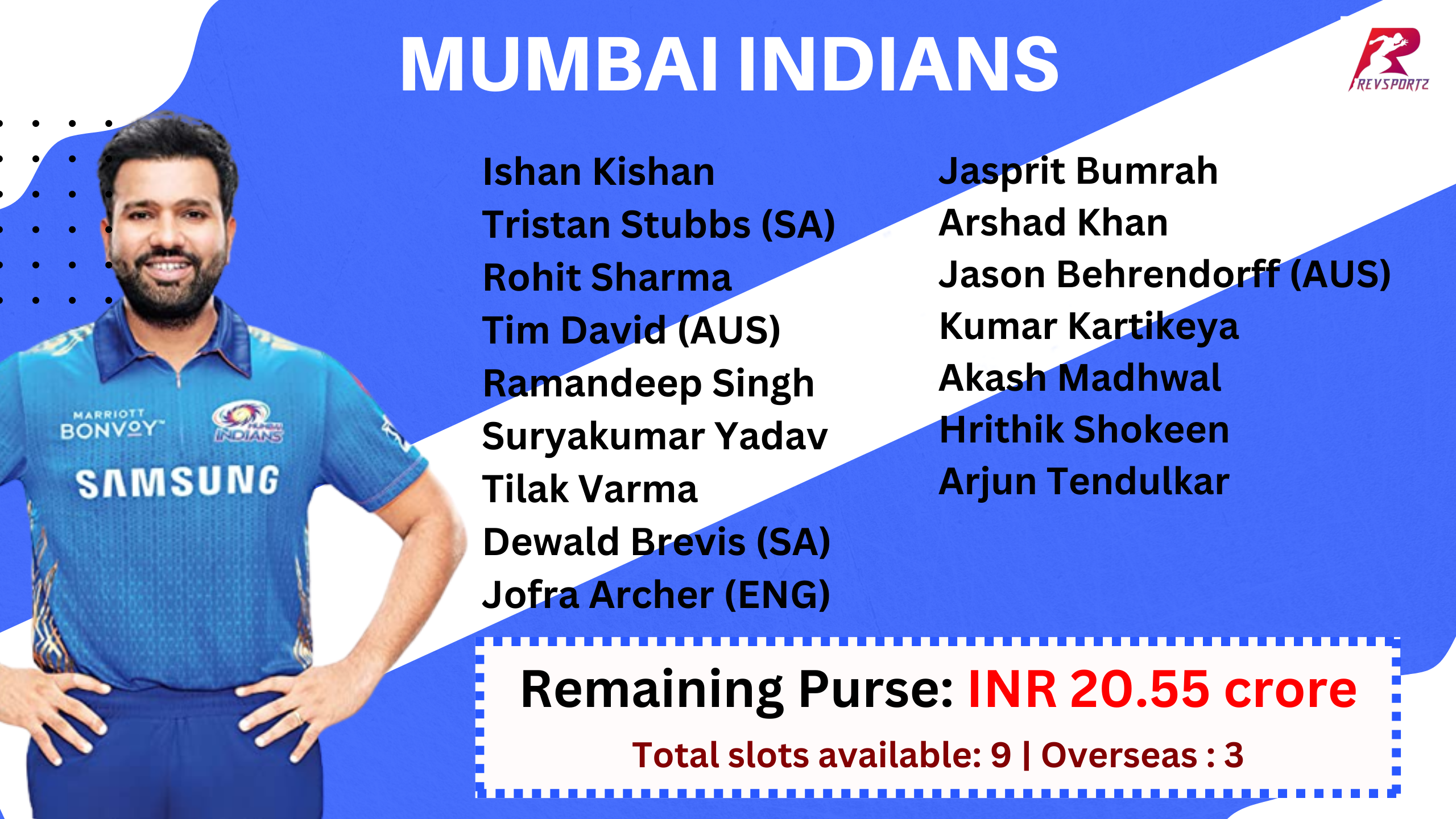 Royal Challengers Bangalore (total slots 7, foreigners 2, money Rs 8.75 cr)
One batter and a spinner
No paucity of resources as far as batters and fast bowlers are concerned. And they are formidable in these two departments. What they might go for is another spinner and another batter who can be used in the middle-order. Since they do not have a lot of money to spend, they might have to settle for some domestic names. So expect them to go for some lesser known faces instead of established stars. Someone like Samarth Vyas (base price Rs 20 lakh) of Saurashtra who did well in the domestic T20 competition could be among their catches. As far as spinners are concerned, someone like M Sidharth (base price Rs 50 lakh) of Tamil Nadu might be a handy and cheap choice.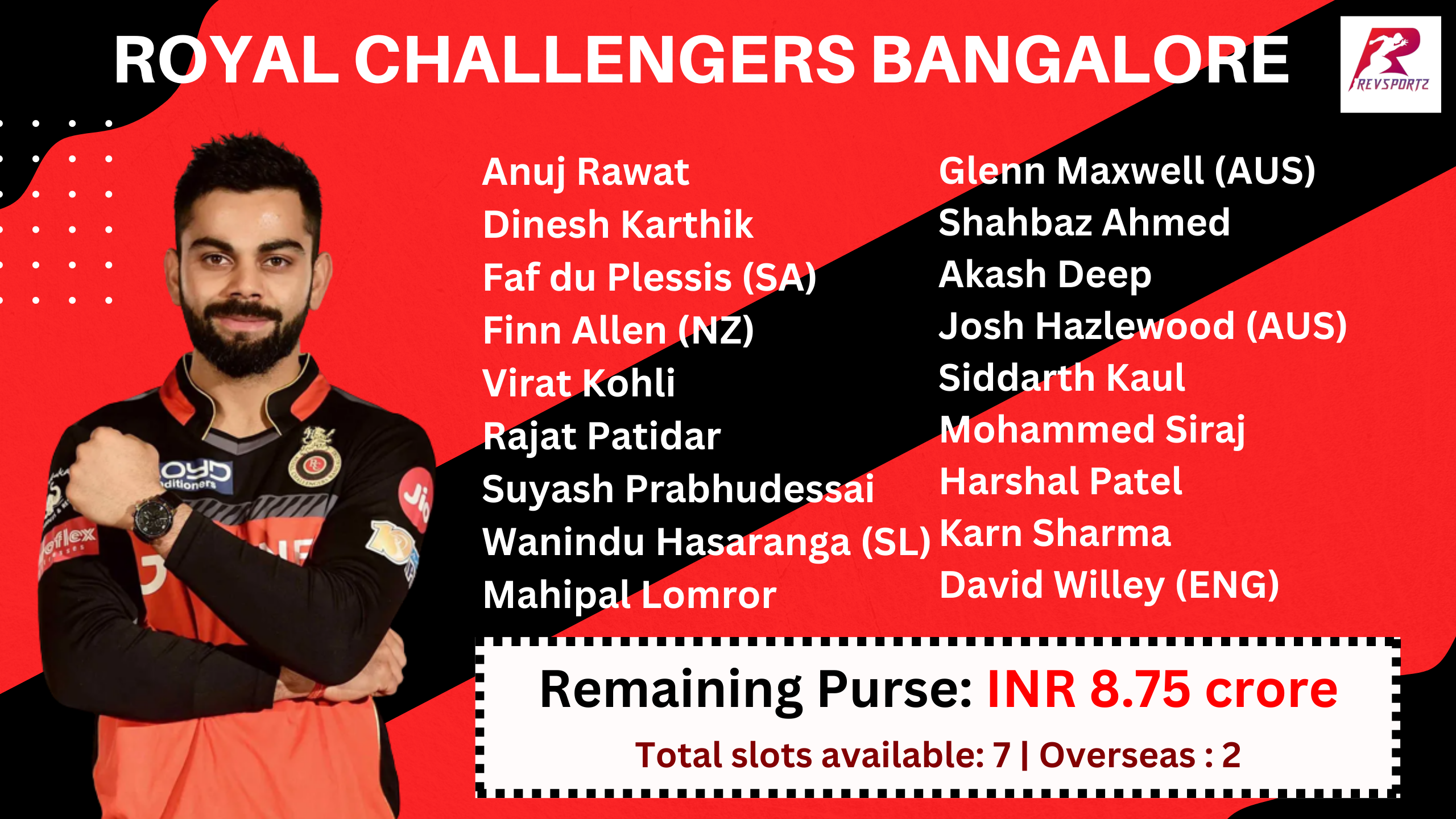 Rajasthan Royals (total slots 9, foreigners 4, money Rs 13.2 cr)
All-rounder & a middle-order batter
Bowling department looks awesome. There are several fast bowlers and spinners either of proven quality or high on potential. What they lack is an all-rounder. They could have gone all out for a Ben Stokes (base price Rs 2 cr) or Sam Curran (Rs 2 cr) or Cameron Green (Rs 2 cr), but budget might become a constraint in that case. Also, they would possibly like to add to their roster of batters. Most of their impact batters are top-order specialists. Ideally, they need someone in the middle-order. Jimmy Neesham (base price Rs 2 cr) of New Zealand, England's Harry Brook (Rs 1.5 cr) are some of the players they may bet their bottom dollar on.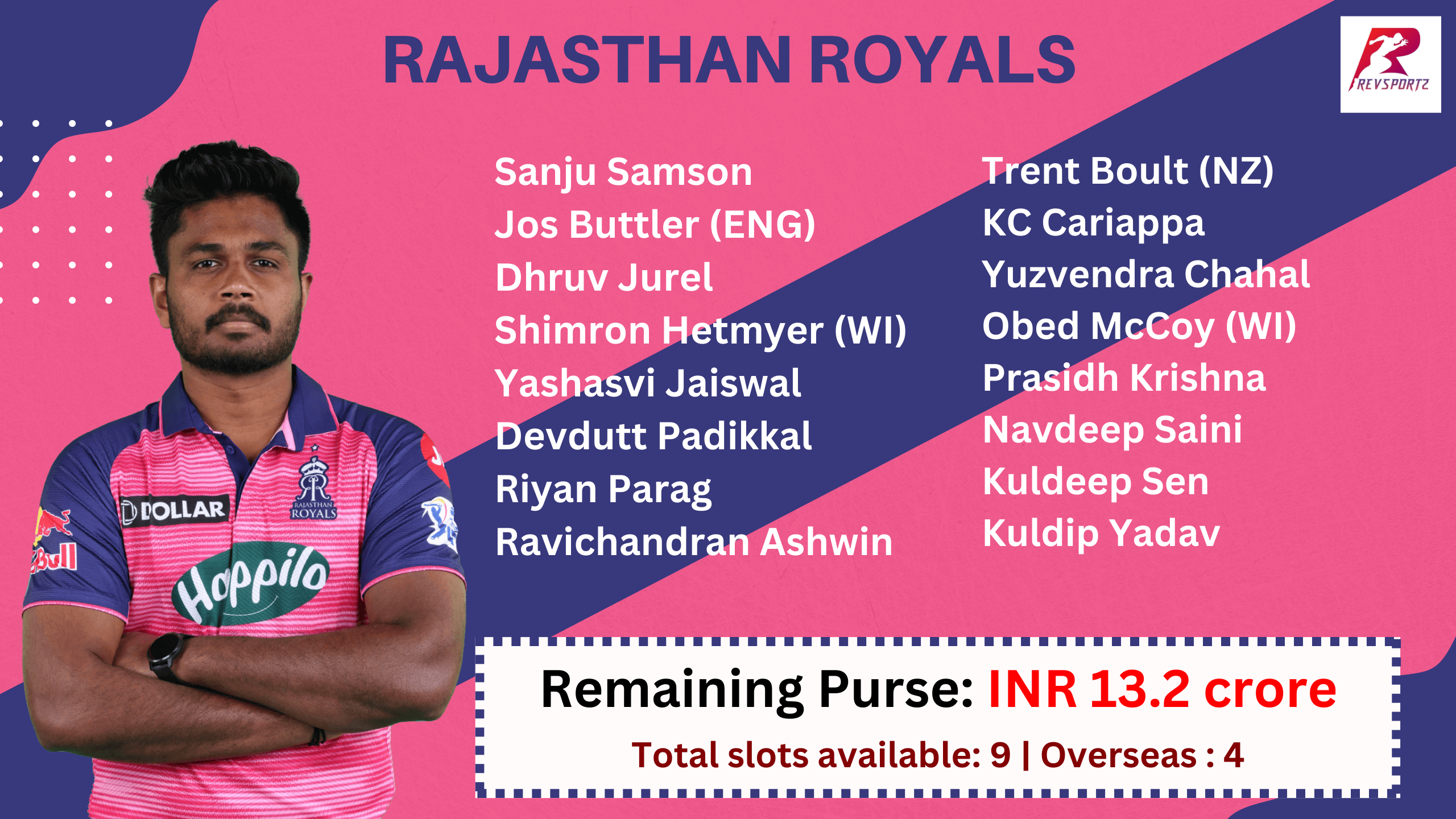 Gujarat Titans (total slots 7, foreigners 3, money Rs 19.25 cr)
Fast bowler and a batter
What they certainly need is at least another fast bowler, considering the fact that there is no guarantee on Mohammad Shami's fitness. They might also need a bit of additional muscle in batting and possibly another spinner as a back-up option. But fast bowling is an area they will try to strengthen. There are quite a few overseas options, funds permitting. They don't have a lot of money to spend, but just enough for one expensive buy and if possible, another mid-level purchase in batting. The defending champions appear a tad short in the opening slot if Shubman Gill does not find the going great. In all probability, they will be paying attention to this.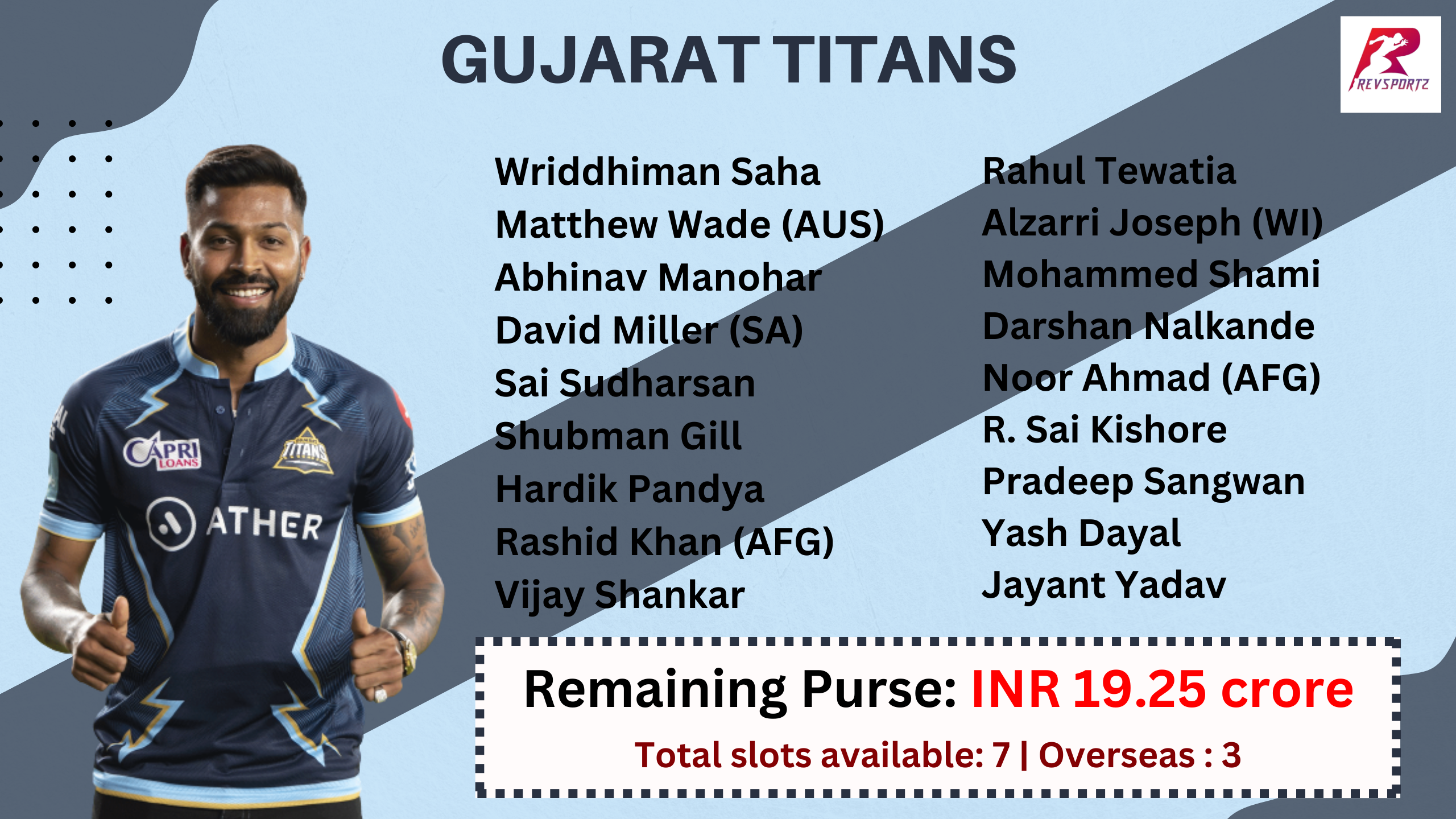 Lucknow Super Giants (total slots 10, foreigners 4, money Rs 23.35 cr)
Here too, a batter and a fast bowler
For starters, they will surely be looking to bolster the batting department. There appears to be a sufficient array of all-rounders in Marcus Stoinis, Krunal Pandya, Deepak Hooda and even Krishnappa Gowtham. What they need foremost is one or two more batters who can make an impact. With Mohsin Khan injured at the moment, they might look for an additional fast bowler as well. And they do have the funds for one big buy and another semi-big one. Options have been mentioned before. So there will be a tussle between franchises for those guys and Lucknow will be among them.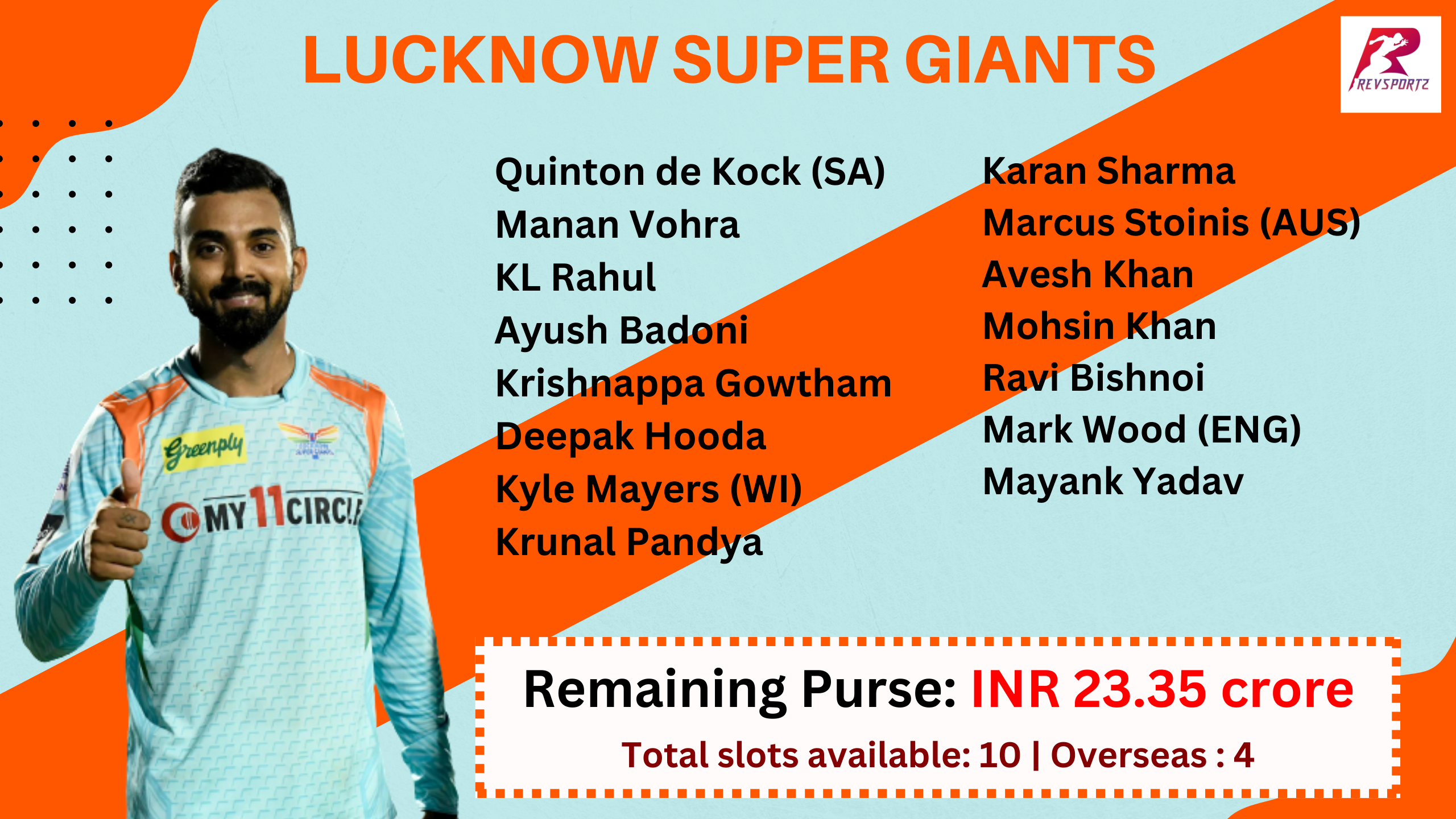 Punjab Kings (total slots 9, foreigners 3, money Rs 32.2 cr)
Batters and spinners
With a fair amount of money to spend, they will first look at buying some batters. Other than Jonny Bairstow and Shikhar Dhawan, they do not have players in this department who have proven themselves yet in the IPL. They should be banking on the funds they have to get some big names to fill in those holes. Someone like Kane Williamson (base price Rs 2 cr) might figure in their plans as well as power hitters like Nicholas Pooran (Rs 2 cr). The likes of Stokes and Green should also be in their wish list. Once they do that, the focus should shift to spin. Other than Rahul Chahar, they appear to be a little low on ammunition in this area. So expect one or two expensive catches and a few more decent amount signings from them.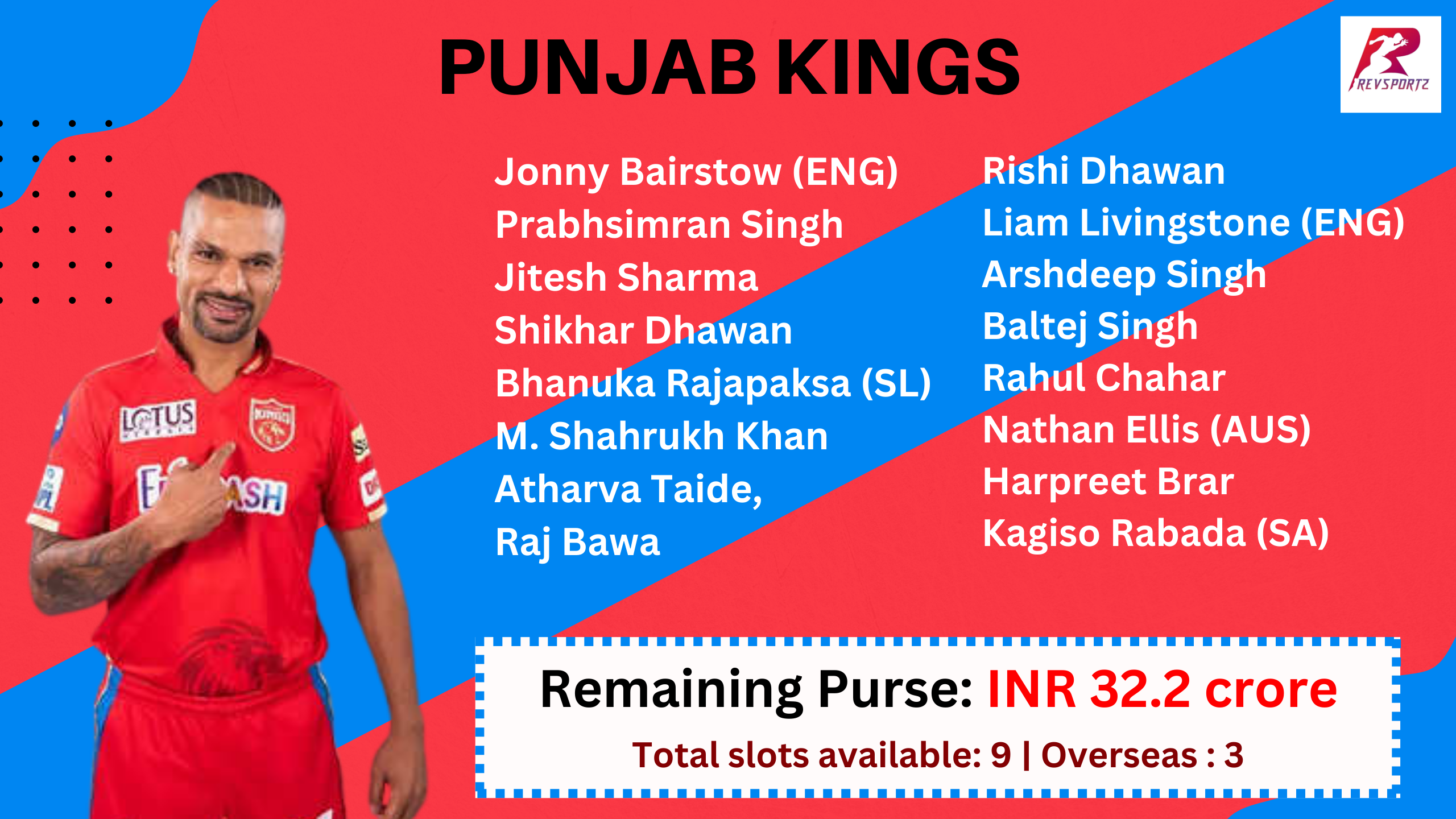 Kolkata Knight Riders (total slots 11, foreigners 3, money Rs 7.05 cr)
Seeking batters with not much in the purse
The bowling looks decent on paper, but batting is something which let them down in the last few seasons. This team is too dependent on Andre Russell. While the West Indies player has bailed them out on a number of occasions with some unbelievable hitting, this is not a one-man game. The problem for Shah Rukh Khan's franchise is, they hardly have the money to go for the big names. So it comes down to their scouting team. If they have spotted some good talents who can be bought for cheap, they have some hope. They desperately need some reinforcements in that department. Otherwise, it would put too much pressure on captain Shreyas Iyer and Russell. All-rounder is another shortcoming. Then again, so is the purse at the moment.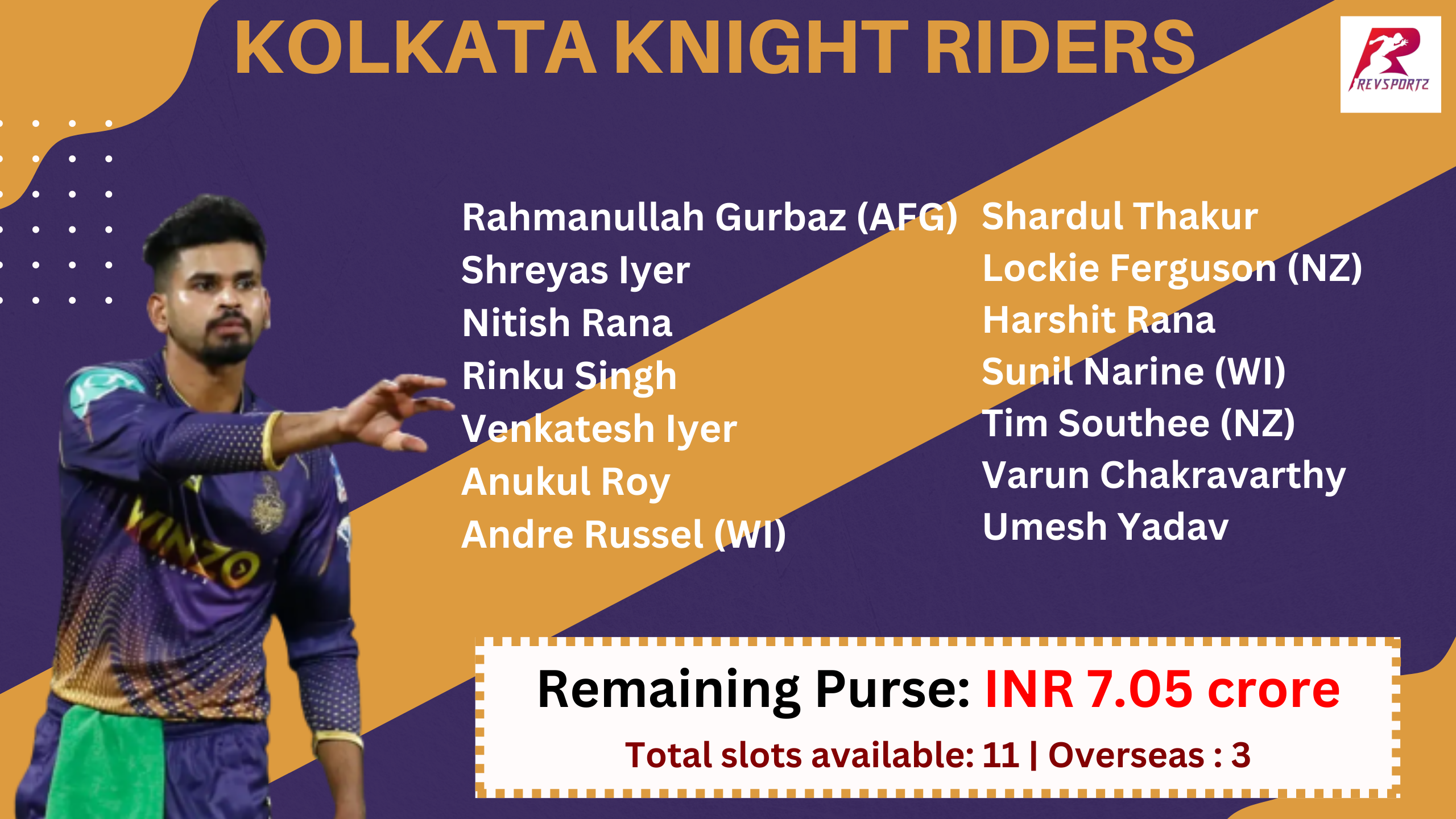 Delhi Capitals (total slots 5, foreigners 2, money Rs 19.45 cr)
Go for one big buy, looking good otherwise
With a decent amount of money to spend, this looks like a well-balanced bunch. Almost all the departments are packed with useful players who have proven themselves on this stage. What they can go all out for is that high-profile and robust overseas all-rounder. They have the money to make one big buy and go for smaller investments thereafter. Surely, the likes of Stokes or Green should be among their targets. The roster is almost full and looks settled, which means they can hope to net one big fish. That will give this already steady unit the cutting edge they are looking for.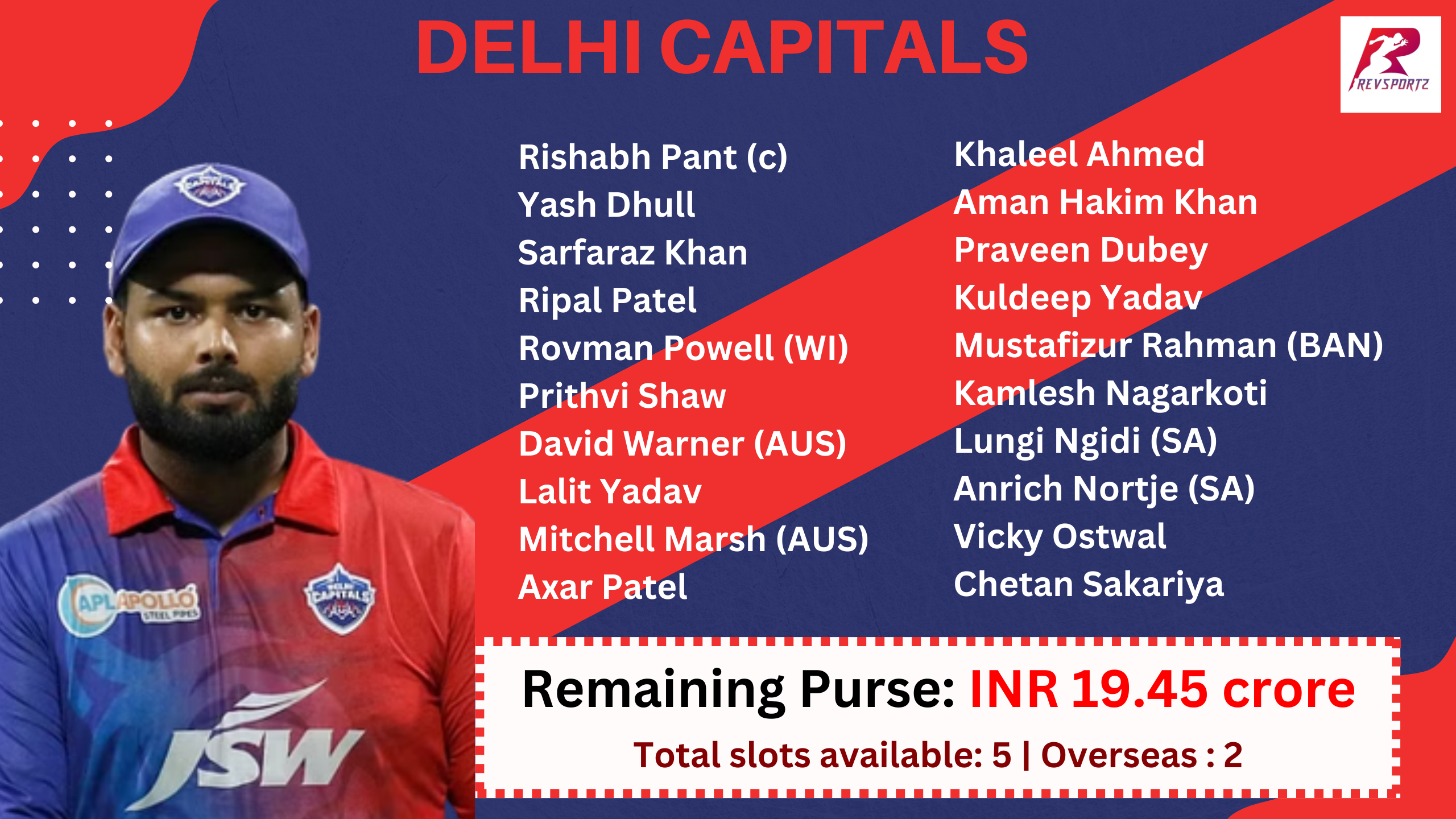 Sunrisers Hyderabad (total slots 13, foreigners 4, money Rs 42.25 cr)
Batters and all-rounders with money to splurge
The franchise with the maximum amount of money to spend, they can go big on the players they want. The fast bowling department does not need new recruitments. They need a couple of spinners and a few gun batters and all-rounders. Given that they have the monetary advantage over the other franchises, they can buy a few that others would envy. The list is endless. At least two mega buys, plus a few more mid-level ones and this team can have a really strong look. We have already discussed the big names available in the auction pool. This franchise is in a position to call the shots at the auction hall. When the players start coming under the hammer, expect them to pose for photos with big smiles.