-Boria Majumdar
It is an hour and fifteen minutes drive from downtown Sydney. But the opportunity to meet Neil Harvey is such that the drive was a welcome one despite being sleep deprived and tired. And just as I turned into the driveway and parked the Kia Sports car my friend had lent me, the sense of apprehension hit me hard. Harvey, the last surviving member of Bradman's invincible team of 1948, hardly meets anyone. He is a recluse and at 94 isn't well either. His knees are troubling him and that has taken a toll on his mental health as well. However, my friend Norman Kochannek knows him well and is one of the rare few he still happily speaks to on the phone. So when Norman said to him that he had an Indian friend who was keen to meet him, I was kind of expecting him to agree to see me. And when that happened, I must say my Diwali was made. It was Neil Harvey, the second most prolific Australian batsman after Bradman at the time of his retirement and considered by many to be as talented as Bradman himself, in his house. It can be said that I wouldn't perhaps meet him again and in that sense it was a bucket list ticked.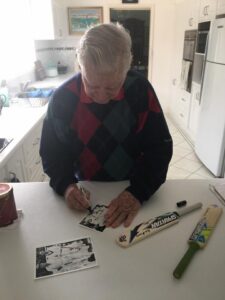 When I wished him a very happy and prosperous Diwali and explained to him what the festival stands for, he seemed intrigued. And then all of a sudden there was a glint in his eye and the words come out in a torrent, "This Diwali should be special for you all after that special knock from Virat Kohli last night. What an incredible player the young man is. To beat Pakistan in the manner he did with the bat was special. I watched that match and loved the way he batted, especially the two sixes in the end", he said. Harvey too seemed to have loved Virat's special strokes against Rauf and they seemed to have given him a final burst of energy and rekindled the love for his own sport at a time when his health is failing him. When I asked him why Virat is so special, he gave me a smile and said, "There are good players and great players. The difference is subtle but a very important one. Virat Kohli is a great player and that's the difference." Each time he was speaking, one could see the pain writ large on his face. Neil Harvey now finds it difficult to even walk up to the door and open it and in such a situation Kohli was a kind of redeeming feature for him. Virat was an escape of sorts who allowed Harvey to forget the pain and enjoy watching cricket for a while.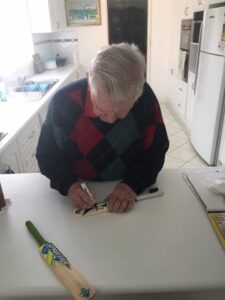 In fact, at one point he even said that he doesn't want to live with all this pain anymore and looked distraught. That's when my friend Norman suggested we get his favorite chocolate cake. Harvey loves black forest cake and we could see a hint of smile on his face when Norman mentioned it. He had even read the reports on Kohli's innings and said as much to us. "I enjoyed reading the reports for such an innings lends itself to some fine writing. It is good for the game that you have a player like this", said Harvey.
I couldn't stay for too long for Neil Harvey needed to get some rest. But in the little time that I was there it felt good to see that Virat had kind of given him a fresh vibe of positivity at a time when he is struggling. As one of the very best who has played the sport, Harvey knows what it is like to aspire to and achieve greatness and maybe that's why he enjoyed Virat's knock that much more. And as I was leaving he all of a sudden called out my name and said to me, "Wish everyone happy Diwali". It could well be the last time he has wished us all.