Messi Joy After Brazilian Heartbreak
The best team in South America are going home, undone by Croatia's veterans. Lionel Messi and Argentina, though, march on, thanks in no small measure to his genius illuminating an often ugly game.
South America's best team are heading home. The world's most adored player, however, is staying on, to maintain South American interest in a competition that the continent hasn't won since 2002. Those were the key takeaways from a dramatic and bizarre night in Qatar, with the first two quarterfinals both going to the lottery that is a penalty shootout.
History will judge Tite, Brazil's coach, harshly, just as it did Tele Santana, who was unable to pilot his magical Selecao teams into the semifinals in either 1982 or '86. It shouldn't though. Tite assembled the most watchable Brazil side in a generation, winning 61 of his 81 games in charge and losing only seven. After the dross of the Dunga years, he restored the aura of the yellow shirt with teams committed to attacking in the style of old.
Brazil scored 40 goals in 17 matches while qualifying for this tournament from an incredibly tough South American group. They finished 17 points ahead of Uruguay in third, and 19 clear of Ecuador in fourth. They conceded just five times.
At the World Cup itself, the goals that Richarlison (against Serbia) and Neymar (in the loss to Croatia) scored will never be forgotten. They were emphatic remainders of why Brazil are the neutrals' team in many parts of the world, and of the philosophy that Socrates, their 1982 captain, once spoke about. "Beauty comes first. Victory is secondary. What matters is joy."
If there is a criticism of Brazil and Tite, it would relate to game management. At 1-0, and with just three minutes of extra time remaining, there was little need for so many of them to pour forward. The outstanding Josko Gvardiol's tackle turned the ball over, and Luka Modric was able to release Nicola Vlasic down the left. He duly found Mislav Orsic, who charged to the edge of the box before squaring for Bruno Petkovic to beat Alisson via a wicked deflection off Marquinhos.
It was Croatia's only shot on target. Brazil had 11, with Dominik Livakovic making telling saves long before his shootout heroics. But don't let those numbers fool you. Brazil never had control. Croatia's experienced warhorses – Modric, Marcelo Brozovic and Mateo Kovacic – set the tempo in midfield. Lucas Paqueta and Neymar got into dangerous positions a few times, but didn't otherwise give Casemiro the support he needed to take control of the midfield.
Croatia completed more passes than Brazil, and even without an exceptional striker in the Davor Suker mould to pass to, the midfield trio managed to keep Brazil at bay for vast stretches of the game. Once Petkovic scored, the denouement was almost inevitable. It was Croatia's fourth straight win in a World Cup shootout, and the coolness of their penalties – the first two went straight down the middle – said much about how they fancy themselves in such situations.
The Netherlands don't have any such record to fall back on. After exiting the European Championships on penalties in three straight editions (1992, 1996 and 2000), this was their third shootout loss at the World Cup, following on from semifinal defeats to Brazil in 1998 and Argentina in 2014.
In truth, the Dutch deserved little from the game, though they did contribute one of its two gorgeous highlights with a goal that was a tribute to Argentine ingenuity from yesteryear. Teun Koopmeiners was four months old on July 1, 1998, when Juan Sebastian Veron slid a freekick through to Javier Zanetti, who crashed the ball left-footed past England's David Seaman to equalise in a match the Argentines would go on to win on penalties.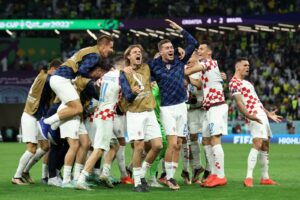 With the clock having just ticked past midnight and on to December 10, Koopmeiners tapped his last-gasp free-kick to Wout Weghorst, standing next to the Argentine wall. He turned and finished for his second goal of the game, having come on only as a 78th minute substitute. The two goals were the Netherlands' only efforts on target, in a niggly and bad-tempered game to which they contributed little in terms of quality.
Koopmeiners' pass aside, the game's standout moment was an otherworldly assist from Lionel Messi, who somehow calibrated a perfect pass through a tangle of legs for Nahuel Molina to apply the finish. Messi wasn't as exceptional as he had been at times against Australia, but the Netherlands' lack of midfield stardust meant that he still looked a cut above.
It's now more than six years since Johan Cruyff, the man at the heart of the Netherlands' legendary Total Football side, passed away. It would have been fascinating to know what he made of Louis van Gaal's tactics as the clock wound down. Cruyff, whose coaching at Barcelona and elsewhere emphasised the players making smart on-field decisions, was often critical of van Gaal's more regimental methods, with the system paramount.
At the Lusail Stadium, what we saw wasn't a system so much as a throwback to English football from a couple of generations ago. Once Weghorst came on, the Netherlands' tactics consisted largely of knocking the ball long for him or even Virgil van Dijk, pushed forward from centre-back, to nod down. Wimbledon won an FA Cup against Liverpool in 1988 playing that way, and while it wasn't pretty to watch, van Gaal succeeded in finally ruffling an Argentine defence that hadn't been unduly troubled till then.
What both matches highlighted though was the value of a top-class striker. Brazil had talented players cutting in off the wing, but no Ronaldo in the centre to terrorise defenders or finish clinically. Croatia were utterly toothless, while a Netherlands side lacking the quality of a Marco van Basten, Robin van Persie or Dennis Bergkamp were distinctly second-best for much of the game. And for all Messi's celebrations at the end, the feeling persists that the lack of a Gabriel Batistuta or Hernan Crespo will cost Argentina dearly.
For now though, the Messi bandwagon and Argentina move on. Improbably, Croatia, who looked down for the count against both Japan and Brazil, join them. As for Brazil, there are another four years of regret ahead, despite having contributed some of the most memorable moments of the tournament. Tite has gone, and perhaps Neymar will too. Many tears will be shed, but as with their illustrious predecessors from 1982, some of us can only wonder what might have been achieved with better game management and nous.