-Atreyo Mukhopadhyay
There is something about football that tends to defy logic. Things happen against the predicted projections. They sometimes go absolutely haywire. This can be crazy. Beyond the realm of imaginations. And that is why you love watching sports. It keeps astonishing you. Wakes you out of the slumber. Stuns you. Gets you out of your comfort zone.
The FIFA World Cup 2022 in Qatar has turned out to be one such event. No favourites, no underdogs. It's about who turns up better on a given day. How many upsets already? Spain, Germany, France, Argentina, Brazil, Portugal and a few more have succumbed against less fancied sides. Who thought Saudi Arabia, Japan, South Korea, and Tunisia would come up with those telling performances?
But when it comes to the business end, it's Morocco stealing the show. They run into a very, very formidable French side in the semi-finals, but they have already created history by becoming the first African team to enter this stage of the competition. Most noted for reckless challenges on Ronaldo of Brazil in 1998, they have made a different mark this time altogether.
Football is about strategies, tactics, collective discipline and holding shape. No doubt about that. It's about how you keep poise, maintain composure apart from showing individual spark if you have that. It's mostly about following a plan and executing that. What Morocco have displayed so far, is all about the heart. You show that desire to get the job done, stay committed to it for 90 minutes or more and stick to that. Whatever maybe the adversity, you don't bother about it.
That, perhaps, has been the most remarkable feature of inarguably the most remarkable story of this World Cup. Who are Morocco? What pedigree do they have? What heritage? None, right? Yet they are there in the last-four, having beaten Spain and Portugal in back-to-back games, after having topped their group which featured Croatia and Belgium.
This is absolutely legendary. Where are Morocco compared to the football powerhouses of the world? They do have players who ply their trade in European leagues, but other than Hakim Ziyech of Chelsea, there is hardly any notable name in their ranks. They are complete outsiders. And yet, to be delivering those telling blows against some of the better equipped sides of the world took some doing.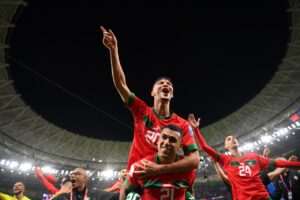 Where did that come from? From collective desire. It's as much about the heart as from the head. They showed an immense amount of will power to tower above adversities. Goalkeeper Yassine Bonou made the headlines alright, the defence showed an enormous amount of grit. Don't forget that. It takes a lot of resolution and desire to withstand sustained periods of pressure, especially on a stage as big as the World Cup. Blood, sweat and a lot of sacrifices have to be there. Morocco showed that. They may not go the distance, but what they have done is exemplary.
For me, after having watched World Cups for so many years, the Lions of the Atlas have been a most unforgettable experience. Cameroon in 1990, Ghana in 2010 came close but could not close things out. By reaching the semi-finals, Morocco have broken the rule. It will be a game of equals hereon mind you. One who shows the heart will prevail. Strategy, tactics will take the back seat.