From a remote village named Kakarkund of Bihar's Gopalganj district to making it into the Indian dressing room before bagging a life-changing sum of Rs 5.50 crore in the Indian Premier League (IPL) 2023 auction, Mukesh Kumar's journey is nothing short of a roller coaster ride. It is what we call rags-to-riches fantasy.
It wasn't an easy ride for Mukesh, who had to convince his father multiple times in a bid to pursue his cricketing dream. Once he broke into the Cricket Association of Bengal's (CAB) 'Vision 2020' squad, he had to tackle malnutrition problems. CAB went out of the way to back Mukesh and here he is now – Bengal's lead pacer, part of India A, pushing the door of the Indian senior team, and part of Delhi Capitals squad for IPL 2023 after bagging a career-changing contract.
In a heart-to-heart interview with RevSportz, Mukesh Kumar spoke about a range of things, starting from his journey, how Ranadeb Bose and Joydeep Mukherjee changed his life, Cricket Association of Bengal's Vision 2020 programme, getting into the Indian dressing room, IPL auction and much more.
Excerpts:
Subhayan Chakraborty: Tell us about journey, struggle in early days and your love for cricket.
Mukesh Kumar: I started my cricket with tennis ball in my village. My father used to work here in Kolkata for around 50 years, he used to drive taxi. My journey started when my father called me to Kolkata to take up a job. I asked him to give me a chance to pursue cricket. He agreed as he thought it was monsoon and maybe he thought that I would leave cricket after seeing other players work hard and grinding it out. But I needed that only. I love to sweat it out.
I joined club cricket (Bani Niketan) and from there I played first division next year. My father once again asked me to take up a job while citing financial and family issues. Again, I asked him for a last chance and told him if I fail, I'll do whatever you want. During that time, Cricket Association of Bengal (CAB) started their 'Vision 2020' programme. I wanted to give trials to get into the Bengal squad. Around 250-300 guys went to give trials. The likes of Ranadeb Bose, Joydeep Mukherjee, Waqar Younis, Muttiah Muralitharan and VVS Laxman were present there. My name was omitted initially as I wasn't available due to a toilet break I had taken. When I came back, I saw no one there. I stood alone and that is where Ranadeb Bose and Joydeep Mukherjee spotted me. I told them I had come for trials and my name is Mukesh Kumar. After thinking for a few seconds, Ranadeb Bose gave me a ball. I hit the stumps in my very first delivery. I saw Waqar Younis standing behind the nets and he nodded in agreement that I had pace.
From there, my journey began. Our training sessions were held in Jadavpur University while strength sessions were conducted in Eden Gardens. I used to leave my place at early morning and returned only to sleep. Then Waqar Younis was about to leave the camp so he gave us a motivational speech telling us about his journey, how he came from a remote village in Pakistan, how he faced numerous rejections, while throwing us a challenge of not leaving this cricket journey mid-way.

He passed on the responsibility to Ranadeb Bose. One day during a training session, Rana da told us that whoever will miss the off-stump will have to run the entire Jadavpur University ground. Most of the guys there were state players so no one really bothered about it. But then he saw me running and he liked my perseverance. Then Rana sir and Joydeep sir helped me get into a dormitory in Eden Gardens. They took the permission for my dietary requirements and took care of everything.
From there I played Buchi Babu tournament under Manoj Tiwary. I picked up 4 wickets. I was injured for 6 months. I rehabbed under Kamlesh Jain, who is now with the Indian team. I watched one match between Bengal and Mumbai at Eden Gardens and was imagining how I can play for the team. I was poor in the fielding department. I had catching technique that would have given me broken fingers. Joydeep sir took my under his umbrella again. He used to give me 50-100 catches everyday with a challenge that every dropped catch would cost me Rs 50-100. Then I realised I had a debt of around Rs 5000 on him due to all the dropped catches. At the end of the season, he told me that was a lesson to me. I went on to become a safe fielder, used to grab everything that came my way.
Ranadeb Bose and Joydeep Mukherjee had a huge role to play in my career, and also Vision 2020. I wouldn't have been here without that program. Sourav sir (Sourav Ganguly's trust was something that gave me extra confidence. I first saw him when he came to Jadavpur University to run a few laps. I was starstruck. But yeah, this is a short summary of my journey.
View this post on Instagram

How did you feel when you were given Team India jersey?
Mukesh Kumar: When I was given the Indian jersey. I swear on God, I was scared to put the jersey on. I was emotional yes and why not, it was the jersey of the Indian team. I said I won't wear it today and video called my mother and family to show the jersey. Bed ke ek side pe India team ki jersey aur dusre side pe main soya tha (I kept the jersey on one side of the bed and I lied down on the other side). I can't explain my emotions. Getting that jersey and into the Indian team was a big thing for me. I will continue to work hard and my mother's dream is to see me play for India continuously.

And the feeling of getting into the Indian dressing room…were you nervous?
Mukesh Kumar: I joined the Indian team after playing in the Irani Cup. The selectors, Chetan Sharma, called me to congratulate me on my maiden call-up. I was a bit scared initially. The good thing was the Indian team had VVS Laxman and Sairaj Bahutule, who were part of Bengal coaching staff in the past. So that was a relief. I knew a few players from India A like Ruturaj Gaikwad. Then I met Shikhar Dhawan inside a lift. He didn't recognise me initially as I was wearing a hoody but when he saw me walking along with the team, he hugged me and told me "proud of you, tere baare mein bohot suna hai" (Proud of you, I have heard a lot about you). Then I settled down as the captain of the team had welcomed you.
View this post on Instagram
Where did you watch the IPL auction? Talk us through your emotions?
Mukesh Kumar: I was nervous initially when the overseas players were getting sold. I switched off the television thinking that Indian players would come later. I rang my family up and was talking to them. And that is when one of my friends called me to congratulate me. He told me to switch on the television. There was a bidding war going on. I rechecked once whether it was really my name or not. I was feeling good, excited. I was with Delhi Capitals as net bowler so it is in my comfort zone. The atmosphere within the camp is outstanding, very comfortable. Also, I am excited to share the dressing room with the likes of Ricky Ponting, Rishabh Pant, David Warner, Axar Patel, Manish Pandey among others. It'll be a big thing for me. If I get to play, I'll work hard to repay their trust.
View this post on Instagram
What did your mother tell you after the auction?
Mukesh Kumar: My family was happy. Everyone was calling me to congratulate. I am very close to my mother and she became a bit emotional. She was thinking about my father as he was a huge cricket fan. It was my father's dream to see me play in the IPL when I started to play Ranji Trophy. I become emotional when I think about my father now. Even during my India call-up, everyone in my family was missing my father. But I can't feel or express what my mother was feeling about my father. I just try to keep her happy and focus on fulfilling every wish of her.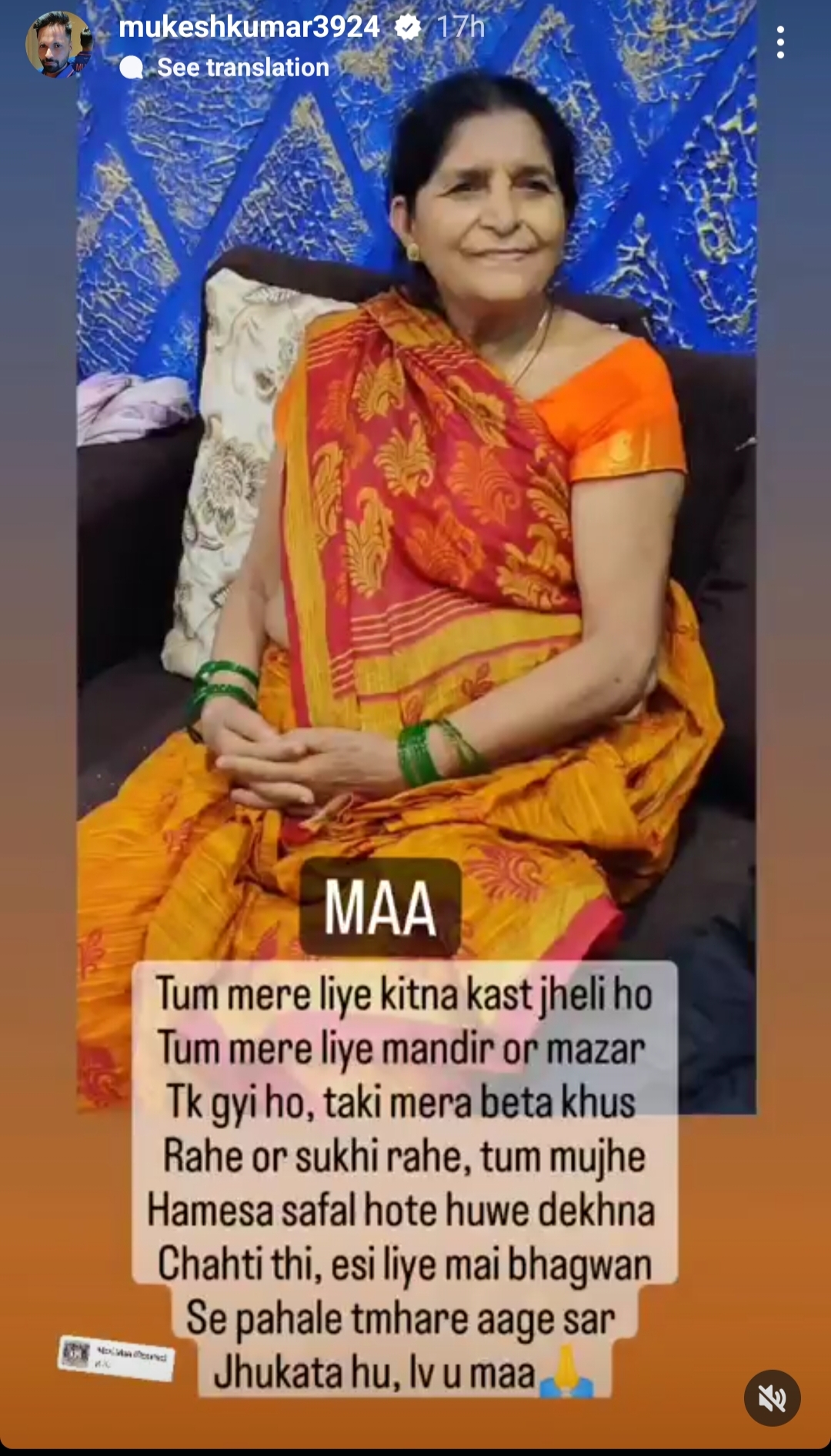 Sum up your journey so far…
Mukesh Kumar: It has been a really important journey for me. If I think about restarting this journey again, I don't think I would be able to do it. I used to keep my head down and follow what others were asking me to do. I was determined. Whatever Ranadeb Bose and Joydeep Mukherjee instructed me, I followed the orders as a good student. I am forever indebted to them. I remember one incident during my initial days. I went somewhere to play tennis ball and both of them scolded me like their own kid. They made me realise what I can achieve. I cried that day but I still remember the day.
View this post on Instagram

A message to all your supporters and well-wishers?
Mukesh Kumar: Please maintain this love and support. I'll give my everything to make you all proud with my performances.

Any dream you want to fulfill?
Mukesh Kumar: I am a simply guy. I want travel to new places with my family. I want to travel to new cities with my mother. It is very important. Wherever I go, I want to take my mother with me.