Füllkrug Could be Key to German Progress
The old-style centre-forward has had a journeyman career. But the country with a matchless forward tradition now has a team with no real attacking focal point. It needs Niclas Füllkrug's goals if the efforts of the midfield creators aren't to be wasted.
Germany's two World Cup games so far couldn't have been more different. Against Japan in their tournament opener, they had 74 per cent possession and rained in 26 shots at the Japanese goal, as many as nine of them on target. On Sunday night against Spain, they had the ball just 35 per cent of the time, and only four of their 11 shots was on target.
Nothing less than victory against Costa Rica will do if Germany are to avoid a second successive group-stage exit, and even then, their fate might depend on the result in the Spain-Japan match. You don't need to be a rocket scientist to see why Germany are in such a predicament. We can debate endlessly the merits of different systems and styles of play, but ultimately it's goals that win football matches. And Germany have just two from two games, from 13 shots on target.
Contrast that with 2014, when they last won the World Cup. Back then, Germany scored 18 goals, including 7 in that memorable semifinal demolition of Brazil, and conceded just 4 in their seven matches. As many as six German players scored twice, with Thomas Muller's tally of 5 leading the way. In the rout of Brazil, Germany were absolutely clinical, getting those seven goals from just 10 shots on target.
In fact, if you look at the history of the World Cup and centre-forward play, Germans dominate the narrative. Since the tournament began in 1930, only 13 players have managed to score 10 goals or more. Of that elite group, as many as five are German. Miroslav Klose, with 16 goals in 24 games from 2002 to 2014, leads the way, while Gerd Muller has the best goals per game ratio (14 from 13 matches) of anyone after 1970.  Jurgen Klinsmann (11 from 17), Helmut Rahn (10 from 10) and Thomas Muller (10 from 18) are the other Germans on the list.
Few nations have such a proud history when it comes to forward play. The story of German football is closely intertwined with the tales of centre-forwards raising their game at the biggest tournaments. Rahn's goals upset Ferenc Puskas and the Magic Magyars in the 1954 final. The next great was Uwe Seeler, whose 72-game career fetched him 43 goals, and spanned four World Cups (1958 to 1970).
Gerd Muller, Der Bomber, was perhaps the greatest of them all, with no modern-day great coming close to matching his strike-rate, 68 goals from 62 matches. Just before he died in 2021, Karl-Heinz Rummenigge, one of the legion of strikers he inspired, paid tribute to the master. "The penalty area was Gerd's domain," he said. "One step forward, one back, forward, back, forward, back – and at some point he had a few centimetres space, which was enough for him. He had the ability to react like no other centre-forward in the world."
That was never more apparent than in the 1974 World Cup final when Muller's opportunistic turn and finish defeated the heavily favoured Netherlands. Rummenigge, who succeeded him as Germany's premier forward, notched up 45 goals in 95 games, a similar ratio to Rudi Voller, whose 47 goals came from 90 caps.
Jurgen Klinsmann, whose deft finish helped see off a star-studded Netherlands in a spicy round-of-16 clash in 1990, when West Germany won the trophy a third time, scored 47 times in 108 games, while Oliver Bierhoff's goals (37 from 70 caps) were instrumental in the Euro 1996 victory. As for Klose, he would finish with 71 from 137 appearances and reach no less than the semifinal in each of his four World Cups.
In the current squad, only Thomas Muller and Serge Gnabry have more than 20 goals. Muller, who scored 36 times in his first 83 games for Germany, has managed 8 in 37 since 2017. As for Gnabry, he's not a centre-forward, but a winger who likes to cut inside and do damage, much like Mo Salah. His strike-rate of 20 goals in 36 games is stunning, but he can't be the focal point for the attack.
That might explain the excitement over Niclas Füllkrug's equaliser in the closing stages against Spain, his second goal in three matches for the national team. Füllkrug, who turns 30 in February, is no youthful prodigy. But Hansi Flick, the coach, has trusted him ahead of young talents like Karim Adeyemi and Youssoufa Moukoko because he's very much an old-style centre-forward.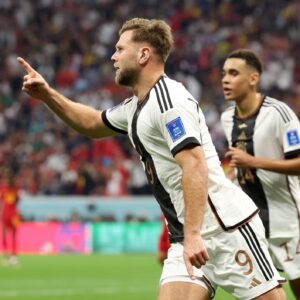 A meandering journeyman career that began more than a decade ago has seen him play just 112 Bundesliga matches, while scoring 38 goals for Werder Bremen and Hannover 96. Tellingly though, 10 of those goals have come in 14 games this season. He's the man in form, and the superb finish against Spain was indicative of that.
With Füllkrug likely to start against Costa Rica, there is an interesting chapter that Flick can draw inspiration from. Called up to the Euro 1980 squad in Italy only as a replacement for the lethal Klaus Fischer (32 goals from 45 matches for West Germany), who had broken a leg, the 29 year old Horst Hrubesch scored both goals in the final against Belgium.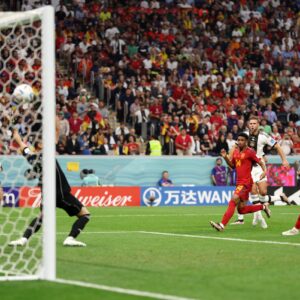 In his other 20 appearances for West Germany, he would score only four times. But the two goals in Rome, a lashed half-volley into the far corner and a bullet glancing header, guarantee him a special place in German football lore. Flick and Germany can only hope that Füllkrug has a similar impact in the autumn of his career.