-Boria Majumdar
It is evident from reports in the Times of India that there is some truth in the claim that India did get an opportunity to participate in the football world cup of 1950. It is evident that the real reason for withdrawal was India's inability to select a competitive team and garner the necessary funding to send the team to Rio.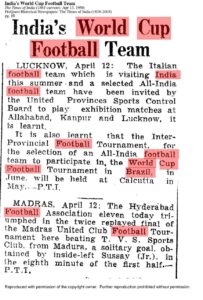 On 12 April 1950 a report published in the Times of India mentioned that an inter provincial football tournament for the selection of the Indian team for the Brazil world cup was to be held in Kolkata in May.
India's first match, another report on May 10 mentioned, was on 28 June and the organisers even accepted India's request to bear the cost of sending the team back from Rio. All the Indian administrators needed was a sum of 60,000 rupees to send the team to Brazil.
However, the failure of the AIFF to do so at the time meant the dream of participating in the world cup remained unfulfilled. Why would Indian administrators fail to garner 60,000 remains a mystery. For the record the selection committee consisted of Pankaj Gupta, N Guha, M Dutta Ray and Moinul Haq, the President.