-Boria Majumdar
It is the final before the final. Australia versus England at the MCG in front of a 100,000 fans for a spot in the semi-final. A loss will mean it will be over for one of the tournament's early favorites. England, who lost to Ireland because of the rain, will feel they were hard done by the rules. Australia on the other hand were under par against New Zealand. Even against Sri Lanka, a match they won, they weren't at their best.
At the MCG, it will be a story of two teams both wanting to peak at the same time. Most experts you speak to rate England ahead. One of them is Jeff Thomson who has argued that the Australians are a hit and miss side and England have better balance. He finds support in another Australian legend, Doug Walters. Walters feels the Australian batting especially at the top of the order isn't the best and England have a better balance in all departments of the game. And all of them single out Dave Warner as the X factor for Australia. Warner, who celebrated his birthday yesterday, sounded relaxed when I spoke to him in the afternoon. He might well have to keep wickets if Matt Wade misses out because of Covid and Warner isn't flustered about it.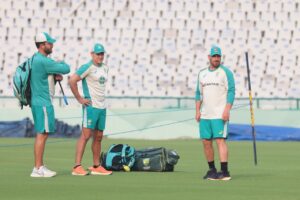 "It will be a massive game at the MCG. Both teams will do everything possible to win and the stakes couldn't be higher", said Warner as I wished him for his birthday. In fact the best birthday gift that he can give himself will be a match winning knock against England and no one knows this better than David. "I will do my best for the team as always and in front of home fans it will be a very special match", said Warner.
England, it seems on paper, is a better side. With Liam Livingstone at 7 and Sam Curran at 8, it is perhaps the most balanced batting order in the competition. With the explosion of Buter at the top and the elegance of Stokes at number 3, England, even if they lose early wickets, are never out of it. And that's the difference between the two sides on paper. While the Australians are heavily reliant on Warner, Stoinis and Maxwell notwithstanding, England knows anyone in that line up is capable of winning them the contest. In bowling too England have the variety to pose problems for Australia. While Mark Wood will bowl at 150kmph, Adil Rashid could be a handful at the MCG given the large boundaries on either side. For Australia they will need their best bowlers to fire. Starc, Hazlewood and Cummins were all under par against Sri Lanka and the last four overs went for nearly 50. While they could manage the situation against Sri Lanka, against England it could be too tall an order.
Finally, the match could well be decided by which team handles pressure better. Pressure is perhaps the most used word when it comes to sport. Everyone who has played sport will tell you there is always pressure. From fans, parent bodies, sponsors, family and most importantly from yourself. At the end of the day a sportsperson is alone grappling with her or his own mind. A mind that is full of clutter and is constantly fighting to be freed. Of all the thoughts that keep flooding in, of the possibilities that keep disturbing the equilibrium and finally all the hope and expectation of what can be. The possibilities, options and the potential going forward.
And that's what will decide the match. Which team and management deals with pressure better? Who wants it more? Who can keep calm? Each of the teams have men of quality and the line between error and a superhuman effort is very thin. That's where handling pressure becomes the key.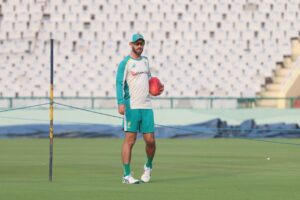 And in explaining this I will turn to a different sport. I will turn to Abhinav Bindra India's lone gold medal winner at the summer Olympics. Abhinav, for the record, came the closest in Rio 2016 eventually losing out in a tie break. It was the closest one can get to a medal and yet not win. Was it pressure or was it just that moment? Again we will never know. But as Abhinav says, it just happens. In that moment when Abhinav was shooting the final shot he was sure. There was no doubting his ability. But that particular shot did not work. And he knew it the moment he fired. A slight shake of the head was proof what he must have felt. Beijing 2008 was different. The final shot was a 10.8 and that landed him the gold. Micro mili meters between a gold medal and no medal at all. That's how sport is.
It is not easy. Never is. But that's what separates men from the boys. From the team that wins from others who are good but not the best. It all boils down to pressure. It all boils down to who wants the semi-final spot that extra bit more. MCG and the 100000 fans could well witness a classic, weather permitting, on Friday.