Some will take great delight in the one-time boy wonder's fall from grace, but his story is more an indictment of the societies we have created.
In our lifetime alone, Roger Federer, Pete Sampras, Novak Djokovic and Bjorn Borg have won more Wimbledon titles. Federer is perhaps the most accomplished all-surface tennis player of all. Djokovic isn't far behind. Sampras was the most dominant of grass-court champions, while Borg in his prime had few equals – on grass or clay. But with all apologies to that most illustrious quartet and the 27 singles titles they have between them at SW19, they never quickened the pulse quite like a German teenager did when he burst on to the scene like a meteor at the 1985 championships.
Boris Becker won Wimbledon three times, with the last of his triumphs coming at the age of 21 in 1989. He would reach four other finals, the last of them in 1995, when he lost to Sampras. He won only one Grand Slam title, in Australia, after the age of 23. Even his most ardent supporters will agree that he wasn't quite in the Federer-Djokovic-Nadal-Sampras-Borg class as a player. Most would place peak-John McEnroe above him as well.
So, what was it about "Boom Boom", as he was known then, that captured our imagination like no one before or since? Was it the passion and exuberance of youth? Was it the awe-inspiring power that allowed him to slam down aces the way we try to swat mosquitos? Was it how he gambolled about the court like an overgrown Bambi, flinging himself this way and that to pull off incredible volleys?
Youth was certainly a huge factor. Borg had just turned 20 when he first won Wimbledon. Sampras and Federer were 21. Djokovic had his breakthrough win at 24. Becker? Just 17. He may have been built like a rugby union flanker, but the face was that of a boy, as were the emotional antics. Compared to someone like Federer, whose game was so perfectly grooved even in his late teens, there was something endearingly clumsy and 'amateur' about some of the things Becker tried to do.
We can't say what kind of impact intense adulation had on a young mind. There was no social media then, no Instagram reels or Facebook lives to get your story across. But tabloid journalism was already a very big thing, and it wasn't long before he started making the headlines for non-tennis reasons. There is something deeply rotten at the heart of modern-day societies, none more so than the manner in which we create idols and then tear them down.
Becker is in the news again this week, having been freed from a British prison so that he can be deported. Sentenced to a two-and-a-half-year jail term in April 2022 for tax evasion, he has been released after just eight months. Over the coming days and months, we will read much more about his fall from grace – the sex in broom cupboards, paternity suits, failed business ventures and jail time.
But is that how we'll remember him? Is any man's life just black and white? Yes, Becker did all those things, some of them crimes in the eyes of the law. But as a young man, he also gave joy to millions, and that's a rare gift that very few of us possess. He has enjoyed the kind of highs most of us can't even dream of, while also enduring crushing lows that no one should have to. He isn't a fallen idol or a cautionary tale. He's just human.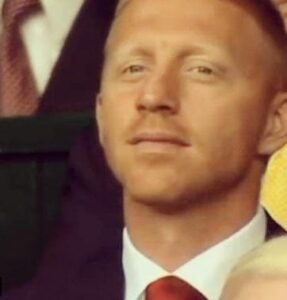 Years ago, Bonnie Chamberlain wrote a short story about a young painter searching for a model for a portrait of the Christ child. He found one, an angel with a dirty face. Many decades later, while searching for a model for his depiction of Judas Iscariot, the aging painter came across a man in a tavern whose face bore 'every sin of mankind'.
Having invited the man to pose for him, the painter started to observe the impact that it was having on his subject. One day, he asked him why he looked so troubled. The man then burst into tears before telling him: "Years ago, I was your model for the Christ child."
Most of us have both the Christ child and Judas within us. In Becker's case, both sides of his personality were subject to the harshest scrutiny. If he has emerged from all those years in the spotlight looking like some sort of monster, that's more an indictment of the kind of society we have created than it is of him.
Sportspersons have a limited time at the top. In Becker's case, it was a little over a decade. What do you do once the applause dies in your late 20s or early 30s? Wasim Akram's recently released autobiography spoke of how he sought comfort in cocaine. Sachin Tendulkar has talked movingly of how he misses the 'Sachin, Sachin' chant that used to make stadiums reverberate. The decades stretch out in front of you, and the only certainty you have is that you can no longer do what it was that made you special.
You can judge Becker harshly if you choose to. Or you can make an effort to understand him, and the roads and back alleys he has travelled on since leaving the yellow brick road. If you happen to be one among the millions who once cheered for him, all you can do is pray that he finds his way.
In The Sportswriter, Richard Ford wrote: "All we really want is to get to the point where the past can explain nothing about us and we can get on with life."
We now owe it to the 17 year old who once lit up our lives to let him get on with his. It won't be easy.