– Atreyo Mukhopadhyay
So it is coming down to a duel between Lionel Messi and Kylian Mbappe. Of course there are going to be other characters and subplots, but from a global football followership point of view, the 22nd World Cup final is going to pit the biggest star of his generation against the most sparkling emerging star of the next generation.
In several ways, Qatar 2022 has more than fulfilled the expectations of the neutral fans. Numerous upsets, close games, edge-of-the-seat thrillers and heartbreaks, this has been a most riveting World Cup. Fittingly, it is going to end with a potentially mouth-watering contest between two towering footballing cultures. It is Europe 12 and South America nine in terms of titles won so far. Will Argentina be able to snap Europe's winning streak which started in 2006? Time will tell.
Practically speaking, it is unfair to label a World Cup final as a clash of two players. There are so many other factors and players involved. We all know it is a contest between 11 players from one side and 11 from the other. Each one of them has to play a part if his team has to mount a serious challenge for the crown. Then, when two iconic figures of two generations feature in a match of such magnitude, it becomes hard to avoid calling it something else.
Mbappe was off-colour against England in the quarter-final before making his presence felt in the semi-final against Morocco. It was a tough outing for defending champions France and their most precious player rose to the occasion by setting up the decisive second goal. His speed and acceleration with the ball is a terrifying factor for any opposition and against Morocco, Mbappe showed glimpses of subtle skills as well. This is a dangerous combination. On his day, he can tear into any side and most vitally for France, he is one who tends to perform on the biggest of occasions.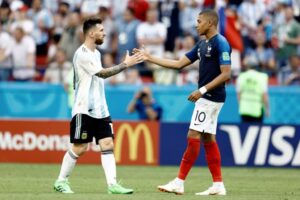 Not that the same cannot be said of the other M wearing No 10 for his national team. Messi has been the heart and soul behind Argentina's progress into the final. Scoring goals, setting them up for others and leading from the front, he has proven in no uncertain terms why, he too, has been a big match performer for such a long time. It is difficult to think of many players who have operated at the top level so successfully for so many years. This should be one hell of a duel indeed.
However, it will be imprudent to not look at the other factors. France have shown a lot of depth in all the departments. Playing without the injured trio of Karim Benzema, Paul Pogba and N'golo Kante, they have not looked like as if they are missing them. Most other teams would struggle if they missed the services of three first-choice players. There are enough resources in Didier Deschmaps' armoury to make up for their absence. Substitutes Marcus Thuram and Randal Kolo Muani playing stellar roles in the semi-final is an example of that. They are strong in every sector, with adequate back-ups and replacements.
Not sure if the same can be said of Argentina. Lionel Scaloni's team has come this far mostly because of Messi. Not that the other players have not done anything. All of them played their hearts out to bounce back after the opening setback against Saudi Arabia. But, compared to their opponents in the final, they have depended more on an individual. They have more areas to be worried about than France, especially in defence.
Having said that, a World Cup final is usually a 50-50 game. More so, when you take into account the fact that the gap between teams has reduced considerably. It is a question of fighting it out for one more game, where no side will be low on motivation. All the players involved will believe they can make a difference. Then yes, before the ball starts rolling at Lusail Stadium on Sunday, it will be billed as a clash between the superstars of two generations, who happen to be teammates at Paris Saint Germain. Coincidentally, they are joint top-scorers so far with five goals each.