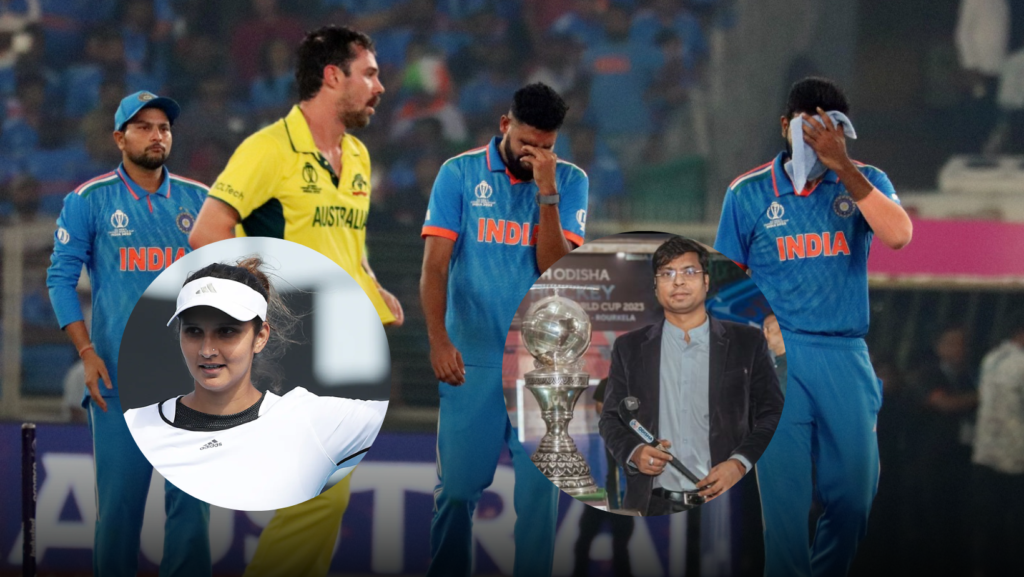 There was a full house at the Narendra Modi Stadium on Sunday. Bleed Blue was the theme. In the end, all that flowed was not joy but tears down the cheeks of over one lakh fans inside the stadium, and millions of Indian cricket fans all over the world.
Was it a script gone wrong, or was planning a party a mistake? No, Team India led by Rohit Sharma played their hearts out for ten matches in a row. Just that the 11th game against rough-and-tough Australia ended in heartbreak.
Fans had burnt holes in their pockets to buy match tickets and spent a fortune on hotel bills. Screaming all day long and into night, they went hoarse, after the coarse on-field treatment from Pat Cummins and his team. One man answering to the name of Travis Head turned the match so effectively that the Great Indian Dream went bust.
People had saved money for this big party and travelled to Ahmedabad. It was supposed to be a night when the champagne flowed – not literally, though, as Gujarat is officially a dry state. But this is sport, you can win, or you could lose. That unpredictability of sport was on full view.
If fans went back home and had a meal, it might have been a frugal one. To be sure, many Indians went to bed without any appetite for dinner. The dream of winning a World Cup after 12 years had been blown to smithereens. One man was the big boss, leading from the front with cunning, and his name was Cummins.
He won the toss, chose to bowl. Once his pace battery and he himself came to grips with the Motera pitch, they showcased their professionalism and poise. As for the batters, Head and Marnus Labuschagne were so cool, they soaked up the pressure like sponges.
Yes, fans wept, on what was a sad night. But if you think India did not try, then you have got it all wrong. Every man gave his bit. But this last match turned out to be a bridge too far.
"A brilliant run and an exciting World Cup for India but without a fairy-tale ending," said Sania Mirza, the tennis ace, speaking exclusively to RevSportz. "It needed the seasoned and most experienced Indian batters in Kohli, Rohit Sharma and Rahul to come up with performances in a World Cup final as the home team put up a fighting target. But the Aussies went a-HEAD with a stunning catch to dismiss Rohit and then a century of pure class."
There were commiserations too from the world of athletics. "I think India are the No.1 team," said Adille Sumariwala, former Olympian and Vice President of World Athletics. "The way they played all through the World Cup was brilliant. Any one or any team can have an off day, there is no point getting worked up over it. Fans may be disappointed but Rohit Sharma and the boys played great cricket all along. One loss does not mean they are bad. It can happen in any sport, not just cricket."
Dilip Tirkey wore the India hockey shirt with distinction over an illustrious career and is now President of Hockey India. "I was watching the matches," he told RevSportz. "They were brilliant till the semi-finals. Yes, the big day against Australia, India were off-colour. But then, this is sport, it can happen any time."
The social-media trolls will be out in force on Monday morning to pour pure vitriol on the Indian team. There is little realisation that sport and unpredictability go hand in hand. It can happen, on any given Sunday. Sometimes, you may end up not enjoying a movie despite its all-star cast.
"The graph of the Indians was soaring right through," said Zafar Iqbal, former hockey captain. "This was like a sudden death. There is nothing to feel ashamed about, it can happen in cricket, football or hockey. Team India played well for over a month, we need to remember that."
Anish Bhanwala, the pistol shooter who has hit the bullseye more often than not, also urged fans to rally behind Rohit and company. "Our team was not able clinch the finals today, but had shown outstanding performance throughout the World Cup," he told RevSportz.
The debates will rage on for days, how India as hosts failed to win the World Cup. Former cricketers will also talk of the Class of 1983 and that of 2011. Be sure, however, that the class of 2023 did the country proud until the final hurdle. One misstep does not make them villains.