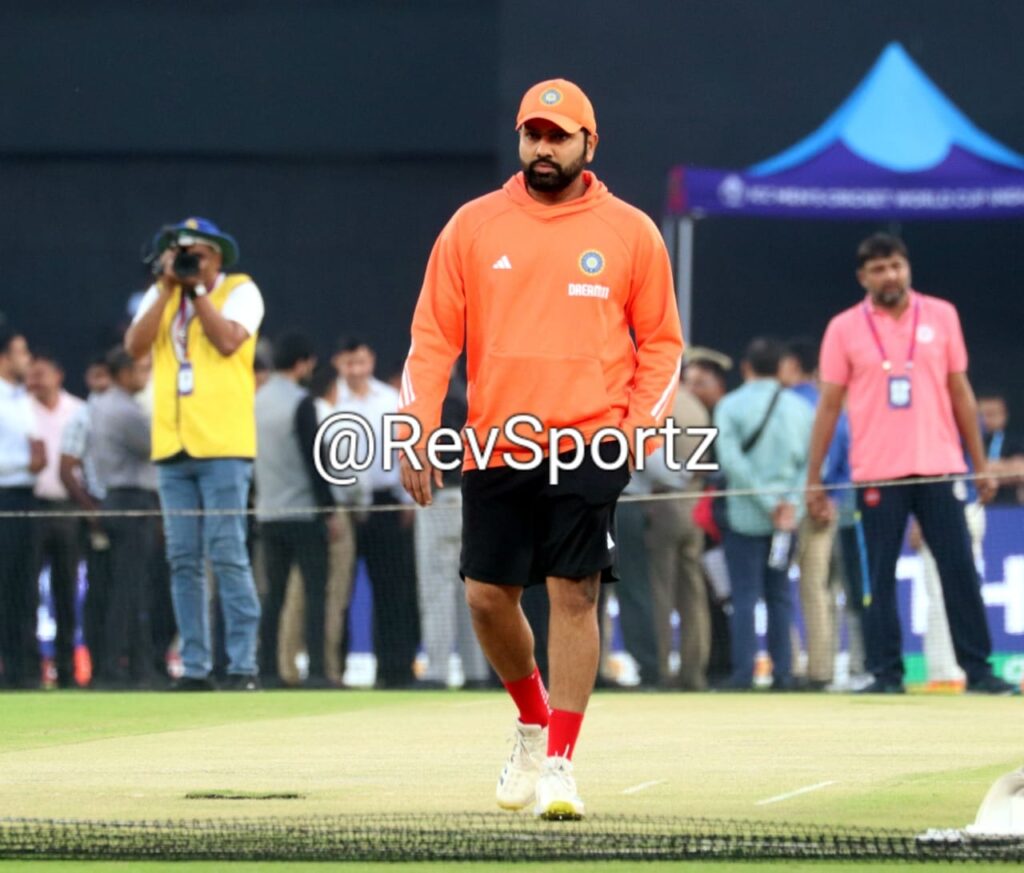 An unfinished quest.
It was one of the best Wimbledon finals in history. Andy Roddick threw everything he had at Roger Federer and played the match of his life. And yet, he ended up second-best. Roddick's tears at the presentation ceremony resonated with every member of the audience. Here was a champion who had done the sport proud. He had fought, stayed true, but was eventually outclassed in a hard-fought final by perhaps the greatest that had ever played the sport. Roddick wasn't disgraced. His quest continued. There are others like Roddick. Ivan Lendl, one of the greatest of all time, immediately comes to mind. Lendl never won Wimbledon. The same applies for Cristiano Ronaldo in football. He is arguably one of the best the world has seen and yet hasn't won the World Cup, something that will always put a question mark on his legacy. That's what happened for India and Rohit Sharma in the World Cup. India, under Rohit's captaincy, had to settle for second-best yet again, the nth time in the last few years.
Despite losing the toss, India threw everything they had into the contest in the first few overs. Rohit, like he did all tournament, attacked from the word go. And just when it seemed he had done enough to set things up, the false shot come. A moment of brilliance from Travis Head, and Rohit was back in the hut. That's what Australia needed. Cummins marshalled a champion side superbly, and the moment India finished with only 240, it was Australia's game to win.
Before a deep dive into the campaign, a note on fan behaviour, I feel, is pertinent. The Indian cricket team – and the violent social-media reaction in the aftermath of the loss makes this evident – simply can't lose. If they do, God save them. So what if they won 10 matches and played some extraordinary cricket? So what if they topped the rankings and made the final? So what if they dominated right through the tournament and changed the narrative associated with Indian teams of the past? Having lost the final, all that this team achieved is being forgotten.
KL Rahul, praised for his valour and labelled brilliant all through the tournament, is all of a sudden a liability for his lack of intent. Rohit is a poor captain because he pushed for a pitch like this, Rahul Dravid a poor coach, Virat Kohli a slow batter, Shreyas Iyer not good enough against the moving ball and Suryakumar Yadav impulsive and irresponsible.
Does one defeat make this team a bad one? Surely, 50 days of solid cricket can't be undone by one bad day. But why does it happen time and again? Are there lessons to be learnt? Mistakes have to be rectified and changes made to ensure the same mistakes aren't repeated in future, and that elusive ICC Trophy finally comes home. That's the moot point, which India needs to accept and move on.
There is no doubt India lost a high-stakes final. But that doesn't take away from the fact that this team dominated the World Cup. India had a bowling attack that literally silenced every opposition. We know that 99 percent is in place. And now, it is the quest for that one percent that should drive Rohit and his team. The home stretch is what is missing. That final sprint where Usain Bolt would look back and celebrate. That final push that allows Novak Djokovic to go past every other player despite being 10 years older. That final pass under pressure that makes Lionel Messi the greatest. For Rohit, the bulk of the work has been done, and it is the search for that one percent that will drive him in the future.
But why does it happen time and again? How is it that India continues to underperform in a big final?
Rohit has now led the team in three ICC competitions, and lost all three. It is inevitable that pressure will start to build on him. However much he says there is no additional pressure, deep down we all know he is human and can feel the walls closing in. While outside noise doesn't matter much, for a proud performer like Rohit, losing finals can't come easy. The enormity of each of these occasions will eventually get to him, and that's only natural. That he is a quality act was never in doubt. But what he wants, and something he has alluded to in the past, is to take India over the line in a key ICC knockout platform. He hasn't been able to do that so far, and that will push him, no doubt. The journey has to continue. For him and for India.
Sport is real and not reel. Ranveer Singh can do it in 83, the film, but he can't do it in Ahmedabad from the stands. There are no retakes. Had there been, Rohit wouldn't play that shot and Head may not have taken that catch. That's why sport is cruel. It can cause serious pain. But sport always gives you another chance. Rohit will know it. As will Kohli. They did their best over the last 50 days, but that best was not enough on the day it mattered the most. It was an imperfect day. And that's why the quest to be perfect on an imperfect day has to continue.
Sachin Tendulkar had to wait for 22 years to get his hands on a World Cup. What could have been really painful for him was that India won the inaugural World T20 in 2007 when he had chosen not to be a part of it. In a career like no other, not winning a World Cup was painful. Tendulkar persevered. With help from friends and family, he brushed off the low of 2007 and kept dreaming of the Wankhede as he trained hard every single day. Preparation, as he always said, was the key. The same will be true for Rohit and his team. He has already come close multiple times. Just like Tendulkar in 2003, he has already made multiple finals. He has batted well and led well, and yet has ended up second-best.
The one silver lining from India's defeat was that it interred many of the daft conspiracy theories about a World Cup scripted for India to win at the Narendra Modi Stadium. The apparently 'fixed' India-Pakistan semi-final at Eden Gardens never took place either. It's nothing short of a disgrace that players give their all, and their efforts are tarnished with such loose talk.
At present, there is no question that life is testing Rohit, Kohli and this team. Pushing them harder than many. Little mistakes have been committed at key moments, and the team as a whole has suffered. They haven't yet played the perfect final and that's what it is all about. But that's the reality everywhere, isn't it? The human race keeps raising the bar in whatever it does. Faced with Covid, scientists discovered vaccines in a year to save us all. Yet, the vaccines aren't perfect and the quest for better continues. Dehumanisation of the black race continues, and we keep pushing for equality in sport. That's how it has always been, but that doesn't mean we don't have a chance. We do, and that's why we fight. Always have, and always will. Rohit will too. His quest continues.