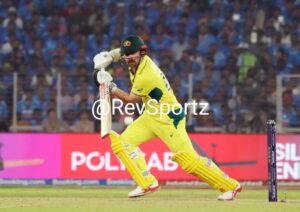 After smashing a World Cup-winning hundred in the final against India in Ahmedabad, Australian opener Travis Head confessed to feeling nervous and observed how Marnus Labuschagne's steady hand and Mitchell Marsh's cameo helped him to wade through a tricky phase.
"What an amazing day," he said in a post-match interview. "Just thrilling to be a part of it. It's a lot better than sitting on the couch. It's really nice to contribute. In the first 20 balls, I was a bit nervous, but Marnus played really well and soaked in the pressure and we built a solid partnership.
"I felt that the way Mitchell Marsh came out and took the game on… it didn't last long, but it was enough to put them under pressure. There was some spin, but the wicket played better throughout the innings. Nice to play a part in this win, and it will be a good couple of days coming up for us."
Head's exceptional catch was also a key moment, leading to the dismissal of Rohit Sharma. "I have always worked hard on my fielding. Nice to hold onto the catches and contribute to the team. It's a massive stadium and we had to soak in the pressure."
Reflecting on the final, Australian skipper Pat Cummins pointed out that they lifted their game at the right moment. "I think we saved our best for last. We have been batting first pretty much for the whole tournament and we thought it was a good night to chase down the target. The boys were fantastic, we got an ageing side and still everyone is throwing themselves on the field. We thought 300 might have been tough but achievable on that wicket, really chuffed with 240. Magnificent. Marnus with a cool head and Travis does what he does best on the biggest stage, showing a lot of character."
Earlier this year, Australia secured victory in the World Test Championship final under the leadership of Cummins, and now they have added the World Cup title to their glittering trophy cabinet. "This year will be remembered for a long, long time and we had a lot of success over the winter and this one peaks it all. At the top of the mountain," he noted.
Meanwhile, Rohit Sharma, the Indian captain, expressed dissatisfaction with the team's display in the World Cup final. He lamented the subpar batting performance.
"The result has not gone our way. We were not good enough today. Wasn't meant to be today. Honestly, we were 20-30 short. Virat, KL batted well and stitched a good partnership but we lost wickets at regular intervals and lost the plot. They did that and stitched a great partnership. We went for wickets at 47/3 but they batted well and took the game away from us. The wicket got better as the game went on. But that is not an excuse for this loss. We did not bat well enough and deserved to lose the game today. Great campaign and proud of the boys in the end. Thank You."