Has African football finally come of age?
More than four decades after Pele's bold prediction, African teams have excelled at the 2022 World Cup. Though one of them may not win, big strides have been made under homegrown coaches.
Pele may have been the greatest footballer that the World Cup has seen, but he was never a soothsayer. When it came to predictions, Paul the Octopus had considerably greater success. It was sometime in the late 1970s, not long after a Zaire team had been annihilated 9-0 by Yugoslavia at the 1974 World Cup, that he said an African team would win the trophy before the turn of the century.
In 1991, after Ghana's Nii Lamptey had won the Golden Ball for Best Player at an Under-17 World Championship that included future stars like Italy's Alessandro del Piero and Argentina's Juan Sebastian Veron, the Brazilian great announced that Lamptey would be the "next Pele". Lamptey won the last of his 38 caps for the senior team at the age of 21, and had a journeyman career that took in as many as 14 clubs on four continents. He never even played at a World Cup.
As for African teams, not one has reached the semifinals of the competition. Every other continent – even North America – has had at least one representative in the last four. It's all too easy to laugh at Pele and his prediction, until you look at the top European clubs and see just how many of their players have roots in Africa.
Why then have the national teams from the continent not been able to go past the quarterfinal barrier, and might 2022 finally see the wind of change? The early signs are certainly promising. The group stage has seen Africa's best performance by far at any World Cup, with the five teams from the continent accounting for seven wins (from 15 matches), and two of them – Morocco and Senegal – marching into the last 16.
Tunisia upset France and drew with Denmark, while Cameroon go home with the satisfaction of having become the first African team to beat Brazil. Even Ghana, the only African side to lose two matches, leave Qatar after having defeated a South Korean team that was ranked 32 places higher than them when the World Cup draw was made on April 1, 2022.
If we chart the journey of African teams from 1990, when Cameroon's Indomitable Lions beat Argentina, the reigning champions, on their way to the quarterfinals, it's easy to see why many think that football on the continent has stagnated. Since the World Cup expanded to 32 teams in 1998, with Africa getting five slots, the contingent has never won more than three matches in the group stage. That was the case even in 2010, when South Africa, the hosts, swelled the number of teams to six.
The nadir was reached in Russia four years ago, with not one African side making it out of the group phase. Only Senegal came close, eliminated on the basis of Fair Play points, after they picked up six yellow cards to Japan's six in a group that also included Colombia and Poland.
Senegal beat the Poles, while Nigeria and Tunisia won matches against Iceland and Panama. The most noteworthy result though was Morocco's draw with Spain, with the 2010 champions needing a last-minute equaliser to deny the Atlas Lions. Egypt, with Mo Salah still trying to shake off the shoulder injury sustained in the Champions League final the previous month, went home without even a point.
What has changed now then? To begin with, each side has been led by a homegrown coach. With the exception of Tunisia's Jalel Kadri, the others are all former internationals. Aliou Cisse captained Senegal's Teranga Lions at the 2002 World Cup, where they reached the quarterfinals after beating France in the tournament opener, and has been at the helm since 2015.
Rigobert Song, who played his first World Cup as a teenager in 1994 and retired with 137 caps, is a Cameroon legend next only to Roger Milla and Samuel Eto'o. Morocco's Walid Regragui reached the African Cup of Nations final as a player in 2004, one of his 45 caps. And Otto Addo, though born in Germany, played 15 times for the Black Stars between 1999 and 2006.
It would be stupid to dismiss all foreign coaches as mercenaries out to make a fast buck. Senegal's emergence as a football power, for example, was so much because of the coaching of the great Bruno Metsu. The Frenchman saw immersed himself in the country and its culture that he married a Senegalese woman and converted to Islam. When he tragically passed away from cancer nearly a decade ago, none less than the Senegalese president, Macky Sall, attended his funeral, calling him a "hero among Senegalese heroes".
There's little doubt though that there have been plenty of other coaches who have shown very little inclination to learn about the countries or the players they take charge of, who have tried to impose European or Latin American methods on groups with unique skills and emotional sensibilities. Vahid Halilhodzic, the Bosnian, who led Morocco to World Cup qualification is an accomplished coach who has previously enjoyed success with Japan and Ivory Coast. His disciplinarian methods alienated many though, and his clashes with Hakim Ziyech, Morocco's most gifted player, were a big reason behind his departure.
After more than a generation of serving as assistants to overseas coaches, Africa's finest are more than ready to take over the mantle. Those like Cisse and Song know exactly what it means to wear the national team's shirt, and even when they take controversial decisions – like Song dumping the brilliant Andre Onana as his goalkeeper – they're able to carry the majority of fans along with them.
Senegal and Morocco couldn't have chosen tougher paths to the last eight. Senegal will have to get past unbeaten England, while Morocco will hope to reprise their performance of 2018 against Spain, themselves slightly less assured after the shock defeat to Japan. Should one or both manage to negotiate those stiff hurdles, the sky really is the limit for Africa.
Pele's prediction may not come true in Qatar, but after two decades of no significant progress, big strides have been made in the past fortnight.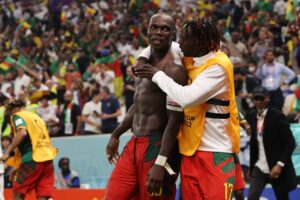 African teams at past World Cups since 1998
2022: 7 group stage wins. Morocco and Senegal into the last 16.
2018: 3 group stage wins
2014: 3 group stage wins. Nigeria and Algeria reached the round of 16.
2010: 3 group stage wins. Ghana reached the quarterfinals.
2006: 3 group stage wins. Ghana reached the last 16.
2002: 3 group stage wins. Senegal reached the quarterfinals.
1998: 3 group stage wins. Nigeria reached the last 16.