Atreyo Mukhopadhyay
Three Asian teams in the World Cup pre-quarters and two from South America? Four Asian teams putting it across three World Cup winning nations and two Euro champions? Culmination of these scarcely believable eventualities is the maximum number of Asian teams in the knockouts of the FIFA World Cup ever.
Japan, South Korea and Australia all had been there before. Australia made it to the round of 16 in 2006, Japan reached the same stage in 2002, 2010 and 2018, South Korea stunned the world by finishing fourth in 2002 when they were the co-hosts with Japan and made it to the last 16 eight years later. That way, none of them have done anything they had not done before.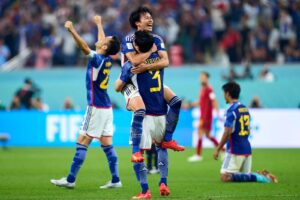 But what stood out in Qatar was the way they made the cut. Japan snatching victories against Germany and Spain after trailing by a goal in both games, South Korea netting an added-on time winner against Portugal to move to second from the bottom of the group and Australia eking out 1-0 wins against Tunisia and Denmark after being thrashed 4-1 by France. An interesting point is, coaches of none of the three teams are foreigners.
All these teams have players plying their trade in various European leagues. That has been the case for a few years. They knew what to expect from the European teams. Somehow, when they faced them on the big stage, they tended to wilt. Remember Japan squandering a 2-0 lead against Belgium in 2018 and conceding a winner in the 95th minute? That has changed. Now, they seem to have worked out how to combat them. Instead of retreating into a shell, they are unafraid to throw a punch or two or more at them. The mindset has changed. The belief is greater.
Also, they have a better understanding of their strengths these days, which was best demonstrated by Japan against Germany and Spain. They unsettled these powerhouses with sudden bursts of speed instead of resorting to a physical game. Before understanding what had hit them, the former world champions found the ball inside the net.
Japan also displayed sound tactical maturity in these games. After taking the lead, they brought everybody down in their own half and made it impossible for the opposition to find gaps. It meant that Germany and Spain found little room to play that pass which could lead them to goalmouth. At the same time, Japan kept threatening with those lightning counterattacks.
South Korea's win against Portugal was a story of resolve. True, the 2016 European champions had kept some their top players on the bench since they had already qualified. Even Cristiano Ronaldo was substituted in the second half. But one has to give the South Koreans credit for the way they equalised in the first half itself after conceding in the sixth minute. Then, knowing that only a win could keep them alive, they withstood prolonged periods of Portuguese pressure and snatched the winner in the most dramatic manner possible, seconds before the final whistle.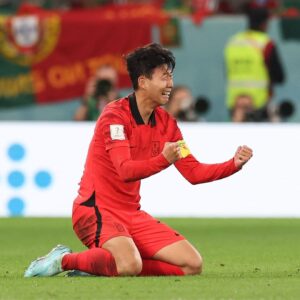 Australia's progress was quieter and less dramatic. But edging out Denmark and Tunisia and getting the job done in clinical manner was an example of clever football. Denmark were semi-finalists in last year's Euro. Tunisia are no mean side either, as their victory against France suggests. Securing victories against them after losing the opener was a testament of the Aussie resolve cricket fans are familiar with. These three teams may or may not be able to sustain the tempo. But collectively, they have already made history.