Qatar Caught Up in the Perfect Storm
The Asian champions, who won the 2019 continental tournament so emphatically, just couldn't get going on the big stage, with the lack of genuinely competitive action since then a big factor in the team's limp displays. 
Even if we steer well clear of the geopolitical and human-rights issues that have been central to almost all western-media coverage of this World Cup in Qatar, what's noticeable has been the derision directed at the host nation's team. Dismal in a 2-0 defeat to Ecuador in the tournament opener, Qatar were only marginally better in losing 3-1 to Senegal. Defeat to the Netherlands, three times losing finalists, was on expected lines.
As they exit the big stage as the only hosts to lose every game, the coverage has variously mentioned the 'worst host team ever', the lack of sustained and passionate support in the stands, and the absence of a robust footballing culture. Some of this criticism is unfair, and there are good reasons for Qatar's inability to live up to expectations on the pitch.
Much of the bias has to do with the admittedly controversial awarding of the competition to Qatar in December 2010. With South Africa having hosted in 2010, Brazil and South America getting the 2014 World Cup and the 2018 edition going to Russia and Europe, it was a given that the 2022 hosts would come from another continent.
Besides Qatar, those in contention were Japan, South Korea, the United States of America and Australia. Japan and Korea had done a splendid job of hosting the 2002 event, the first World Cup in Asia, and were ranked 29th and 40th in the FIFA rankings at the time. The USA, hosts in 1994, were 18th, while Australia were Asia's highest-ranked team at No.26.
Qatar? They were 114th, with a whopping 15 Asian nations ranked above them. In the final round of qualifying matches for South Africa 2010, they had won just one match in a group containing Australia, Japan, Bahrain and Uzbekistan. Even Uzbekistan, who finished bottom of the table, thrashed them 4-0 in Tashkent.
But it wasn't just the results on the pitch that provided ammunition for their critics. In those qualifying games, the biggest crowd to watch Qatar was the 13,000 that trooped in to see the defeat against Japan. Even tiny Bahrain attracted a bigger audience. The match between Iran and Saudi Arabia, neither of whom would qualify, was witnessed by 100,000 at the Azadi Stadium in Teheran.
Iran had drawn with Scotland in 1978 and Kuwait had played at a World Cup in 1982, while Iraq represented West Asia in 1986. Saudi Arabia qualified for four successive World Cups from 1994. South Korea have been regulars since 1986, and Japan since 1998. If we're talking about a football culture, there are at least a dozen Asian nations that can point to deeper roots than Qatar. Even India, where the great Kolkata clubs have histories going back over 100 years.
But it was Qatar that won hosting rights, beating out the USA 14-8 in the final round of voting. And to be fair to Qatar, they made sure there would be steady progress on the pitch. By December 2014, the country was ranked No.95. Four years later, they were still languishing in 93rd place. But following a stunning victory at the Asian Cup in January 2019, they rose a dizzying 38 places.
Those who say that Qatar don't have the quality to compete at this level clearly didn't watch that tournament. No team – not Japan, not Iran, not South Korea and not Saudi Arabia – has won an Asian Cup in such dominant fashion. After beating Saudi Arabia 2-0 in the group stage, where they also thrashed North Korea 6-0, Qatar beat Iraq and then South Korea to reach the semifinal. There, they thrashed UAE, the hosts, 4-0. In the final, Japan were dismissed 3-1, with Takumi Minamino's 69th-minute goal the only one Qatar conceded in seven matches.
Almoez Ali, born to a Sudanese mother, scored nine of their 19 goals. No one else had more than four. Akram Afif, his strike partner whose father played for Somalia, was named Asian Footballer of the Year in 2019. Ali shone again when Qatar reached the last four of the CONCACAF Gold Cup as special invitees in 2021, losing only to the USA, the eventual winners.
But nearly four years after that Asian Cup triumph, there's little doubt that the lack of competitive action has impacted their performances. Contrast that with Ecuador, their opponents on the opening day. They had to negotiate an arduous 18-game qualifying campaign to get to the tournament, seeing off the likes of Chile, Colombia, Peru and Paraguay to clinch one of the four automatic spots from South America.
Saudi Arabia, South Korea, Iran and Japan all had to come through qualifying to make it to Qatar, while Australia had to endure an additional, nail-biting play-off against Peru as well. It's no exaggeration to say that those teams have been battle-hardened by those games. Qatar, who have had to rely on friendly matches and invitations to the Gold Cup and the Copa America in 2019, can't point to anything comparable. A developing team has stagnated.
Insularity hasn't helped. Every single of the 26-man squad plays in the Qatar Stars League, with 13 coming from Al-Sadd, once coached by Xavi Hernandez. Six are from Al-Duhail, who have won the title seven times since Qatar were awarded hosting rights in 2010. You might say that the Saudi Arabia squad is also entirely home-based, but there really is no comparison.
Domestic matches in Qatar rarely attract any crowds. In Saudi Arabia, Jeddah's Al-Ittihad boasted an average attendance of over 31,000 last season. When they meet the Riyadh-based Al-Hilal, the country pretty much comes to a standstill. The players know what it feels like to deal with immense pressure.
With the global spotlight on them, Qatar's players wilted against Ecuador. The goalkeeper's nervousness was infectious, and even the usually reliable Bassam Al-Rawi, the Iraqi-born central defender who hasn't played since, seemed all at sea. Passes didn't find their recipients, and Ali and Afif were peripheral figures. And where Herve Renard was a perpetually animated figure on the touchline when Saudi Arabia upset Argentina, Felix Sanchez, Qatar's coach, was as frozen as his players.
The post-tournament analyses will deal extensively with the wisdom of awarding it to a country that had never qualified before. Whatever Qatar provided by way of a fan experience will be overshadowed by the embarrassing performances of the team on the field. And for that, you can only feel some sympathy for the players caught in the middle of a perfect storm.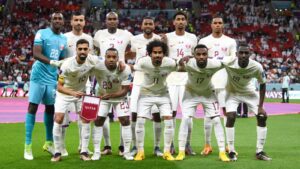 They're much better than they showed themselves to be on the big stage, and it will be fascinating to see how the team picks itself up to defend the Asian Cup on home turf next year. South Africa haven't even qualified for the World Cup since hosting it in 2010. After spending upwards of $200 billion to stage this event, it would be a travesty if Qatari football went the same way.