Herve Renard and The Biggest of Upsets
The French coach, with no CV to speak of in club football, has made a habit of over-achieving with national teams. But make no mistake, the victory over Argentina tops anything he has done before.
In the end, the key figure for this shock start to Argentina's World Cup campaign was 36. Most fans don't need reminding that it's been that many years since they lifted the trophy, inspired by the late Diego Maradona's summer of magic in Mexico (1986). It was also the number of matches they had gone unbeaten since losing 2-0 to Brazil in the Copa America semifinal in July 2019.
When the World Cup draw pitted them against Saudi Arabia, who had won only one of their previous 13 matches in the competition – going back to Saeed Al-Owairan's memorable goal against Belgium in 1994 – it seemed almost a given that they would go on and equal the record of 37 games without defeat, set by Italy between 2018 and 2021.
But one of the reasons we watch sport is to cherish the unexpected, to celebrate the giant-killings. India against West Indies at the cricket World Cup in 1983. The United States of America's ice hockey team upsetting the Soviet Union's Red Machine at Lake Placid in 1980. Surinam's Anthony Nesty touching the wall ahead of the USA's Matt Biondi in the 100m butterfly at Seoul (1988). Make no mistake, this was a seismic shock on par with any of those.
A generation ago, a relatively unheralded French coach, Bruno Metsu, inspired Senegal to the quarterfinals at their first World Cup (2002). The Lions of Teranga started that competition by shocking France, the defending champions, in their opening game. It was Papa Boupa Diop, nicknamed The Wardrobe by English football fans because of his imposing physique, that scrambled home the winner as Senegal showed off their skill, strength and tenacity in an unforgettable game.
Both Metsu and Diop are now gone. The coach succumbed to cancer in 2013, while Diop fell victim to Motor Neuron Disease and passed away in 2020. But their spirit lives on, and could be glimpsed in the manner in which Saudi Arabia set about their illustrious opponents. This may not be a vintage Saudi team, and no fan will yet compare them to the heroes that reached the final of every Asian Cup between 1984 and 2000, winning it thrice.
But what Herve Renard, their French coach, has created is a side that are fiendishly hard to beat. In the final stage of Asian qualification for the tournament, Saudi Arabia topped a group that included Japan's Blue Samurai, Australia and Oman. They scored just 12 goals across those 10 matches. The key to their success was a defence that conceded only six times. It was the same template that had fetched Renard so much success in his spells in Africa.
With the football world so Euro-centric, it's so easy to overlook the work of those that venture outside the continent. There is nothing in Renard's CV at club level to suggest that he's an elite-level coach. Stints with Sochaux and Lille in his home nation have been brief and disastrous. But in Africa, he was an alchemist, with a body of work comparable to the legendary Metsu.
Senegal were, in fact, one of the teams that Renard's Zambia got past on their way to an upset victory at the African Cup of Nations in 2012. It was the most emotional of tournament victories, with the final against Ivory Coast in Gabon taking place just miles from where a plane carrying the greatest of all Zambian sides had crashed into the sea in April 1993. Only Kalusha Bwalya, the team's shining star who played his football in Europe and wasn't on the transport plane, survived.
Renard's Zambia didn't concede a single goal in the knockout rounds, overcoming Ghana and then Ivory Coast (on penalties) to lift the trophy. Three years later, now in charge of an Ivory Coast team looking to move on after the retirement of the great Didier Drogba, Renard was the mastermind behind victories over Cameroon, Algeria, the Democratic Republic of Congo and Ghana as the Elephants won the trophy for only the second time.
Expectations from this Saudi team were low. Let's not forget that this is a side that didn't qualify for the World Cup in 2010 and 2014, and which hasn't reached the last eight of the Asian Cup since 2007. The country's leading players rarely venture abroad, and though the rivalry between Al-Hilal (based in Riyadh) and Al-Ittihad (Jeddah) is one of the most intense in world football, the Saudi league is in no way comparable to the best in Europe or South America.
The two goalscorers against Argentina, Saleh Al-Shehri and Salem Al-Dawsari, have had very brief stints abroad, in Portugal and Spain, but they are very much products of an insular system. South Korean football was revolutionized by Cha Bum-Kun's exploits in West Germany, while Japanese football owes much to Hidetoshi Nakata, the first to shine on the European stage. Saudi have no such pioneer to look to. Instead, what Renard has done is give confidence and structure to a group that enjoys iconic status at home.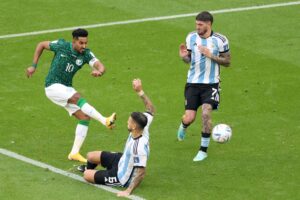 Argentina were undeniably sloppy at the Lusail Stadium. The timing of Lautaro Martinez's runs was frequently off, and with Giovani Lo Celso out injured, there wasn't really a midfielder capable of threading passes to break the intense Saudi press. Papu Gomez is a wonderfully gifted footballer, the talisman for a superb Atalanta team that finished in the top three in Serie A thrice between 2018 and '21, but he looked lost in a system where Lionel Messi occupied the space he usually does.
The high line that Saudi played is like a trapeze act. Disaster is never far away. Had Argentina possessed a Fernando Redondo or Juan Sebastian Veron to slide the ball into the spaces behind, the game could have been over by half time. But Leandro Parades and Rodrigo De Paul never established control over the midfield, and the lack of pace at the back was brutally exposed for both Saudi goals.
Renard and his team soaked up the early pressure, saw that Argentina were some way off their best, and then went for it in the second half. By the end, even the most churlish Argentina fan couldn't deny that the Saudis deserved the win. They ran harder, defended tigerishly and put their bodies on the line when they had to.
After the manner in which both Qatar and Iran were outclassed in their opening games, this was also a huge statement for Asian football. South Korea's run to the last four in 2002 was marred by some pathetic refereeing decisions against Spain and Italy. And though both they and Japan have notched up notable wins since, there has been no real threat to football's established order. Renard won't just be a hero in the desert kingdom if he and his squad can change that over the coming weeks.