-Debasis Sen
Saudi Arabian winger Salem Al Dawsari has always been in the news in his country. On Tuesday the 31-year-old Al Hilal winger created headlines by scoring a stunning goal against Argentina which eventually paved the way for an upset win against the two times world champions. He was facing towards his own goal as he received the ball on the edge of Argentina box with an opponent defender blocking him. The Saudi striker turned in a tight space and then curled an absolute beauty into the top righthand corner of the net, much to the joy of the Saudi fans in the stands.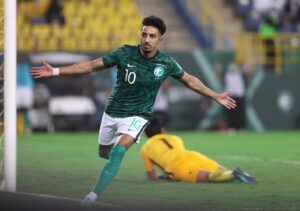 Who is Salem Al Dawsari? The 1.71m tall winger from Jeddah first made headlines when he headbutted a referee during a local match IN 2015. Angry with a decision by the referee, Al Dawsiri rushed towards him and surprised everyone by headbutting him. His club Al Hilal fined a month's salary for his on-field act.
But his biggest turnaround arrived when he featured for Spanish club Villarreal against Real Madrid in La Liga in 2018. Dawsari, who was signed by Villarreal on loan came in as a substitute. He scored the winning goal against Egypt in 2018 World Cup in Russia. But the biggest moment in Dawsari's career has to be the stunner against Lionel Messi's Argentina at the Lusail stadium on Tuesday night.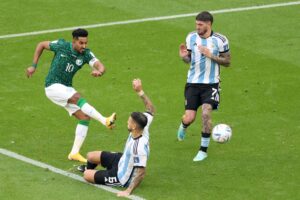 Al Dawsari has matured as a footballer under national team coach Herve Renard. Can he inspire the Green Falcons to something special in Qatar 2022, only time will say.