-Boria Majumdar
We keep hearing that bilateral cricket contests aren't relevant anymore. People are losing interest. Fans don't really care. And yet we keep seeing matches with little or no relevance being organised on a regular basis. The Australia England series or the India New Zealand series are prime examples. England within days of winning a world cup was forced into a 50 over series, which they had very little motivation for. Jos Butler's comments serve as clear evidence. And instead of going back champions of the world they will now go back having lost a bilateral series. It is unfair on the players and fans alike. Yes there are contractual obligations to keep but there has to be a way of doing things better.
The India New Zealand series is yet another example. We in India are crazy about our national team. And yet the India New Zealand series is nothing more than an also ran in the national press. While FIFA coverage is close to 3 pages, India NZ is no more than 4 columns. And justly so. No one cares for matches which are of no relevance. Fans have a lot of sport to consume already and are spoilt for choice. They have just enjoyed the cricket world cup. Now its FIFA for a month. To push a bilateral T-20 series when the next world cup is 2 years away serves no real purpose. With rain impacting games, there was no fizz except the Surya innings, which was a saving grace.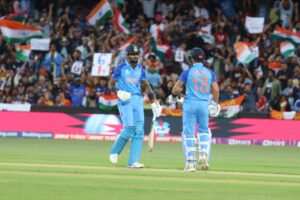 If we need to save bilateral cricket, we need to be smart. May be move the template to quadrangulars or tri series or models, which can be repackaged better and which might have traction. But to just force one series after another on fans who anyway have a limited attention span is actually doing disservice to the sport.
Come Boxing Day we will watch again. It is part of our DNA. A Boxing day Test at the MCG will forever be part of the fans' sporting calendar. But all these ODI's and T-20's in the next month aren't the best marketing of the game, which is already struggling for relevance.