Lionel Messi was a teenager playing in his first World Cup back in 2006, when Jose Pekerman, Argentina's manager, took Juan Roman Riquelme off 72 minutes into his team's quarterfinal against Germany, the hosts. Argentina were leading 1-0 when their talismanic No.10 was replaced. But instead of Messi, his heir apparent who then wore the No.19 shirt, it was Esteban Cambiasso, a defensive midfielder, that came on. As Argentina tried to protect a slender lead, Germany equalised. The game went to extra time and penalties, with Cambiasso one of two Argentines to miss as they went out.
At the Lusail Stadium on Sunday night, Angel Di Maria was taken off with 64 minutes gone. Having played just eight minutes in the knockout rounds before the final, it's likely that he was exhausted. Whatever the reason, the switch that brought on Marcos Acuna in his place took away all the momentum that Argentina had built up in the first hour. 
A French team afflicted by a nasty virus in the build-up to the final had sleepwalked through the first half, with Argentina taking a deserved two-goal lead. A clumsy forward's tackle from Ousmane Dembele had gifted Argentina the softest of penalties, and Messi's gorgeous flicked pass then released Julian Alvarez for a move that was emphatically finished off by Di Maria after Alexis Mac Allister had squared the ball into his path.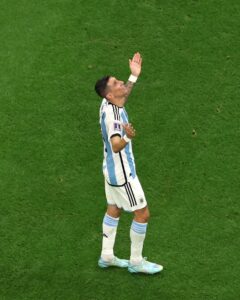 Kylian Mbappe cut a forlorn and frustrated figure. Starved of service and isolated on the left of a front three, he had already seen Olivier Giroud and Dembele hauled off even before half time. France had come to a heavyweight bout wearing woollen mittens instead of leather gloves. 
But in the quarter of an hour after Di Maria's exit, they slowly eased their way back. In previous rounds, Antoine Griezmann had been their prompter from behind the front line. Here, he too was substituted with just under 20 minutes left of normal time. But rather than deflate France, the pace and directness of Kingsley Coman and Randal Kolo Muani seemed to spark them into life. Mbappe too was dropping deeper to pick up the ball and run at the Argentine defence. 
What happened in the next hour or so was just bonkers. In this age of social media and instant punditry, it's the lazy option to call something the best ever, or call someone the greatest. There are football 'pundits' out there who never even saw Zinedine Zidane play, leave alone Pele or Diego Maradona. 
There are times though when reality trumps even hyperbole. This really was one of them. After Messi and his Argentina teammates had bossed three quarters of the game, France's forwards took over. Kolo Muani's darting run prompted a desperate mistimed tackle from Nicolas Otamendi, and the celebrations after Mbappe's clincal penalty had barely died down in the stands when he struck again. 
There have been some stunning goals in 21 previous World Cup finals, but few shots have been struck as sweetly as Mbappe's equaliser. Even off-balance, his technique was just too good for Emi Martinez in the Argentina goal. And so we went on to the fatigue and drama of extra time. With his Paris Saint-Germain teammate having scored twice, Messi wasn't about to go quietly. When Lautaro Martinez's fierce drive from the right of the six-yard box was parried by Hugo Lloris, Messi – who else? – was on hand to force the ball over the line. 
Game over surely? Not quite. Mbappe wasn't done, though Gonzalo Montiel had good reason to feel a little aggrieved about the handball decision from his strike when he wasn't even looking at the ball. The Polish referee didn't ask for VAR assistance though, and there was never any doubt that Mbappe would punish Argentina.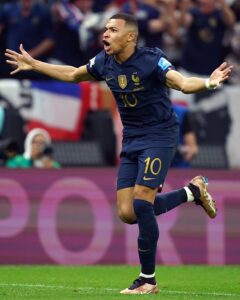 Back in 1986, the last time Argentina won the World Cup, it was Diego Maradona's assist that clinched a 3-2 victory over West Germany. After more than half a lifetime spent trying to emulate Maradona, Messi had just seen the dream script shredded to bits. He and Argentina would need to go again. 
And what could you say about Mbappe? The first hat-trick in a World Cup final since Geoff Hurst in 1966, and a defining role in one of the great comebacks the sport has seen. Not since 1982, when a World Cup in Spain saw Italy beat Brazil 3-2 at the Estadi de Sarria in Barcelona and West Germany come from 3-1 down against France in extra-time in the semifinal in Sevilla have the final stages of a World Cup seen such incredible drama. 
Argentina could have folded. But they didn't. The penalty kicks were perfect, even the ones that Lloris got near to. For France, after Mbappe had calmly slotted the ball away, there was only heartbreak for Coman and Aurilien Tchouameni, whose miss was nearly as bad as Michel Platini's against Brazil in 1986. 
Before the tournament began, what odds would you have got on someone scoring a hat-trick in the final and finishing on the losing side? And how many would have backed Argentina to go all the way after their disastrous second half against Saudi Arabia?
But from the moment Messi's cobra strike broke the deadlock against Mexico, there has been a sense of destiny about this Argentina team. Even when they squandered a 2-0 lead in similar fashion against Netherlands in the last eight, they kept their composure in the shootout. In Martinez, they had a goalkeeper who outdid even what Sergio Goycochea pulled off against Yugoslavia and Italy at Italia '90. His crude gesture after receiving the Golden Glove was just about his only false move during the final. 
Mbappe has shown us football's future, but this Qatar World Cup was always going to be about whether a player who has illuminated the sport for a decade and a half could take the final step. Cristiano Ronaldo couldn't, reduced to a tearful and peripheral figure, but Messi, the boy who was once so painfully shy as a junior at Barcelona that his teammates thought him mute, found some of the magic of old when it mattered most. 
Few World Cup winners' medals have been more deserved, and fewer still so widely celebrated. Even without getting into tiresome GOAT debates, we should just enjoy him while we can. Both he and Mbappe enrich the game, and we're so very lucky to have watched them both, on the biggest stage of all. 
Afterwards, as Emmanuel Macron, the French president, wandered on to the pitch to console Mbappe, Martinez also wandered over to give him a hug and a handshake. It was a freeze-frame moment, two champions acknowledging each other after a game in which they'd given everything.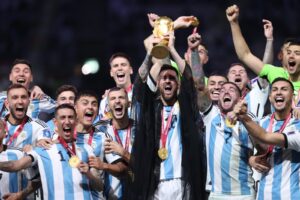 Once-in-a-generation players who lit up a once-in-a-lifetime final. To borrow from the immortal words of Victor Hugo Morales, who commentated for Argentine television as Maradona scored his wonder goal against England in 1986: "Sorry, I want to cry! Good God! Long live football!"