– Prantik Mazumdar
Breathe!
The world can finally breathe after witnessing the most tantalizing 150 minutes of soccer that it has perhaps ever seen.
Actually, just the last 70 minutes, before which things looked liked a dead rubber where only one team seemed to have shown up to the party.
Before the match commenced, I suppose most of the world, me included, wanted Messi to lift this Cup as a final farewell gift for himself and his nation; to end his career in the best way possible and for most football tragics to experience poetic justice of the highest level.
But we all knew that this great "M" was facing another, burgeoning great "M", both #10s, a defending champion at a tender age of 23 and both legends were tied at 4 goals a piece in this tournament prior to the grand finale.
Marvellous Mbappe was in between Messi and his golden dream and as much as my heart desired to see the latter help Argentina lift the Cup for the 3rd time, my head was in favour of the former, younger M.
Messi had a dream start tonight when he scored his 6th goal of the tournament as a penalty kick, followed by Di' Maria's, who has had the pleasure of playing and winning the 2008 Olympics alongside Messi, in the 36th minute.
At half-time, it seemed like it was game-set-match-championship Argentina; France hardly had any possession or shots on target and Mbappe was hardly visible on screen.
One wondered if by any stroke of luck could France stage a comeback like what West Germany had done in 1954 when they were 0-2 down against Hungary and ended up winning the first of their 4 World Cups, 3-2?!
If it were to happen, it had to be done by the miraculous Mbappe and at the stroke of the 80th minute, a miracle did happen ~ Mbappe converted a penalty kick.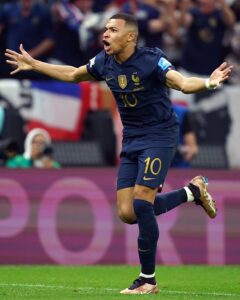 The French President, Emmanuel Macron was jubiliant and on his toes; and before he could take back his seat, Mbappe's lightning struck once again with a mere gap of 97 seconds.
President Macron's jacket was off by then and for a second, the cricket fan in me imagined him doing a 'Ganguly at the Lords' at the Lusail stadium?!
One needs at least 2 minutes to cook up a packet of Maggi noodles and here was this 23 year old wizard, who shook & woke up the world in less than 100 seconds; his body bent leftwards at a 25 degree angle to help France equalize and throw a spanner in Argentina and Messi's plans.
By then France had only 2 shots on goal and they had converted both; their game resembled a bit like that of the brave Moroccans, who they had recently beaten 2-0 in the semi-finals.
Now the big question was, would this World Cup finale end up like 1954 or will the Argentinians repeat the magical performance of 1986, the last time they had lifted the Cup, when Burruchaga's 85th minute goal helped them beat West Germany 3-2 after losing out on their initial 2-0 lead till the 74th minute?
2-2 at the end of the original full time of play, the world seemed at equilibrim but one could sense that the momentum was in the favour of the French.
They resumed the extra time with gusto but Messi's magic prevailed when he took matters in his own head and legs and converted yet another inspiring, well manouvered goal, from inches away from the goal – one could sense his deep desire to bring this home.
The French unit retaliated with a change in strategy ~ 4 strikers were sent in to march ahead and the message seemed loud & clear; to throw the kitchen sink and attack at all cost to bring back the equilibrium.
Once again, cometh the hour; cometh the man & Kylian Mbappe converted yet another penalty to become only the 2nd ever player to score a hat-trick in a World
Cup final, since Geoff Hurst did so at the Wembley Stadium in 1966.
Mbappe had surpassed Messi by one goal in terms of the individual goals scored in the tournament, although the team equilibrium was restored at 3-a-piece and the match result was to be decided by penalty shootouts.
This was only the 3rd time in 92 years since the World Cup originated in Uruguay in 1930 that this was to be the case; Italy had been part of both of those ~ they had lost once in 1994 against Brazil (remember Roberto Baggio's stunned look upon shooting the ball into the sky?!) and had won against the French 5-3 after Zidane infamously headbutted Materazzi.
Could the French team change the narrative this time after 16 years, after catching up on Argentina's lead twice tonight?
That's where the 3rd 'M' made the difference ~ Emiliano Martinez, the goal keeper who had already saved Argentina in a penalty shootout against the Dutch in the Quarterfinals earlier this month.
He had already made his mark in the finals a few times earlier in the evening, especially when he stretched himself wide against a beaming ball from Kolo Muani in the extra time!
To think of it that Arsenal had benched him for nearly a decade and he watched the 2018 World Cup as a fan from the stadium as his career wasn't going anywhere, one realizes that if one is patient and persistent, things can and do come around. Classic Pravin Tambe style!
And boy oh boy, what a difference he made tonight to his nation & Messi's dream when he saved Coman's penalty and perhaps that was enough to creep doubts into Tchoumeni's head to kick far left; that gave Argentina a near unassailable lead difference of 2, which made all the difference eventually.
Montiel's kick sealed the deal for Argentina at 4-2 and the wait was all over; 36 years for the nation and a 16 year, 5 World Cup one for the genius called Lionel Messi, who had first represented his nation in a World Cup in Germany 2006 as 19 year old, the youngest Argentine to ever do so.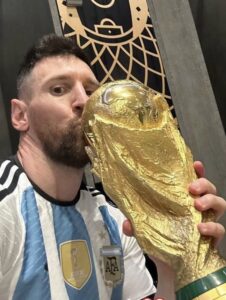 7 Ballon d'Or awards; a record 6 European Golden Shoes; a record 35 trophies for Barcelona including 4 UEFA Champions League, 7 Copa del Ray titles, 10 La Liga titles including scoring the most goals & hat-tricks in that tournament; and being the most prolific goal scorer by a South American male does not come close to holding the 36.5 cm solid gold trophy that depicts two humans holding up the earth, an achievement that had eluded him and a weight that had burdened his shoulders and heart for long.
Not any longer though ~ as the great man calls it quits tonight and hangs up his boots whilst holding the Golden Ball 2022 close to his chest.
A 17 year journey comes to rest; I have been blessed to have followed the entire careers of some of the most iconic idols of our times including a Sachin Tendulkar, Steffi Graf, Roger Federer, Mahendra Singh Dhoni and now, Messi.
Thankfully, as one sun sets, another rises; and how lucky are we that Mbappe just turns 24 tomorrow and potentially has at least 3 more World Cup cycles in him.
The Golden Boot winner is a World Cup winner (2018) already; scored 8 goals in this World Cup equaling Ronaldo's tally from 2002; became the 2nd men's player to score in back to back World Cup finals after Vava in 1958 & 1962; has scored a total of 12 goals in World Cups thus far, equalling the great Pele for the sixth-most on the all time scoring list, something he is likely to top by the next edition in USA & Mexico!
The fact that someone who scored a hat-trick post the 80th minute won't be rejoicing or resting well tonight, is sheer testimony to the fact of how breathtaking a World Cup finale over a billion and a half of us enjoyed tonight, definitely the best one I have seen in my life till date.
The beautiful game brought us together, took our collective breath away for over 2 hours and finally, we can all breathe, sleep and rejoice the magical moments in our dreams tonight.
Messi Beaucoup, Qatar 2022!