Atreyo Mukhopadhyay
So the most celebrated left-footed player of our times won the World Cup. Lionel Messi is known for using that left leg with telling effect. He did that in the final too, converting two penalties including one in the tie-breaker, conjuring magic and also used his right knee to good effect to net Argentina's third goal. They are a country of left-footed geniuses we all know.
If you ask me, whose was the most valuable left-footed intervention that won Argentina a third World Cup, I would say it was the goalkeeper's. It was in the dying stages of the second half of extra time. France's Kolo Mulani had Emiliano Martinez at his mercy. It required a gentle push to either side of the goalkeeper to bring up the goal that would announce game, set and match in favour of France. And a second World Cup on the trot.
Mulani went with his right foot. It was a fairly tricky proposition for the goalkeeper because it was a low ball. Grounders are always a tough challenge for goalkeepers because they have to bring the body down from an upright position to save such attempts. Martinez stuck his left foot out. Remember, he had only a fraction of a second to react. Practically, there was zero reaction time. Showing astonishing reflexes, tremendous sense of timing, positional sense and immense courage, he decided to go with his left foot to keep the ball out and his team in the match.
Lionel Messi, Kylian Mbappe alright. For me, that save was the defining moment of the most captivating World Cup finals ever played. Diego Maradona, Messi were and are left-footed wizards. What eventually presented Argentina a third World Cup was the left foot of goalkeeper Martinez. Had he not made that save, France would be celebrating a third World Cup triumph. Best goalkeeper of the competition was a just reward for this unsung hero of La Albiceleste.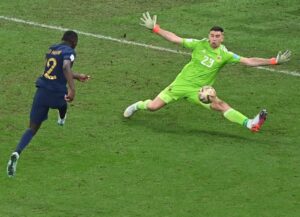 That was not the only decisive save he made in the final mind you. On the fourth minute of added-on time in the second half of regulation time, there was another nervy moment inside the six-yard box of the Argentine penalty box. There was a bit of a chaos in that area and a lot of legs, of both sides. In came a sharp attempt on goal, another low ball, with a fair amount of sting in it. Martinez showed great reflexes and positional sense to dive to his left, block and eventually collect the ball. Otherwise, it would have been another game, set and match moment for France.
Nicknamed Dibu, this 30-year-old born in Mar del Plata is not quite hailed as a star of this Argentine team. People speak about Messi, Angel Di Maria and the rise of Juan Alvarez. Goalkeepers are usually of that kind. Their mistakes are highlighted, while good efforts are not always talked about. It's a thankless task, job always on the line, literally and otherwise. But what they bring to a successful side is priceless.
Martinez saved two shots in the quarter-final shootout against the Netherlands and another in the final against France. Plying his trade in the English Premier League for Aston Villa, he was a tower of assurance inside the box in Qatar 2022 throughout, coming off his line and collecting or fisting out crosses showing no signs of nerves. This happened on a number of times in the final as well. His confident manner of dealing with those aerial balls meant there was no panic or pressure among the Argentine defenders.
Yes, those who score goals or create chances will always be the heroes of a game that is about goals. Those who save goals will continue to remain in relative oblivion. But this game is as much about scoring goals as saving them. Goalkeepers will never get the kind of accolades strikers or game-makers do, and remain unsung heroes. With due respect to Messi, Argentina owe their third World Cup as much to him as to a significant extent to one such chap called Emiliano Martinez.