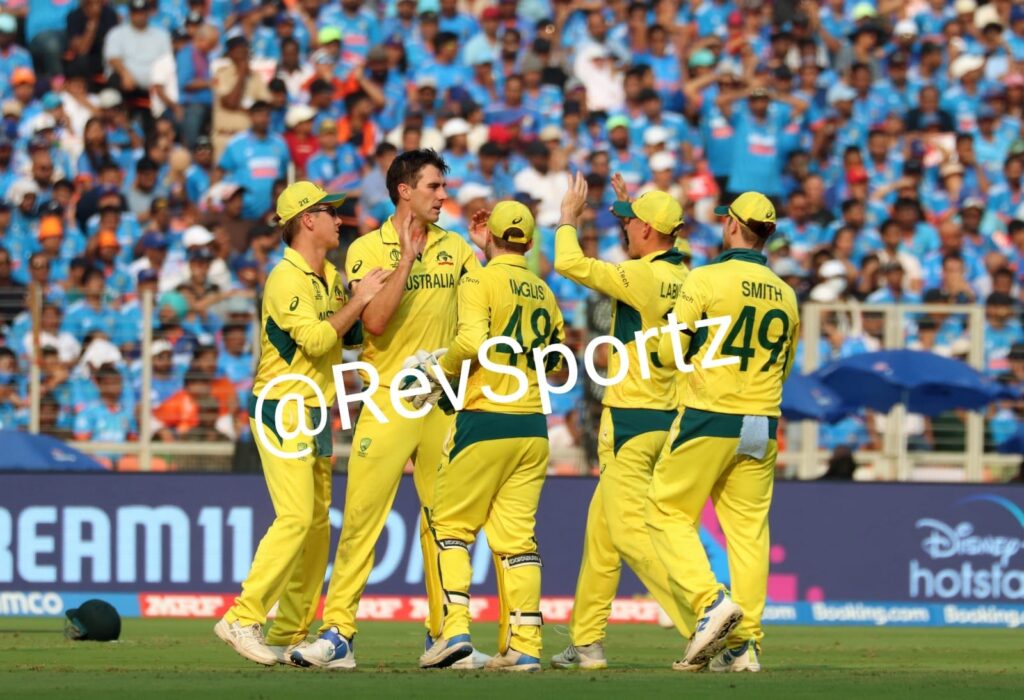 Ahmedabad: Rohit Sharma had launched his tirade against the bowlers and was threatening to run away with the game. A miscued lofted shot flew over the cover region, and Travis Head suddenly grew wings to catch it on the dive, running backwards. It was one of the numerous stunning fielding efforts by the Australians in the first 15 overs of the World Cup final.
Lucknow: David Warner was patrolling the deep mid-wicket fence like a terrier in Australia's do-or-die match after two straight defeats. He came up with two brilliant, tumbling catches after covering huge ground to help his team derail a strong Sri Lankan start.
Dharamsala: Australia had to defend 19 in the last over. New Zealand got a lifeline thanks to five wides off what was to be the second ball. Glenn Maxwell at long-on and Marnus Labuschagne at deep mid-wicket then came up with superlative efforts to stop certain fours. Their team won by four runs.
Kolkata: Australia were on top from the start not only because of their fast bowlers. Struggling to put bat to ball, South Africa were forced into frustration whenever they made proper contact. Warner and Labuschagne stopped and caught everything in the cover and cover-point region.
For a team revived by Maxwell's madness of a double-century, Warner's runs up top, the return of Travis Head, the wickets taken by Adam Zampa and the leadership of Pat Cummins, this Australian World Cup campaign has been boosted also by their fielding. Other than the instances mentioned, there were many more, including Labuschagne doing a Jonty Rhodes to effect a timely run-out against Bangladesh, and Cummins taking some heroic catches.
This, from a team, which started the journey with a match-turning dropped catch in the first game! Mitchell Marsh let a dolly through his fingers to hand Virat Kohli a lifeline. The mistake was punished ruthlessly, as Kohli and KL Rahul took India home after early troubles. Harsh lesson learnt early, Australia have bounced back with match-defining efforts in the field to reach the final.
The Warner catches or the one taken by Maxwell to terminate the South African innings in the semi-final and the countless saves on the fence were two-handed efforts. A lot of times in desperation, fielders stick out one and leave the rest to chance. There were no such half-measures from the Australians. They got behind or under the ball sliding or diving and stopped or caught it with complete assurance. Getting behind the ball and using two hands are the primary maxims of fielding.
These things get overshadowed by centuries — in Australia's case a double as well —and four or five-wicket hauls with the ball. Runs made and wickets taken show against the career records of players, not the runs saved. But from the point of view of the collective which is the team, these are invaluable contributions. Matches change because of these forgotten efforts.
As much as their brilliance with the new ball in favourable conditions at Eden Gardens in the semi-final, the Australian victory was aided significantly by fielding. Cummins started it with a catch to send back Quinton de Kock, the cover cordon didn't let a fly past and there were numerous diving saves on the boundary line which made the difference between twos and fours. This made a decisive difference of at least 20 runs in a low-scoring match.
Broadly, there are two elements that work behind this. The first is technique. It's not about diving or sliding alone, but doing that with maximum efficiency, getting in position and avoiding injury. The second is commitment. One has to be dedicated to fling himself behind the ball. The Australians are high on both. These are ingrained in them because they are into outdoor sports from a young age.
Only the supremely fit, charged up and committed can do this match after match in mostly warm and humid conditions, sometimes on outfields not conducive to such dives and slides. Remember, no Australian player has suffered injuries while pulling these off. There are not many instances of fielding playing a big role in a team's passage to a World Cup final. This Australian bunch has set an example.