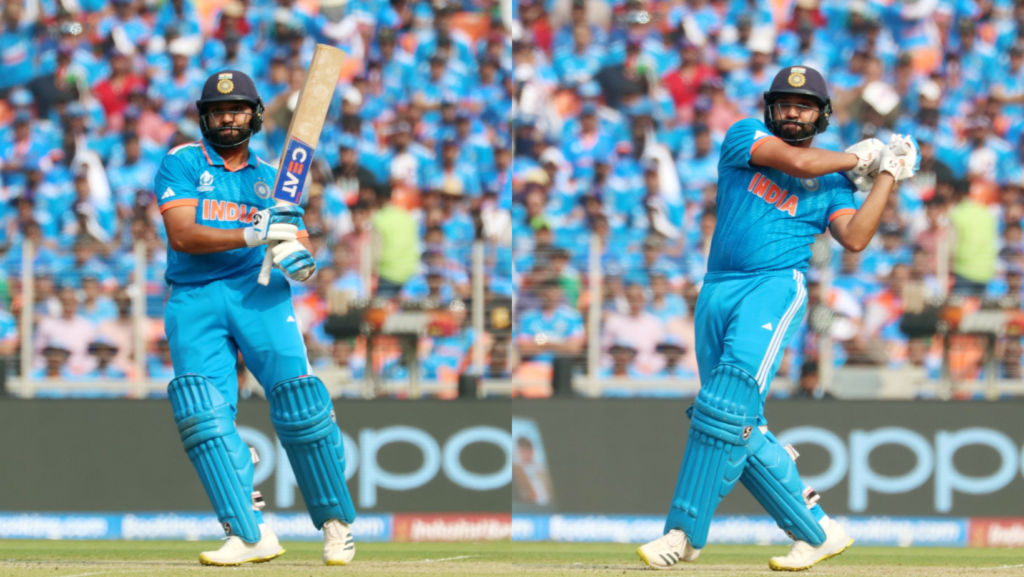 If India go on to lose this World Cup final, the shot Rohit Sharma played will be spoken about for years. Right through this tournament, Rohit's statements of intent in the powerplay had been a massive part of India's 10-match unbeaten run. Nasser Hussain and many others had spoken admiringly about how India's captain had set the tone for his team.
Just like playing a high line in football, the margin between success and failure is wafer-thin when you bat with such a sense of adventure. Rohit had already sauntered down the pitch to launch Glenn Maxwell for a massive six earlier in the over, before staying back in the crease to crash one through the covers for four. A pragmatist would have said that was enough for one over, but Rohit couldn't resist when he saw another tossed up slightly outside his eyeline.
On another day, Travis Head might have dropped the catch. On another, it might have cleared him by a couple of metres. But on Sunday, Head ran back, watched the ball over his shoulder and dived forward to take one of the great catches in World Cup final history – potentially as important as Kapil Dev's stunning effort to see off Viv Richards in 1983.
Soon after Shreyas Iyer also departed, snaffled behind off the inspired Pat Cummins, India were faced with a stark choice. To continue with an attacking approach, or to retreat to a more circumspect one. There were already signs of the pitch slowing down dramatically and taking turn. It was dry and abrasive enough to keep the pacers keen too.
Virat Kohli and KL Rahul chose the safety-first option. In a World Cup final, they weren't prepared to risk going down swinging. Between overs 11 and 40, there were only two hits to the rope. Only in two of those overs, the 27th (7 runs) and the 39th (10) did India go at more than a run a ball.
By then, especially after Kohli's exit in the 29th over, the crowd had been silenced to the point that you could have been in a giant open-air museum. After a tournament in which India had treated opponents to a succession of body blows, this tempo seemed unreal. Rahul's 107-ball vigil for 66 could have been played in whites, and the bemusement on thousands of faces told its own story.
If India go on to win, however, that softly-softly approach will invite no scrutiny. The history of sport shows that being cavalier doesn't always work, no matter how gifted you are. Back in 1982, Brazil went into a World Cup game against Italy needing just a draw to progress to the semi-finals. Having trailed twice, they fought back to parity with wonder goals from Socrates, the captain, and Falcao.
"I remember in that game, Oscar and I shouting at the full-backs [Leandro and Júnior] to stay back when it was 2-2," Luizinho, their centre-back, would say in a documentary decades later. "But they wanted to win the game. Our coach, Tele [Santana], wanted to win the game. To be honest, I don't think we played with enough humility. We all lacked humility, from the management to the players. We had two chances to hold on to the draw and we went for the win instead."
That view didn't find favour with his own teammates. "That team was football in its purest form," said Júnior. "If Brazil had won, I think other national teams would have copied us and our style. But that didn't happen. Whoever wins is doing it right. And as Italy won, everyone wanted to copy Italy."
After India's lack of intent and timidity in the T20 World Cup semifinal against England in 2022, it was obvious that there was the need for a reset. Rohit took it upon himself to show the way, charging down the pitch at every opportunity to throw new-ball bowlers off their length and rhythm. With 597 runs at an astonishing strike-rate of 125.94, you can hardly say his approach failed. Whatever the result of the final, that implacable faith in his philosophy has to be admired.
"There's a fascination with people who question established ideas, like I do," said Socrates in an interview shortly before he passed away in 2011. "I wish much more people had that attitude.
"I measure success by the experiences we live; and to play for a side like that [1982] is like dating the woman you're in love with."
That woman, or perhaps lady luck, deserted Brazil in 1982. At the Narendra Modi Stadium on Sunday evening, Rohit and India will hope she smiles on them.