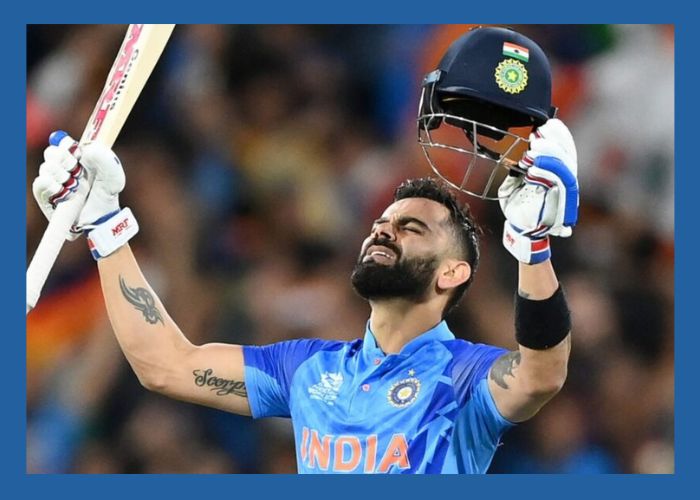 Cricket is a game where records are constantly broken. But when someone breaks a record of the legendary Sachin Tendulkar, it's a moment of joy and a tribute to the exceptional talent of the person who does it. Recently, Virat Kohli, the famous Indian batsman, (also the new king of cricket) made history by becoming the first man to score 50 ODI centuries.
Kohli achieved this amazing feat during the World Cup 2023 semi-final match against New Zealand at Mumbai's famous Wankhede Stadium. This has become the talk of the town and this is one of the most trending news you'll find in most news sports articles.
This achievement is not just a personal milestone for Kohli, but a proud moment for all cricket fans around the world.
The journey to this milestone was not easy. Kohli had equalled Tendulkar's record at the Eden Gardens against South Africa on his 35th birthday. The fans were eagerly waiting for the moment when Kohli would go past Tendulkar's record. And when the moment came, it was nothing less than spectacular.
In a tough semi-final game, King Kohli broke Tendulkar's record, scoring his 50th ODI century. The crowd cheered loudly, and the cricketing world welcomed the new 'King of Cricket'. With this century, Kohli now has the record for the most hundreds in the 50-over format.
But this is not the only record Kohli has in his name. Earlier in the tournament, during the World Cup match against Sri Lanka, Kohli reached the milestone of scoring 1000 runs in a calendar year. This was the eighth time in Kohli's career that he reached this milestone, surpassing Tendulkar, who had done it seven times in his career.
Want to read more news articles on sports, visit Our Blogs.
His ODI career statistics are as follows:
ODI Debut: Virat Kohli made his ODI debut against Sri Lanka at Rangiri Dambulla International Stadium on August 18, 2008.
Runs Scored: He has scored 13,677 runs.
Batting Average: His batting average is 58.45.
Strike Rate: His strike rate is 93.54.
Centuries: He has scored 49 centuries. He recently became the first to score 50 ODI hundreds.
When King Virat Kohli surpassed Sachin Tendulkar's record, he was met with an outpouring of praise from the cricketing world. Here are some noteworthy reactions:
Sachin Tendulkar himself expressed his delight that an Indian player had broken his record. He wrote a heartfelt message for Virat Kohli after his 50th ODI century.

Prime Minister Narendra Modi recognized Virat's accomplishment and commended his unwavering commitment and exceptional talent.

The International Cricket Council (ICC) recognized Virat's achievement during a remarkable Asia Cup century.
From his early days in international cricket, Kohli has shown a thirst for runs and a skill for breaking records. His aggressive style of play, along with his technical skills, has made him one of the most feared batsmen in the world.
As we celebrate Kohli's achievement, it's important to remember that records don't define a player – it's their impact on the game that matters. And King Kohli, with his aggressive batting and leadership skills, has certainly left a lasting mark on cricket.
As cricket fans, we can only watch and admire as Kohli continues to dazzle us with his batting skills and break more records in the future.
Want to stay updated on the ICC World Cup 2023 news? Read our news sports articles